Adding Functional Storage to Your Leaning Post
On a center console fishing boat, there is no real estate more prime for tackle storage than the aft side of the leaning post. Unfortunately, many boat builders don't really maximize leaning post space. Aluminum frame leaning posts — even with a cooler positioned underneath — often leave lots of volume unused. And many molded fiberglass leaning posts are full of dead space just begging to be used for storage.
Fortunately, a growing number of aftermarket freestanding tackle cabinets, insert units, boxes and bags can turn your leaning post into a full-featured tackle center. Solutions range from a few dollars to a few thousand and from five-minute installs to major projects.
Freestanding Tackle Units
For aluminum leaning posts, freestanding tackle units are the ultimate storage solution. Mounted directly to the deck under the post, these cabinets feature a combination of tackle tray slots, bulk storage drawers and tool holders to put lures, terminal tackle, pliers, leader and more right in the cockpit where you need it.
Freestanding units made from King Starboard are available in a variety of standard sizes and layouts to fit most aluminum leaning posts. Our Freestanding Leaning Post Tackle Unit , for example, is a popular choice offered in numerous sizes (click/tap the "Additional Size Options" tab) compatible with of today's production center consoles.
For an even more custom fit, dimensions and features can be customized exactly for your specific application. We encourage you to give us a call with your dimensions and speak to one of our experts about options.
Undermount Tackle Units
Even if you store a cooler under your aluminum leaning post, chances are you can still add valuable tackle storage with a box mounted to the underside of your post to take advantage of the dead space above your cooler lid.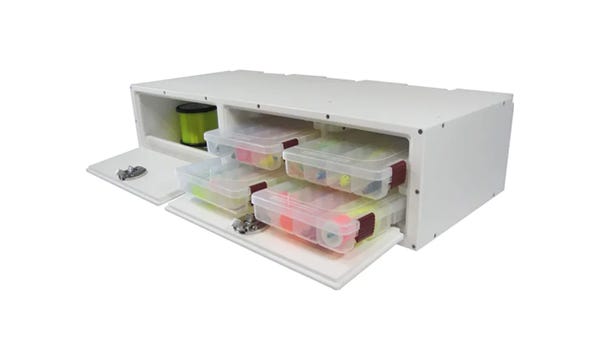 In most cases, mounting a tackle storage unit under the leaning post requires the addition of cooler slides, so that you can easily pull your cooler out from under the post to open the lid. Aside from the added expense, though, that's not a bad thing. In addition to creating space for tackle storage, cooler slides make it easier to access heavily loaded coolers and provide an extra seat when needed.
Tackle units designed to mount under the top of the leaning post are typically 7" to 10" tall and vary in width to match the size of the leaning post. Our 31.5" unit is a good fit for the leaning posts on many popular bay and smaller offshore boats and includes slots for four tackle trays plus a handy bulk storage compartment for tools, leader spools and more. We build several larger units, though, and can also customize a unit to fit your specifications.
Tackle Storage Inserts
For boats with molded fiberglass leaning posts with unused space inside, consider a tackle storage insert. Made in a huge variety of shapes, sizes and layouts, these tackle units require a cutout in the vertical surface of your leaning post but allow you to convert interior dead space into valuable storage for tackle, tools and more.
The largest tackle inserts rival grandma's armoire in size and far exceed it in efficient use of space, with drawers, tackle trays, lure bags and tubes, tool slots and spool holders. Generally speaking, though, these larger units are better suited for sportfishers, since few center console leaning posts have that much interior dead space.

For DIY projects on most center consoles, medium-sized insert units measuring 7" to 10" in depth are more suitable. These are deep enough to accommodate Plano-style tackle trays horizontally and also generally offer plenty of other bulk and dedicated storage as well. At the larger end of that range, our 7-Tray with Drawer unit accommodates five 3600 trays and two 3630 trays and offers a drawer and large bulk storage compartment with leader, pliers and knife holders.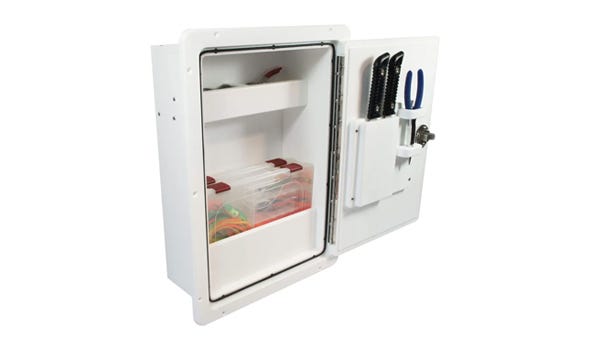 Even with only a shallow mounting space of less than 6", a number of solutions are available. Several tackle-and-tool cabinets provide a surprising amount of storage in a compact package and require as little as 3" of mounting depth.
Another innovative solution to a shallow mounting situation is tilt-out storage, which allows tackle trays to be stored vertically instead of horizontally. Our 4-Tray Tilt-out Tackle Box, for example, holds four large Plano trays yet requires just 6-1/8" of mounting depth.
As always, we encourage you to give us a call with your dimensions and needs and speak to one of our experts about options.
Surface Storage
Handy storage units can also be surface-mounted on fiberglass leaning posts. Although they obviously don't provide the volume an insert does, a wide variety of tool, lure, leader and drink holders — like our 2 Knife, Pliers and BogaGrip Holder can be mounted with screws, bolts or even suction cups to your leaning post, placing the gear you need at your fingertips.
Soft Storage
If mounting (or budget) constraints don't allow a freestanding, insert or surface mount storage unit on your leaning post, storage bags designed for the back of your leaning post are another option. TackleWebs, for instance, offers several mesh storage bags up to 32" x 15" that can be secured to your leaning post frame with integrated bungees and hold tackle trays, tools and other essentials.