Starboard Single Panel Removable Door
Durable and attractive, this single panel removable King Starboard access door is trusted by hundreds of boat builders worldwide. Simply order to size for a custom engineered door to your specifications. Your custom OEM quality door sets into your hole, and a few screws later installation is complete!
Key Features:
Same high quality King Starboard doors utilized by hundreds of boat builders worldwide
Frames pre-drilled with countersunk mounting holes for quick easy installation
Many options to customize and upgrade - stainless latch, seal, and louvers
Replace your worn teak doors with a no maintenance starboard replacement
Designed for non-load bearing (generally vertically mounted) applications

Color accuracy can vary considerably on computer monitors and printers. Use the above images as a general guide of relative color differences. When color match is critical, please consider purchasing a sample chain.
---
Below is our "best guess" color match by boat brand:
---
Starboard Sample Chain
Because parts are built to order, we
cannot
accept any returns on account of color discrepancy. We offer sample chains at cost for all customers. If you are unsure which color best matches your boat, we highly recommend purchasing a set!
Add To Cart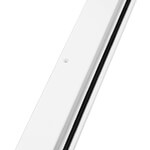 Bulb Seal
Adding our integrated bulb seal is highly recommended. While it also helps make the door a bit more water resistant, the biggest benefit to seal is that it eliminates all rattle between the door and returns. Seal dramatically improves the feel and finish of the door and for the relative cost should be included unless on a strict budget. Our bulb seal is pressed into a t-slot cut into the door returns so that (unlike adhesive seal) it will never peel away or need replacing.
---
Information Note
Door hooks must be placed on the bottom edge of the door.