Access Doors
Boat access doors help keep your boat clean organized, and accessible no matter what kind of boat you own. Shop Boat Outfitters' vast selection of access doors below. » Read More
Where Access Doors Are Used on Boats
Access doors are important for organization, cleanliness, and security on a boat. They can protect valuable electronics, personal items, and fishing equipment from weather and burglary. They come also in different shapes, styles, and sizes to fit all of your specific needs.
Boat Hatches vs Access Doors
It's important to note that, although similar, boat hatches and access doors are different from each other. Marine hatches are designed for heavy traffic areas and are typically designed to have a watertight or water-resistant seal. Access doors are seldom mounted on the deck of the boat and most are not built to withstand being stood on.
If you're looking for replacement boat access hatches, or to install a custom access hatch or deck plates, check out Boat Outfitters' selection of hatches.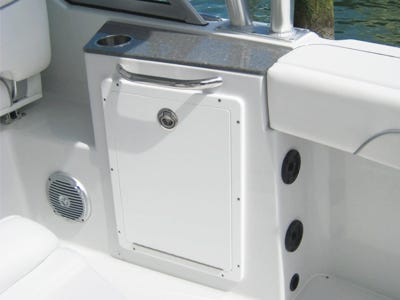 Boat Access Door Styles
Access doors have a broad range of uses, ranging from cell phone storage to switch panel storage. The options for easy access are endless. The kind of access door you need depends on what your uses are and where the door will be located. For example, an access door that might be kicked or sat on needs to be more durable than the access door on your console.
Access doors that may be used to store electronics, or moisture-sensitive equipment of any sort, will require a seal of some sort to keep moisture out.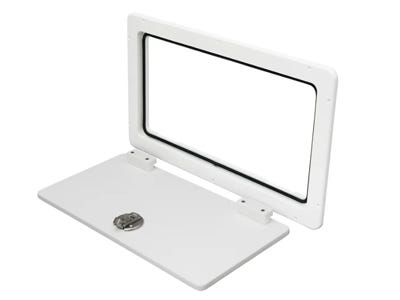 Boat Access Door Materials: Plastic, Starboard, Aluminum, Teak
Access doors come in a variety of materials to match your boat. These include injection-molded plastic, aluminum, Starboard, and teak. There are advantages and disadvantages to each material:
Seals Around Boat Access Doors
Another thing to consider when purchasing an access door is whether or not the storage area needs to be protected from water intrusion. Areas with electronics or moisture-sensitive materials should be protected with a seal around your access door. The most common seal for this is a bulb seal, which is designed to keep water out of designated areas. Note that even with a seal, few boat access doors are truly watertight.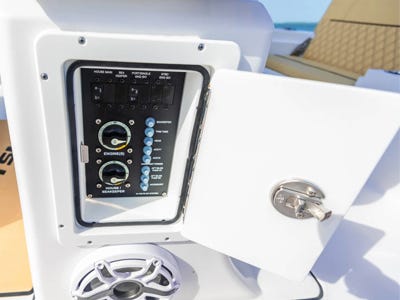 Custom Boat Access Doors
Certain boats or applications may require a custom-made access door. Whether you're replacing a one-off door or putting an access door in a previously unused space, Boat Outfitters has you covered. Boat Outfitters can custom-make any access door to the size specifications you provide. Once you provide the dimensions you need, you can pick a color from the variety of options including white, buckskin, sea foam, and more.
After you pick out your color, you have to pick out the best hinge location. Depending on where the door is mounted, certain hinge types are better than others. For wide doors, such as electronic boxes, it's recommended to have the doors hinged at the top or bottom. For narrow doors, such as console access, side-mounted hinges may be better suited.
Boat Outfitters also offers different latch types giving you the option of plastic or stainless and in locking and non-locking configurations. Depending on what your access door is covering, the locking option can be a great deterrent to potential theft.
The access door can also be outfitted with bulb seals if you choose, allowing you to make your storage area water-resistant if needed.
Lastly, Boat Outfitters can also add vented louvers if the area needs airflow to prevent mildew or mold or provide fresh air for mechanical accessories.
Boat Outfitters can build custom doors out of both Starboard as well as teak. If the modern look of Starboard doesn't suit your boat, the teak is a great option for a classic wooden look.
OEM Replacement Boat Access Doors
Boat Outfitters also offers a wide selection of OEM replacement doors for popular boat manufacturers, such as Sea Ray and Boston Whaler. Because Boat Outfitters' parent company, Teak Isle, supplies access doors and hatches to dozens of top boat builders, there's a good chance the company already has the design files for your particular access door on file, allowing for a quick turnaround.
New boat access doors can provide a new look for worn-out access doors or can provide more storage that didn't previously exist. Shop Boat Outfitters for any of your access door needs.
Installing Boat Access Doors
How you install your access door depends on a few things. The most important is whether you're adding a door where there wasn't one or if you're just replacing an existing door. Replacing an existing door is simple. Once you remove the old hatch, prepare the surface by removing any remaining sealant. To install the new hatch, put sealant around the rim of the hatch and press it into the hole. Use stainless fasteners to secure the hatch. If the fastener hole pattern is the same as the previous hatch, there's no reason to pre-drill your fasteners, simply screw them into place.
Adding in a hatch where there wasn't one before is not as difficult as it may sound. Order a hatch with the dimensions you need. Once you have the hatch, measure and mark the interior dimensions. Make sure everything is level. Cut out the area, and ensure your door fits. Once you verify your fit, place sealant around the rim and install your door.
To install the fasteners, pre-drill the holes according to the size of your fasteners and then screw in your stainless fasteners. It's important to pre-drill any new holes as the screws can cause spider cracking.
Need More Help Deciding? Give us a call!
For the last 40+ years, we've perfected the art of upgrading boats and helping boaters better enjoy their time on the water. If you have a question about a product or project give us a call! Our team of experts is here to help!
Commonly Asked Questions about Access Doors
What is the best material for boat access doors?
(show/hide)