Which Material is Right for my Project?
When choosing the right marine plastic for your next boat repair project, there are a variety of things to take in to consideration. Most importantly, you must consider the application of where the material will be used and the characteristics that are important in the application. This will allow you to get the right plastic material without spending unnecessary money.
For instance, you do not need to spend the money for King Starboard® if you are replacing your upholstery substrate material when foam PVC will do the job fine at half the cost. On the other hand, the foam PVC sheet is not suitable for rod holders or cutting boards due to it's foamed cellular structure. A good knowledge base of the advantages, disadvantages, and physical characteristics of the variety of plastic sheet is critical for a marine handyman fixing up his boat. As the leading fabricator of plastic sheet in the marine industry, Teak Isle can get you up to speed on what you need as well as supply the material at the most competitive prices in the industry.
Types of Plastic Sheet:
» King Starboard® (HDPE)
» Acrylic (Plexiglass)
» King Starlite®
» King Starboard AS® (Anti Skid)
» Expanded PVC
---
King Starboard® (HDPE)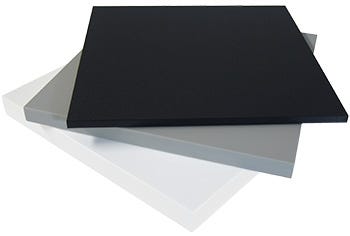 King Starboard ® (HDPE) sheet has done more to relieve boat owners from lengthy maintenance work than any other marine material. This is because this revolutionary material is now used to make the parts that were previously fabricated from teak wood. Thus, boaters have been freed from the haste of washing and oiling their teak. It is used in the marine industry on rod holders, tackle boxes, cutting boards, drink holders, access doors, swim platforms, console doors, hatch covers and a wide variety of other parts. The standard sheet size of King Starboard® is 54" x 96" and it is available in thicknesses ranging from 1/4" through 1 1/2" thick.
Advantages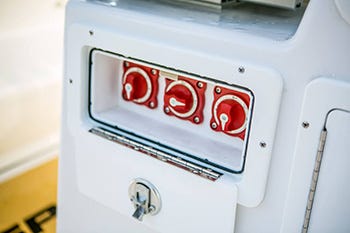 On parts that will be permanently visible you will generally want to use either King Starboard® or Acrylic. These two materials have an attractive finished surface and edge. Between these options, Starboard is considerably cheaper and easier to work with. Starboard is easily fabricated with using standard woodworking tools such as table saws, routers and sanders. This ease of fabricating and lack of necessary maintenance have made King Starboard® the most popular plastic material used in the marine industry. The great thing about this material is that it is virtually indestructible. You can slightly scratch the surface if you are not careful when working with it (specifically black starboard); however, Starboard parts are very tough and will usually outlast your boat. The textured surface hides minor scratches and offers some amount of non-skid. King Starboard® is available in a wide variety of colors that match as close to the color of the boat's gel coat as possible. It is a solid homogeneous material; therefore it can never rot or delaminate. Also, the sheet color is consistent all the way through the material and special UV inhibitors protect it from the sun.
Limitations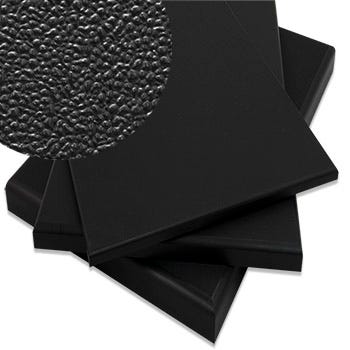 While King Starboard® is great to work with, there are a couple of challenges to consider. Unlike Acrylic, Starboard has a textured finish and does not achieve the high gloss look of Acrylic. In addition, as with all thermoplastic sheet, King Starboard® has limited stiffness. This is important to keep in mind when building large parts that may be stepped on or have limited support underneath. Starboard will not break, but can bend if not properly supported. Be sure to store your Starboard flat or vertical. If you lean a large sheet against a wall at an angle the material can sag over time, especially in the heat.

Another major fabrication limitation is that Starboard cannot be easily glued. Starboard parts generally must be designed to assemble using stainless fasteners. There are a couple of glues that claim to work, and may with limited effectiveness. With that said, we have yet to find anything that we would depend on to hold for an extended period of time and never on a structural part. Another limiting feature of King Starboard® is the fact that it does not accept paint like acrylic and expanded PVC. It is also not an ideal material for bent parts. Unlike acrylic, Starboard takes a long time to heat to a formable temperature and does not hold its shape well once cooled. For this reason, bent hatches are generally only fabricated out of acrylic.
---
Acrylic (Plexiglass)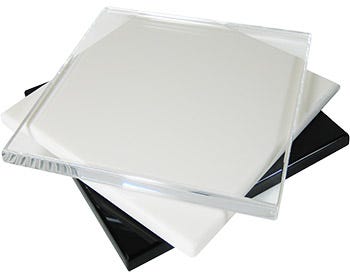 Acrylic, or Plexiglass, is often thought of as a clear plastic sheet used for such things as aquariums and brochure holders. While this is true, many of the components on today's boats are fabricated from Acrylic sheet. Some of this material is found in easy to recognize parts such as clear bait well lids or boat windscreens. In addition to the clear Plexiglass we are familiar with, there are a wide variety of colored and tinted acrylics. These acrylics range from having a fair amount of transparency to being completely opaque colors that allow no light transmittance. Many of today's acrylics are color matched to the same color of the boats gel coat color.
Advantages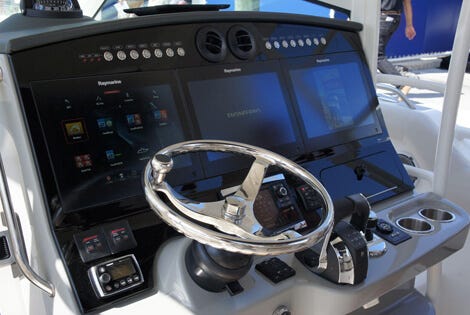 One main advantage to the use of the acrylic sheet in marine applications is the shiny high gloss finish. This high gloss finish allows acrylic parts to blend in with your boats fiberglass gel coat for a flush clean look. Another advantage of acrylic is the availability of transparent and semi-transparent acrylic. If your application requires any transparency, acrylic is essentially your only option besides glass. Polycarbonate (Lexan) is also available in clear; however, it is less UV resistant and can become aged and cloudy over time in the sun.
Another big advantage of acrylic is that it can be heat formed. This is done by placing the acrylic in an oven or on a heat strip to allow the sheet to reach a formable temperature (usually around 300 degrees). This hot acrylic can then be bent into parts such as windscreens, bent sliding cabin entry doors, hatches, and any number of formed plexi parts.
Limitations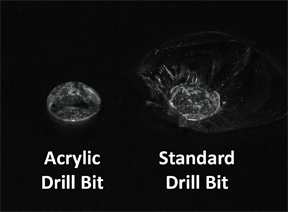 Acrylic parts are unfortunately significantly more expensive than products made from King Starboard® or expanded PVC. Acrylic sheet is in itself more expensive than other plastic sheet materials, and this price differential is compounded by the fact that Acrylic parts must be sanded and polished on the edges to get the glossy finish. Acrylic is harder and more brittle than other materials, and therefore is more challenging to cut and work with. It requires special acrylic drill bits and additional care must be taken when drilling and screwing to avoid cracking. Please also be aware to never use glass cleaners such as Windex or solvents such as acetone when cleaning your acrylic parts. This can cause crazing and cracking of the material. As with any shiny and glossy materials, there is always a chance that the material may get scratched or crack after years of use.
---
King Starlite®
King Starlite® is the lighter weight cousin to King Starboard®. The base material is the same as Starboard, giving you the same proven durability and weather resistance. However, Starlite has a blowing agent added to allow the material to hold more air; thus becoming less dense and lighter. In the plastic world, pricing is largely dependent on weight and therefore, Starlite is less expensive than Starboard. It is great for parts such as tackle box backs and upholstery components, such as seat cushion bottoms. Because King Starlite® is not as dense as starboard, it is also moderately less rigid.
The biggest difference in King Starboard® is the edge finish. Because King Starlight® is cellular, the edges have a cellular look when the material is cut. While it is still impervious to water, the edge can collect dirt and become somewhat challenging to clean. For this reason, we do not generally use Starlite in place of Starboard on applications where the edge requires a good clean look. Starlite is also only available in a bright white or black color which may not allow you to match your gel coat color exactly. With that said, if your budget it tight and looks are not the priority, King Starlite® can offer a near equally functional alternative to Starboard at as a discount.
---
King Starboard AS® (Anti Skid)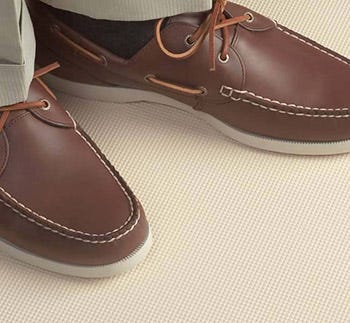 King Starboard® AS is Starboard sheet that is extruded with a non skid surface texture. Anti-Skid sheet is generally used to fabricate parts that receive high foot traffic such as steps, swim platforms, or floor storage lids. King Starboard® AS sheet has the same great weather resistant qualities as King Starboard® with the added non skid texture. These sheets also have the same density as King Starboard® so the material finishes and fabricates easily with standard woodworking materials.
---
Expanded PVC Sheet
Expanded PVC sheets are extruded sheets of PVC with a foaming agent added to slightly expand the material, reduce the density of the sheet, and give it an expanded core. This sheet is still a solid homogenous extruded sheet with smooth surfaces, but if you look at the end grain of the material you will see a slightly cellular edge. The purpose of the foaming is to reduce the actual amount of plastic in the sheet. This reduces the cost of the sheet while also reducing the weight. If you are familiar with Azek building material, expanded PVC sheet is a very similar product. It is impervious to water and holds staples well. This makes it a very cost effective material for upholstery substrates (Shown left). Expanded PVC can also be easily heat formed and glued with PVC cements and fabricated using standard woodworking materials.
The tradeoff for lower cost, weight, and density is a slightly less rigid material. Thus, in some large seat cushion panels, King Starboard® or Starlite are better long term options. The cellular edge of expanded PVC sheet can collect dirt and be somewhat difficult to keep clean. When using thinner materials such as 1/4" expanded PVC, you should take care not to use too many staples in a row as it can perforate the material and cause future cracking along the staple line.