King Starboard Anti-Skid Non-Slip Flooring | Boat Outfitters
King Starboard AS (Anti-Skid)
provides the same high-quality performance as starboard with a non-skid texture. Starboard AS is great for deck hatches, steps, or any other location where traction is critical!
There are two anti skid patterns (dot and diamond). Only anti skid dot is available for unassisted online checkout. Customers interest in the diamond pattern are encouraged to call for availability and pricing. Note the diamond pattern has grain direction and you will need to indicate which direction the diamond needs to run. This grain orientation can effect sheet layout, yield and price.
What is King Starboard Anti-Skid?
King Starboard is a special marine-grade polymer sheet that has become the leading choice for boat builders and boat owners in designing, creating, and renovating vessels. It is composed of high-density polyethylene or HDPE. The King brand is synonymous with high quality. Anti-skid, or AS, Starboard has been designed with a dot or diamond pattern finish on one side and the reverse side with a smooth matte finish.
The patterned side provides a sure grip design to prevent slipping and promotes drainage of water on the surface to stop it from collecting. Like all Starboard sheets, it is designed to function and withstand even the most adverse and harshest marine conditions.
Benefits of King Starboard Anti-Skid
There are many benefits to King Starboard sheeting as a boat building and renovation material. These benefits include:
Robust and Durable
First and foremost, when choosing materials to work on your boat with, you will want one that is robust and durable. That's exactly what you get with King Starboard non-slip flooring. Impervious to moisture, salt, and UV, it is designed to be tough and long-lasting and ideal for use in boat construction.
Available in Various Thicknesses
With different applications, you need sheets of different sizes and thicknesses. Another great benefit of King Starboard is that is available in several thicknesses, ranging from ¼" to 1-1/2". We stock Starboard AS in 1/2" and 3/4" thicknesses, which are ideal for most applications that call for a nonskid finish.
Weather Resistance
Compared with other plastic sheeting and boards that have not been designed with outdoor and marine use in mind, King Starboard AS is built to be fully weatherproof. It will never rot, delaminate, swell, splinter, fade or discolor from exposure to UV light, moisture or salt.
Easy to Clean and Maintenance Free
As it is formed from HDPE, Starboard anti-skid from King Starboard is much easier to clean and maintain than other plastic structural materials used in boat building. Starboard is stain resistant and never needs sanding, compounding, or polishing. It is also easy to clean with marine-grade soaps, mild detergent and water, or household products like SoftScrub.
Virtually Unlimited Possible Applications
King Starboard AS is a nonskid material that can be used in a wide variety of different applications. Although Starboard is not a good choice for full boat decks, Starboard AS is ideal for entryways, floor hatches, ladder steps, casting platforms and poling platform decks, swim platforms, gunwale step pads, helm risers, and other applications where grip is important.
Available in a Variety of Colors
At Boat Outfitters, we stock Starboard AS in White/White, Arctic White, and Seafoam (off-white) to match the majority of fiberglass boat decks.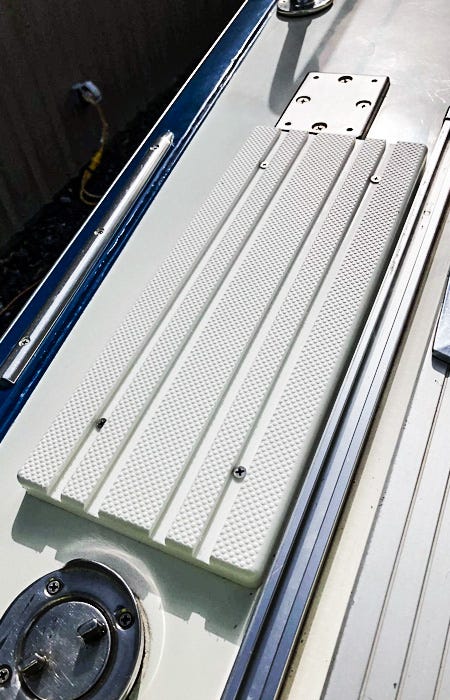 King Starboard Anti-Skid Common Uses
As noted above, King Starboard non-skid, like all King Starboard products, has been expertly designed to fulfill several applications. Although this is not by any means an exhaustive list, we have provided suggestions as to how you might use this efficient non-skid plastic sheet.
Boat Steps
Whether its steps on a boarding ladder, cabin steps, or steps to your flybridge or tower, nonskid HPDE is a great choice for tread material. It is easy to work with, can be cut into different thicknesses and sizes, and is sturdy enough to take the weight of people using the steps.
Swim Platforms
Swim platforms make any boat more practical for aquatic activities like diving, wakeboarding, swimming, and skiing, but they have to provide securing footing for bare feet, even when wet. King Starboard AS is a great choice for this type of application.
Accent Pieces (i.e., gunnel tops)
King Starboard AS is ideal for accents like step pads and gunwale covering boards, providing both aesthetic appeal and secure footing.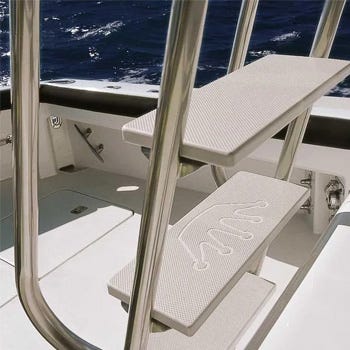 Need More Help Deciding? Give us a call!
For the last 40+ years, we've perfected the art of upgrading boats and helping boaters better enjoy their time on the water. If you have a question about a product or project give us a call! Our team of experts is here to help!
Commonly Asked Questions about King Starboard Anti-Skid