Fishing Tackle Boxes
There's nothing more satisfying to an angler than having all their tackle and fishing gear perfectly organized. With hundreds of tackle box options, there are no excuses for having a tangled mess of tackle and gear onboard. Incorporating a tackle box takes your boat storage and fishing game to the next level!» Read More
Importance of Fishing Tackle Storage
You finally sneak up on a school of redfish, make the perfect cast and hook into a good one but the leader pops… are you able to find your backup lure and re-rig in time to catch another? Having a dedicated system for tackle storage makes sure you have everything you need when and where you need it. The accessibility is important but so is the quality of your tackle storage, life is too short for frayed line and rusty hooks. A good tackle box keeps your tackle dry, secure, and organized.
Tackle Box Features
We get it, every angler has their own style of fishing and you need a tackle box to accommodate your favorite lures whether it's slow pitch jigs or umbrella rigs and everything in between. Our boat tackle boxes offer a countless selection of options to match your needs. Popular features include tackle tray storage, leader spool holders, storage drawers, and knife or plier holders. There are common add-ons as well, like keeper strips, net storage, and tool holders.
Types of Boat Tackle Storage
Free-standing
Looking to add some tackle storage under your learning post? Free-standing tackle boxes are the perfect option, they have a fully enclosed exterior and can be easily mounted to the floor of your boat or secured to the leaning post. Usually found under a leaning post, along the transom, or in the pilothouse, they are a great way to add storage to any area on your boat.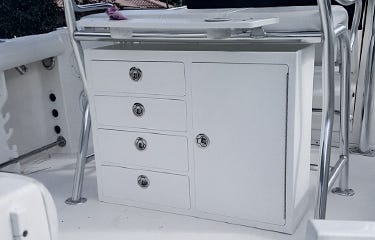 Inset
Built-in tackle boxes are designed to fit into empty or unused space making them an incredibly efficient use of the limited area on your boat. These qualities make them the perfect fit for installing into areas like consoles, gunwales, or transoms. We often see inset tackle boxes used to fill the void of factory-installed accessories like refrigerators, cabinets, or under gunwale rod storage.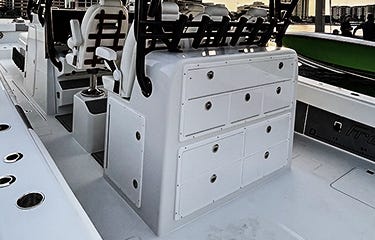 Tackle Box Installation
Installing a tackle box is as easy as measure, cut, and install. When it comes to installing, boxes should be through-bolted to the mounting surface, however, self-tapping screws can also be used. We recommend adding a bead of sealant around the box before installing to keep the area watertight. Please reach out if you have questions. Our team of industry pros are here to walk you through the installation process!
Custom Boat Tackle Storage
Every boater has different needs and each boat has unique space restrictions, sometimes custom tackle centers are required to maximize space and functionality. Whether it's a total custom build or the modification of an existing tackle box listed on our site, we can handle it. Our dedicated sales staff and skilled engineering team make the design process a breeze.
Need More Help Deciding? Give us a Call!
For the last 40+ years, we've perfected the art of adding functional storage for every boater's need - helping them better enjoy their time on the water. If you have a question about a tackle box online or want to design a tackle storage system tailored to your exact needs, give us a call! Our team of experts is here to help!
Commonly Asked Questions about Boat Tackle Boxes