Tilt Out Boxes
Boat tilt-out boxes help maximize the useable space on your boat by mounting straight to the walls, bulkheads, console, or dash of your boat. » Read More
What is a Tilt Out Box?
These are boat storage containers that are mounted inside existing walls and spaces. Because they are inset inside of existing walls, they are extremely low profile and reclaim unused space lost to gunnels and consoles. Tilt boxes require less depth for mounting than a regular boat storage box.
A bottom-mounted piano hinge allows these storage containers to lay nearly flush against your gunnel. When opened, they can provide access to storage space, trash cans, and more.
Construction
At Boat Outfitters, we use King Starboard in the construction of our tilt boxes. King Starboard is the industry leader in marine plastic products and is built to last a lifetime. Our storage containers come predrilled for your convenience.
All Boat Outfitters tilt out tackle box offerings come standard with stainless steel mounting hardware that is corrosion-resistant. Our custom-made storage systems are made in America and built to last a lifetime.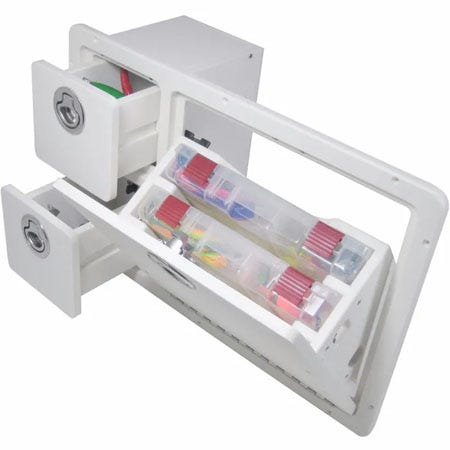 Special Stainless Steel Hardware & Installation
Because tilt out tackle boxes are inset inside of preexisting walls, an appropriately sized cutout is required. Installation is permanent and should be carefully thought out. When planning an installation, carefully measure the amount of available space for your box. Be sure to take into consideration available wall depth as well.
These containers are best fastened using stainless steel machine screws, washers, and locking nuts to properly secure the frame to the walls of your boat or console. Most frames are sold pre-drilled and countersunk for #8 stainless fasteners. We recommend applying a thin bead of elastomeric sealant to the edge of your box and all screw holes. This will ensure it is watertight.
On larger boxes, a rear support block is recommended to relieve weight from the frame.
Types of Tilt Out Storage
Tilt Out Tackle Boxes
These make the perfect tackle organization solution. The ability to put commonly used tackle within arm's reach is easily achieved. Our custom-made tackle organizers come equipped with perfectly sized Plano boxes. This means all you need to do is install your tilt box and you are ready to go.
We also offer tilt out lure tubes to house commonly used trolling lures, plugs, and baits directly on the sides of your boat or console.
Trash Cans
The age-old question of where to put trash on a boat is easily answered with the addition of a tilt box. Adding a designated space for a trash can helps make sure your trash ends up where it's supposed to be and not clogging up your deck, or worse, our waterways.
Our standard tilt out trash cans come complete with the addition of Rubbermaid trash cans, perfectly sized for your system. We also offer trash systems with added lockable storage located above the trash door.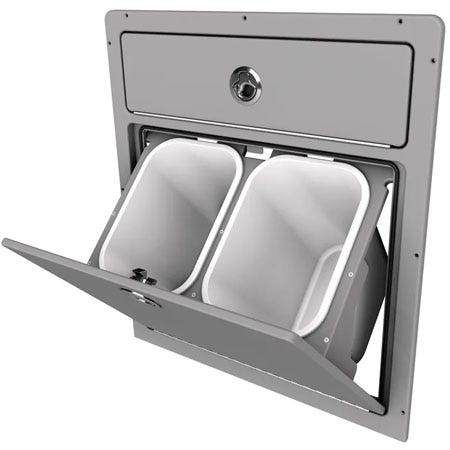 Open Storage Area
Sometimes all you need is just plain more storage. Whether it's phones and keys, or towels, there is never enough dry storage on a boat. The addition of a tilt out boat storage box gives you the ability to safely stow away your belongings. We offer large storage areas as well as smaller glove box-style designs. We even offer tilt out storage to replace rod boxes.
Our wide variety of predesigned containers are sure to fit your needs. Looking for something custom? Send us your design and our team of builders will find the perfect solution for your needs.
Need More Help Deciding? Give us a Call!
For the last 40+ years, we've perfected the art of adding functional storage for every boater's need - helping them better enjoy their time on the water. If you have a question about a tackle box online or want to design a tackle storage system tailored to your exact needs, give us a call! Our team of experts is here to help!
Commonly Asked Questions about Boat Tilt Out Tackle Boxes