Teak Boat Door - Build Your Own
Maintenance, cost, and the introduction of alternative materials have made teak access doors increasingly rare on new boat builds. For the traditionalist, however, there's nothing quite as classy stylish. If you're not afraid of some ongoing maintenance, teak access doors work and look fantastic.
Key Features:
Supplied unfinished ready to be oiled, varnished or stained as desired
Includes stainless steel flush latch with optional locking upgrade
Shipped without mounting holes to allow multiple mounting options
Can be mounted via - Adhesives, counterbored and plugged, countersunk screws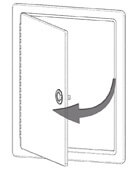 Height - Hinging Left
Height - Hinging Right
Width - Hinging Down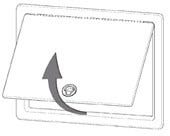 Width - Hinging Up
Note
Grain direction is determined by our engineering department on a per door basis and may vary depending on size/board layout. If grain direction is an important consideration, please call to discuss before ordering.