Signs For Boats
Whether you need custom outdoor signs with information about using your vessel, directional signs for marinas or docks, or official Coast Guard Documentation Boards, you will find everything you need in the boat and dock sign section. » Read More
What you Need to Know About Coast Guard Documentation Plates
United States Coast Guard vessel documentation is an alternative to titling or registering your boat with a U.S. state. Most USCG documented vessels are commercial, but recently increasing numbers of pleasure boaters and recreational boaters have chosen to document their vessels with the Coast Guard instead of registering them. To be eligible for USCG documentation, boats must be wholly owned by a U.S. citizen and must be a minimum of 5 net tons — usually around 27 feet.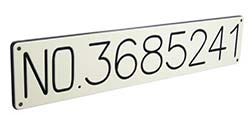 There are several benefits to USCG documentation:
USCG documentation is internationally recognized and makes it easier to enter and leave foreign ports. including in the Bahamas, Mexico, and Canada. If you plan to travel in international waters, consider USCG documentation.

USCG documented vessels are not required to display state registration numbers, which can be an aesthetic concern. Instead, they must display their name and hailing port.

USCG documentation may open up additional financing options for buying a

boat

. Many lenders require that eligible vessels be documented for several reasons.
One important requirement for documented boats is that the official documentation number ( preceded by "NO.") must be permanently affixed in block numbers at least 3" tall on a visible interior structural part of the boat, such as a bulkhead. This should ideally be done with riveting and a sealant.
The Coast Guard guidelines for permanent affixing say that if someone removed or attempted to remove the sign or boat decals, it would leave some damage to the entire area around where the sign was attached. Riveting is considered much harder to remove than through bolting or screws.
Benefits of Boat Outfitters Coast Guard Documentation Boards
The Coast Guard documentation boards we sell are all you need to ensure your full compliance with Coast Guard requirements for the interior display of your documentation number.
Some of the main benefits of choosing our products over alternatives include:
Superior Material
Our documentation plates are made from ½" King ColorCore marine grade plastic sheet, which is impervious to moisture, rot, and UV damage.
Color Contrast
ColorCore sheet consists of a contrasting color sandwiched between outer sheets. Numbers are cut on a CNC router, exposing the black, inner sheet for maximum contrast and a clean, stylish look.
Quality and Durability
Characters are cut or engraved into the board with CNC precision to last a lifetime. They can never fade or discolor.
No Painting Required
Making your own documentation board by painting a wood or plastic board is inexpensive but also difficult. It also runs the risk of characters that don't meet Coast Guard size or shape requirements. Wooden and other placards are also susceptible to rot and delamination over time, and even the best paints deteriorate.
Custom Outdoor Signs
Aside from our important Coast Guard documentation plate, we also have a variety of custom outdoor sign options for easy installation and quick ship times.
We have marina signs, directional dock name signs, slip number signs, and boat rules signs, such as "Please No Shoes on Board," along with campsite signs and personalized campsite signs too for good measure.
Various Shapes, Sizes, & Colors
Although the Coast Guard documentation plate needs to meet specific dimension requirements, we have other custom outdoor signs available that come in different shapes, sizes, and colors for everything that your business may need.
Using our CNC routing and laser engraving, we can make sure they display the unique message or graphics they need at competitive price points.
Our custom outdoor signs are perfect for use as:
Dock labels

Gas docks

Labels for any specific area

Campgrounds

RV grounds

Golf courses and just about anywhere else that requires outdoor signage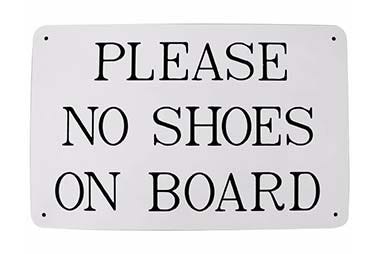 Want to learn more about maintaining and upgrading your boat?
Check out our learn section to make the most of your time on the water!
Need More Help Deciding? Give us a call!
For the last 40+ years, we've perfected the art of upgrading boats and helping boaters better enjoy their time on the water. If you have a question about a product or project give us a call! Our team of experts is here to help!
Commonly Asked Questions about Boat Signs