Marine Lumber
If you are building your own boat from scratch or carrying out any repairs or refurbishments on an existing boat, you need to choose the marine lumber you use carefully. In addition to marine teak lumber, we also have several alternatives. » Read More
Why Teak is Used as Marine Lumber
Teak is Stronger and More Water Resistant Than Most Woods
One of the main reasons teak is used for marine lumber is because it is hardwood. This makes it denser and stronger than softwood options like Douglas-fir and pine. It also has the distinct advantage over other hardwoods like hickory, maple, and oak of not being as heavy or expensive.
Teak wood is also a top material for boats, custom boat parts and dock accessories thanks to its incredible ability to survive wet conditions. Teak is taken from tropical environments and has a natural resistance against the build-up of moisture and does not encourage the growth and spread of mildew or mold. Simply put, teak will not rot as quickly as other types of wood, which is a quality that is really desirable in the material used to build boats and marine accessories.
The oils that make teak resistant to moisture and the consequences that can occur as a result of it are also the same oils that provide resistance against pests like ants and termites.
Teak is Easy to Look After
It will come as no surprise when you consider the points above to learn that teak requires a lot less maintenance than other woods. It is not difficult to clean, and you do not need to regularly reseal it to make sure pests don't make a home for themselves in it or that water gets trapped inside it. At the first sign of teak starting to weather you can apply a variety of teak-specific cleaners and protectants. These products will help seal, protect and restore the color of teak wood.
Teak Has Non-Slip Properties
Another reason why teak is used for marine-treated lumber is that it has natural non-slip properties. While it's true that fiberglass and aluminum offer unique benefits, they are still more slippery than teak.
Alternatives to Teak Wood
Other Hardwoods
There are other woods besides teak that have similar weather-resistant qualities like; cedar, cypress, shorea, and redwood. However, they do not have the same iconic maritime look as teak. Some of these other woods are also very expensive and hard to source.
Marine-Grade Plywood
Plywood has been one of the most common building materials used in marine projects since the 1950s. Plywood is popular because it is strong and relatively inexpensive. Ironically marine plywood is not waterproof and will rot if exposed to water. Marine plywood's inability to resist water has driven the demand for better, longer-lasting marine-grade building materials like coosa board and starboard.
Coosa Board
You may or may not have heard of the Coosa board already, but to make sure you are clued up about it, we are going to explain what it is as well as the pros and cons of using it.
Coosa Board is a specially designed high-density polyurethane foam that has reinforced fiberglass layers. The idea behind its inception is that you get a building material for boats that is superior to plywood in terms of its rigidity, and longevity but more lightweight.
Pros of Coosa Board
Easy to fabricate with standard tools

30 to 40% lighter than marine plywood

Does not require any special maintenance or cleaning

Easy to laminate

Highly water, rot, mold, mildew, and pest resistant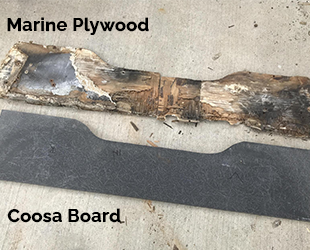 King Starboard
King Starboard is another alternative to teak and plywood that has become something of a standard within the marine sector. It utilizes high-density polyethylene to create a super versatile weatherproof building material. The ease of fabrication and longevity of starboard make it a common material for replacement teak wood parts.
Some vendors categorize starboard as marine lumber, however, starboard has no wood or natural components. Therefore, it's only appropriate for starboard to be considered a plastic sheet material, not marine lumber.
Pros of Starboard
Extremely robust material and impervious to discoloring and rot

Easy to fabricate with standard woodworking tools

Does not require any special maintenance or cleaning

Matte finish does not need to be laminated or polished after it has been installed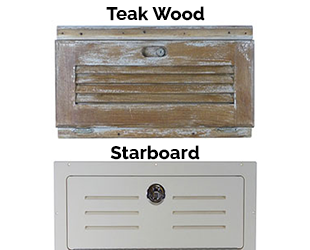 Commonly Asked Questions about Marine Lumber
We got our start selling custom teak wood boat parts, and have perfected the art of using teak wood and similar marine materials. If you have a question about marine lumber give us a call! Our team of experts is here to help!