Fish Cleaning Tables
From overhanging dock cleaning stations to portable fish cleaning tables to extra large cleaning stations, a reliable fish cleaning table is the ideal solution for processing your fish after a long day on the water. » Read More
Why You Need a Fish Cleaning Station
A fish cleaning station or fish cleaning table is a dedicated place to clean your day's catch. Constructed of heavy-duty marine-grade materials, fish tables are built to stand up to the rigors of everyday use. Fish tables offer easy clean-up after a long day on the water and keep docks neat. Rigging gear and fishing tackle are also easily done on the flat clean surface of a dock fish cleaning station.
A dedicated cleaning station is also far easier and more comfortable to work at than a cooler lid or other improvised solution that forces you to bend over uncomfortably.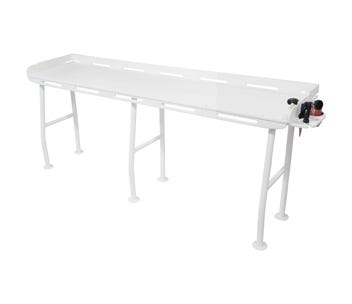 What Makes a Good Fish Cleaning Station?
A good, heavy-duty cleaning station should be built to last a lifetime of sun and salt, clean up easily, and not damage expensive knives. When looking for your next fish cleaning table, be sure it is constructed of heavy-duty, marine-grade products, like King Starboard, which is impervious to sun and salt, easy to keep clean, and won't dull knife edges. Cleaning table legs should also be made to withstand season after season of exposure to weather and salt.
Finally, a good dock fish cleaning table also makes it easy to keep everything you need safe, secure, and easy to reach, including knives, pliers, hoses, umbrellas, and a frosty beverage.
Fishing Cleaning Table Mounting Styles
Fish cleaning tables for docks range from simple and economical to full-featured. Most cleaning stations found on docks consist of a plastic cutting surface mounted on metal or wooden legs. We use powder-coated aluminum table legs for durability and appearance. Most dock cleaning tables have four or six legs that all attach to the dock.
For smaller docks, though, that can take up a lot of space. A good solution is a Dock Overhang table that attaches to the edge of your dock and positions the table itself over the water. This saves valuable dock space and makes cleanup even easier.
How Big Should Your Cleaning Table Be?
The size of your cleaning station should be determined by a couple of factors — the size of the fish you plan to clean and the number of people who will be using it at the same time. If your cleaning table isn't big enough to hold your fish, it isn't much use.
Our smallest dock mount tables are 4 feet long, but if you target larger pelagic species like wahoo, kingfish, sharks, and mahi you may need a 6-foot or even 8-foot cleaning table. Even if your intended use is smaller inshore or freshwater species, you'll need a longer table if it will be used by more than one person at a time, such as at a marina or fish camp.
Fish Cleaning Tables for Boats
Are you looking for a fillet table or cleaning table for your boat? Starboard fillet tables make great places to clean fish on board and also to rig boats and prep bait and chum. Fillet tables differ from cleaning stations in that they're smaller — about 25" long — and removable for storage when not in use.
Most mount in flush mount rod holders or attach to vertical surfaces like our V-Lock Cutting Board. Another option is using a cooler-top cutting board that attaches to your Yeti, Igloo, or other rotomolded coolers for cleaning fish and prepping bait.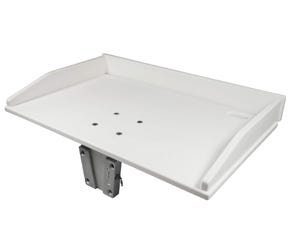 DIY Cleaning Tables
Although we offer several "out-of-the-box" fish cleaning tables that suit most applications, designing and assembling your own dock cleaning station lets you build the perfect table and also can save you money. Simply choose your powder-coated aluminum legs (overhang or standard), and the dimensions of the tabletop, and then add accessories like tool holders as needed.
Are you simply replacing an existing table top? Replacing old cleaning table tops with a new Starboard cleaning table surface has never been easier with cut-to-size Starboard and our in-house made Build Your Own Fillet Table Top.
Available Features and Accessories
Drawers
Sinks
Shelves
Tool Holder
Hose Holder
Knife Holder and Knife Sharpener
Need More Help Deciding? Give us a call!
For the last 40+ years, we've perfected the art of upgrading boats and helping boaters better enjoy their time on the water. If you have a question about a product or project give us a call! Our team of experts is here to help!
Commonly Asked Questions about Fish Cleaning Tables