Most Popular Types of Marine Fasteners
Marine fasteners are the hardware used to build and install most boating accessories, component parts, and a wide array of other products. The most common type of fasteners are screws, nuts, and bolts. Marine fasteners are built for specific applications and designed to be especially weather and water resistant.
Stainless Steel Self Tapping Screws
At Boat Outfitters, we stock stainless sdteel marine fasteners. These include flat heads, oval heads, pan heads, and truss head self-tapping or sheet metal screws in #6, #8, #10, #12, and #14 sizes. In addition to chrome-plated stainless steel finish, we offer #6 and #8 flat head white screws that are powder-coated stainless steel for a sleeker, more finished look.
Stainless steel self-tapping or sheet metal screws are suitable for fastening to solid fiberglass, cored fiberglass, and King Starboard. They are frequently used for mounting hinges, latches, and various accessories like cup holders. Fittings that are subject to heavy loads, like cleats and flush-mount rod holders, should be through-bolted whenever possible.
Stainless Steel Bolts & Machine Screws
Boat Outfitters stocks a selection of the most commonly used sizes of stainless steel machine screws (sometimes also called bolts) in flat head, oval head, pan head, and truss head. Sizes include #6-32, #8-32, #10-24, 1/4"-20. The first number denotes the thickness of the screw; the second denotes the number of threads per inch. We also offer #8-32 flat head white machine screws with a powder-coated finish.
Machine screws and bolts are used with nuts and washers to through-bolt hardware, fittings, and accessories. This provides a stronger and more secure connection than self-tapping screws.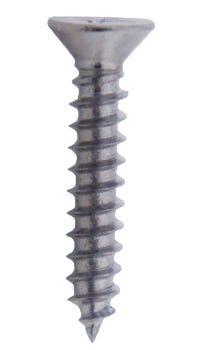 Stainless Steel Hex Nuts
We stock stainless steel hex nuts and stainless steel lock nuts with nylon inserts in a range of common sizes. The nylon insert in lock nuts holds them in place and prevents them from loosening, even with extensive vibration.
Snap Fasteners
We stock snap hardware in two materials — stainless steel and nickel-plated brass.
Our Canvas Snap Studs are nickel-plated brass and are typically used to snap canvas covers to boats. They can also be used to secure awnings, curtains, and other on-board canvas, and to attach seat cushions. These are often ordered as replacements for existing snap studs.
In stainless steel, we stock snap studs, sockets, and caps. The stud is the male part of the snap and is available alone or with an integrated 3/8" self-tapping screw for attaching to fiberglass, Starboard, wood, or metal. The socket is the female part of the snap, that locks over the stud. The cap is the decorative cover that goes over the socket to give the snap a finished look. Please note that installing snaps to canvas, vinyl or other cloth requires a special tool, which is sold separately.
In addition to traditional snaps, we also sell innovative Strex Boat Cover Fasteners with silicon marine fasteners that make it the ideal choice when installing and removing your boat cover.
Stainless Steel Washers
Washers are critical when through-bolting hardware or accessories on your boat. Never tighten a nut directly against fiberglass, Starboard, or even wood. Nuts spread the force out over a larger area and protect the surface from damage. We stock washers in sizes #6, #8, #10, and 1/4". All are Grade 316 stainless steel, the most corrosion-resistant grade.
Stainless Steel Press in Threaded Inserts
These press-in inserts usually fit a 7/32" pilot hole and accept a #8-32 machine screw. However, we are constantly expanding our size and style options. They are used as original equipment by several boat manufacturers and work well to provide extra bite for threads. They are used to create a strong metal thread in almost any material.
Stainless Steel Hog Rings
Hog rings are hard-to-find marine fasteners most often used on boats to securely join two pieces of bungee or other cordage in applications like fishing rod tie-downs, outriggers, paddle leashes, rod leashes, and more. Simply crimp into place with standard pliers. We stock two sizes — 0.1875" and 0.25" — in stainless steel.
T-Nuts & Barrel Nuts
T-nuts and barrel nuts are specialty marine fasteners that serve the same function as a standard hex nut but sit flush to the mounting surface. T-Nuts are often used on the underside or back of hinges, where there may not be enough clearance for a typical hex nut. The prongs penetrate and grip the substrate. T-nuts do require drilling out a larger hole on the mounting surface to accommodate the barrel.
We stock stainless steel T-nuts in #8-32, #10-24 and 3/8"-16 sizes. Barrel nuts also press into an opening rather than protrude like a hex nut. We stock nickel-plated brass barrel nuts in #8-32 and #10-24 sizes.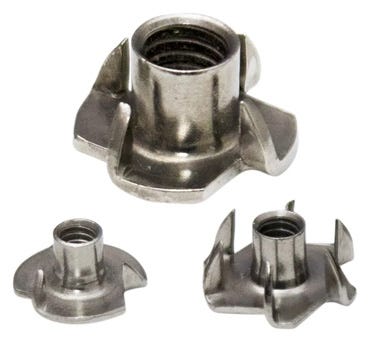 Need More Help Deciding? Give us a call!
For the last 40+ years, we've perfected the art of upgrading boats and helping boaters better enjoy their time on the water. If you have a question about a product or project give us a call! Our team of experts is here to help!
Commonly Asked Questions about Marine Fasteners and Screws