Graphics for Boats & Vinyl Boat Lettering
Decals & graphics for boats are often overlooked by new boat owners. Although some boat decals and graphics are for aesthetics only, boat registration numbers or Coast Guard documentation numbers are legally required on most boats. » Read More
What Vessels Need to be Registered & Documented?
Registration requirements vary by state. Generally speaking, though, any vessel with a motor — even a trolling motor — must be registered. Sailboats and paddle craft less than a certain length are often not required to be registered. For example, in Florida, boats without motors under 16 feet in length do not have to be registered, nor do boats used exclusively on private lakes or ponds. Always consult your state's current requirements directly.
United States Coast Guard vessel documentation is an alternative to registering your boat with a U.S. state. To be eligible for USCG documentation, boats must be wholly owned by a U.S. citizen and must be a minimum of 5 net tons — usually around 27 feet.
Note that in some states you may still need to register a documented boat and pay a registration fee.
Registration Number Display Requirements
There are specific guidelines for displaying your state registration numbers. You can be fined for displaying numbers improperly.
Characters (letters and numbers) must be in BLOCK capitals.
Characters must be at least 3" tall.
Characters must be a color that contrasts with the hull color.
Letters and numbers must be separated by a hyphen or a space, e.g., FL 1234 AB or FL-1234-AB.
Registration number must be displayed in the forward half of the vessel, on both sides, well above the waterline.
Your current registration sticker must be displayed immediately before or after your registration number on the port side.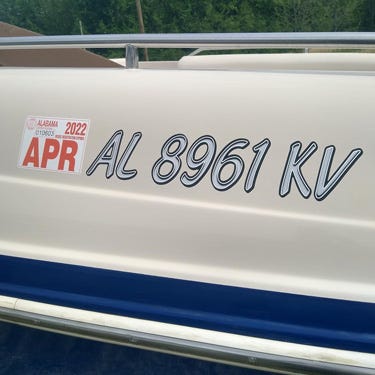 Documentation Number Display Requirement
Instead of registration numbers, Coast Guard documented boats must display their boat name and home port in a visible location on the hull — usually either the transom or one or both sides. Characters must be at least 4" tall, and the name must be 33 characters or less.
Additionally, the vessel's documentation number with the characters "NO." must be permanently affixed — screwed, riveted, painted, etc. — on a visible interior structural part of the boat in block numbers at least 30" tall. This documentation number stays connected to your boat for its lifespan. It will not change even if the boat changes ownership.
Why Should You Register & Document Your Vessel?
As well as ensuring that you are compliant with state and Coast Guard rules and regulations, registration and documentation of your boat also help make sure you can have an enjoyable and safe time on the water and helps to ensure the safety of other boat owners and their vessels.
The money you pay for registration also helps fund the enhancement and protection of the natural aquatic resources of your state.
Additionally, in many states, your registration serves as proof of ownership of your boat. Titling regulations vary, and in states that do not title boats, a current registration will be required to prove and transfer ownership.
Other Uses for Boat Graphics & Boat Decals
Although you will be looking at boat decals and graphics for use on your vessels, our vinyl lettering and number kits are ideal for anywhere you want to display a message or an important number that needs to stand up to elements.
Need More Help Deciding? Give us a call!
For the last 40+ years, we've perfected the art of upgrading boats and helping boaters better enjoy their time on the water. If you have a question about a product or project give us a call! Our team of experts is here to help!
Commonly Asked Questions about Graphics for Boats & Vinyl Boat Lettering