Boat Glove Boxes
Need a place to toss your keys, wallet, and phone while on the water? We've got you covered! Find the perfect marine glove box for your helm with a wide variety of styles available. » Read More
How Glove Boxes Are Used on Boats
A boat glove box, also known as a boat console glove box, is a valuable addition to any type of boat, be it a bass boat, ski boat, fishing boat, yacht, or any other type of watercraft. A glove box provides a convenient and secure storage space for all your essentials, including keys, electronics and personal items. It also helps fill any extra space in your boat's center console and can even be used to cover any holes or gaps.
One of the primary benefits of having a boat glove box is the extra storage space it provides. On many boats, there is often a lot of wasted space that could be put to better use. A compact boat glove box can help you make the most of this unused space, giving you a place to store your essentials and keep them within reach. A boat glove box can also provide protection for your electronics and other valuable items. For example, many boat glove boxes are weatherproof ensuring that your items are safe from the elements, even on rough water. The weatherproof feature is especially important on fishing boats or any oceangoing boats, where you may need to store items that could be damaged by water.
Boat Glove Box Materials: Starboard, Acrylic and Molded Plastic
When considering a boat glove box, it's important to think about the materials it's made from, as well as the installation process. Three common materials used for boat glove boxes are King Starboard, acrylic and molded plastic. Starboard is a popular choice for its durability and resistance to the elements, making it a great option for boaters who want a long-lasting and weatherproof glove box. Acrylic is also a great option for its glossy finish and clarity (if not colored), which allows for easy visibility of items stored inside. Molded plastic is a lightweight and affordable option, making it a great choice for boaters who want a budget-friendly glove box.
Locking vs. Non-locking vs. Open Boat Glove Boxes
Boaters should also bear in mind the type of door they would like for their glove box. It's important to consider the access needed and whether a doored, keyed or open cubby is necessary for the intended application of the glove box. The type of access chosen will depend on what is to be stored in the glove box and the level of protection needed. For those who want even more security, a boat glove box with a lock or latch can provide peace of mind. You can rest assured that your items will be safe and secure, even when you're not on the boat. And if you're worried about theft, a marine glove box with a lock can help deter any would-be thieves. Just be sure to make copies of the keys!
If you're worried about those old holes, then a glove box is a great way to replace old electronics or cover any holes or gaps in your boat. This can give your boat a clean and finished look, as well as protecting you from any exposed wires or cables.
An insert type of glove box can be easily installed into an existing console or dashboard. This is a great option for those who want to add a glove box to their boat without having to do a complete overhaul of the center console. And if you're looking for a glove box that matches the look and style of your boat, there are many different colors and finishes to choose from, including white, black, and custom Starboard, acrylic or molded plastic, as a few examples. Whether you're looking for extra storage space, protection for your items, or a way to fill any extra space in your boat's center console, a boat glove box is an excellent solution. It's a simple and very affordable way to upgrade your boat and make your time on the water more enjoyable.
Boat Glove Box Installation Concerns
When it comes to installation, it's important to consider the cutout size, mounting depth, and sealing process. The cutout size will depend on the specific glove box you choose, and it's important to make sure that the cutout size is correct to ensure a secure fit. The mounting depth will also vary depending on the glove box you choose, and it's important to make sure that you have the necessary mounting depth for the specific model you choose.
Additionally, the sealing process is important to keep water from entering the interior of your boat, so be sure to use a high-quality sealant when installing your glove box. When installing a boat glove box, the sealant used is crucial in ensuring a watertight and secure fit. The best sealant for boat glove boxes is a marine-grade sealant, specifically designed to withstand harsh marine environments and resist water, UV rays, and temperature changes. Some popular options include Sikaflex-295 UV, Sudbury elastomeric sealant, and 3M 4200 adhesive sealant.
For a less permanent application, other marine sealants and caulking can also be used, but be sure to match the application with the correct sealant as it's important to choose a sealant that can bond well to both the boat and the glove box material, whether it's Starboard, acrylic, or molded plastic. Additionally, some sealants have a faster curing time and can be applied in both wet and dry conditions, making the installation process easier and more efficient. When using sealant, be sure to apply it evenly and allow enough time for it to cure properly before using the boat.
Lastly, it's important to think about the type of mounting you want for your glove box. Some glove boxes are mounted through-bolted, while others are mounted with screws. Through-bolting provides a stronger and more secure mounting solution while screwing is a simpler and more affordable option. When considering your mounting options, think about the level of security and stability you need for your specific application.
In conclusion, there are several factors to consider when choosing a boat glove box, including the application of the glove box, the desired security, the materials used, the type of access, the installation process, and mounting options. By considering these factors, you can find the perfect glove box for your boat that meets your specific needs and provides the protection and storage space you need.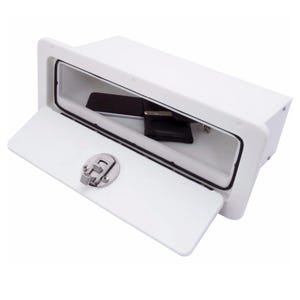 If you're looking for a way to keep your essentials safe and organized while you're out on the water, a boat glove box is worth considering. With so many different types and styles available, you're sure to find one that fits your needs and the look of your boat. Whether you're a seasoned boater or just starting out, a boat glove box is a smart investment that will make your time on the water more enjoyable and worry-free.
Need More Help Deciding? Give us a call!
For the last 40+ years, we've perfected the art of upgrading boats and helping boaters better enjoy their time on the water. If you have a question about a product or project give us a call! Our team of experts is here to help!
Commonly Asked Questions about Boat Glove Boxes