Pontoon Furniture
Is your pontoon boat furniture looking faded, worn, or cracked? Fortunately, you can replace or upgrade your pontoon furniture with high-quality benches, chairs, lounges, tables, and frames from Boat Outfitters! » Read More
Why DIY Pontoon Furniture?
Pontoon boats are a very popular choice because of the amount of space that the large deck provides for the captain and passengers. All the flat deck space allows boat owners options for awesome variations of seating and other furniture. But, by nature of being outside and used in a harsh marine environment, the seating materials, typically marine-grade vinyl, may begin to break down and deteriorate over the years.
Rather than an expensive professional job, owners often opt for a DIY solution to their deteriorating seating, even though most pontoon boat brands on the market (Tahoe, Sun Tracker, Manitou, etc.) offer a wide range of pontoon furniture and seating upgrades. However, some of these custom changes and upgrade options can add significantly to the price of the boat.
Thus, DIY can be a practical and cost-effective way to upgrade the seating and extend the life of the boat!
What Material Is Used for Pontoon Boat Seats?
Typically, the top choice for any boat seating is a durable, marine-grade vinyl material. They are designed to withstand harsh marine abuse and will not be adversely affected by the wet environment. Marine-grade vinyl is known for its resistance to UV rays, water, and mildew which provides significant protection against deterioration and abuse.
At times, fabric options are used, and they may include durable polyester blends or specialized marine fabrics with similar resistant properties like marine vinyl. Antimicrobial foam padding is used to add comfort to the seats. This foam is specially formulated to resist mold and mildew that you often see coming through white boat seating as black spores grow.
When & Why Should You Replace Pontoon Seating?
Wear and tear, such as faded or cracked upholstery, damage, broken frames, or worn-out cushions, is when owners begin to consider either replacing the seating on a pontoon or buying a new pontoon boat altogether. Boat owners might like to move to a more comfortable or stylish seating option that better aligns with their preferences, shows off a little more, or fills a utility need (e.g. more fishing, lounging, or watersports than previously).
For that, DIY replacement of seating is a cost-effective way to provide a better fishing platform or show off some extra flair that the owner would like. It's also great to consider DIY replacement if the existing seating and vinyl are worn out, damaged, or very outdated. Opting for DIY replacement can be a practical solution to restore the comfort and functionality of the seating.
Any DIY project will be invaluable to the owner because of the skills and confidence gained to be able to maintain and repair parts of the boat that may have been previously overwhelming.
Types of Pontoon Boat Seating
Pontoon boat seating comes in various types to cater to different functions and preferences. Bench seats are one of the most common options; they provide seating for multiple passengers without sacrificing storage space or compartments. On the other hand, captain's chairs are popular for the boat's helm to allow the captain better maneuverability and vision of the surroundings.
Lounges are similar to benches but provide more surface area for relaxation and sunbathing. Some opt for more of a "lazy boy" feel and install an armchair version that is much like a hybrid between a captain chair and a lounge. Armchairs allow leaning in different positions, swiveling like a captain's chair, but the high comfort feel of a lounge.
As with anything boating DIY, these different types of pontoon boat seating can be combined to create a customized and comfortable seating arrangement for anything that one wants!
Traditional Seating Types
Traditional seating is usually used to refer to standard bench seats or captain's chairs which are basic options on most pontoon boats. This type of seating isn't necessarily boring, but it might not be the most exciting since this is the standard look for most pontoons out there on the water.
To maximize the space, benches are usually installed along the sides of the pontoon boat and can provide plenty of seating while giving guests a place to move around the boat. Bench seats also feature extra storage space underneath for storing flotation devices, anchors or even installing a built-in cooler or live well to keep baitfish and catch in.
In contrast, the captain's chairs are typically placed at the helm and offer more comfort and built-in features as well as a swivel function for better visibility and maneuverability.
Pontoon Lounges
For those that have guests who sunbathe or enjoy relaxing, lounges are very popular. They're also fantastic in place of the hot floor of the pontoon boat and will provide a place for guests to unwind. Features include plush cushioning, reclining capabilities, and built-in cup holders for maximum comfort.
Lounges may come in different shapes and sizes, from single lounges or large triple lounges; they can be moved or positioned around the boat wherever the owner thinks best. Whenever one is looking for lounges, make sure the materials are high-quality, long-lasting marine vinyl or they may not last as long as expected.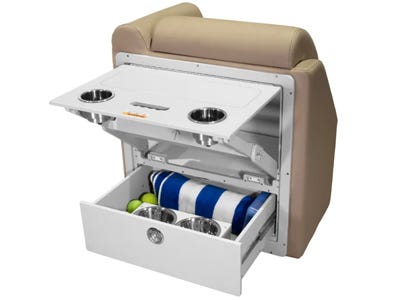 Fishing Seats
Fishing seats are designed specifically for anglers and feature rod holders, cupholders, and a swiveling base to use while fighting fish or casting in different directions. As always, these feature durable materials and are easily installed, perfect for the DIYer. On top of that, fishing seats can also include storage options for tackle boxes and other fishing gear.
This provides easy access to fishing tackle but a quick spot to throw the box when clearing room to fight a fish. More often than not, fishing seats have plenty of built-in bolstering and comfort features for the hours of casting and searching that often accompany a fishing trip with the family.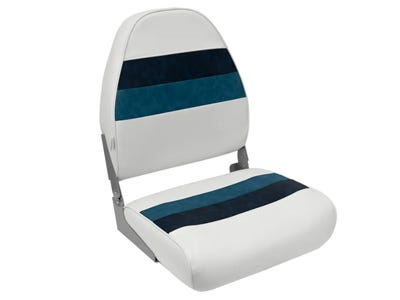 Flip-Flop Seats
What in the world is a flip-flop seat? Some refer to reversible seats as "flip-flop seats." These are versatile seating options that can be easily flipped to face forward or backward, hence the nickname. These seats are inspired by the center console boat leaning posts that can be repositioned to sit, lean or stand either facing the bow or stern of the boat.
Most owners prefer to place the flip-flop seats at the bow or stern of a pontoon boat for looking forward or backward depending on the activity. Flip-flop seats typically come with integrated armrests, cup holders, and storage compartments (e.g. cooler or food storage), and are available in various styles, colors, and prices.
Pontoon Boat Tables
As an avid boater, adding a lightweight and durable table to a pontoon boat can add a level of comfort and utility to the boat. Instead of using a cooler or makeshift table on a bench, an adjustable-height table with cup holders and a built-in umbrella can be easily added to the deck of a pontoon boat.
Most pontoon boat tables are also foldable and make it easy to store out of the harsh environment, maintaining the table in great condition even after many uses. Adding a table with a custom layout of chairs, lounges, and benches can be the perfect finishing touch to any DIY builder's pontoon boat.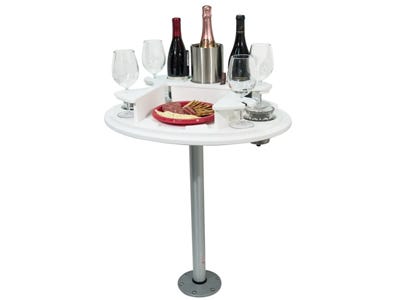 Maintenance & Care
One of the most overlooked but important steps to owning a boat is proper maintenance and care. Manufacturers often suggest cleaning with mild soap and water, avoiding harsh chemicals or abrasive cleaners, and protecting the seating from prolonged exposure to sunlight and harsh weather conditions. If the vinyl and stitching are continuously stored outside in direct sunlight, then fading, discoloration and even ripping will eventually occur.
Further, using harsh chemicals like bleach will weaken the thread used in stitching the vinyl around the foam cushions in the seats. This will eventually lead to split seams and waterlogged cushions.
Finally, it is important to inspect the seating regularly for any signs of wear, damage, or loose hardware, and to address any issues promptly to prevent further damage or loss of time on the water. Neglecting maintenance can end up costing a small fortune in repairs even on a simple pontoon boat. Establish a routine for repairs and maintenance, and be sure to stick to it.
DIY replacement of pontoon furniture is a practical, cost-effective way to upgrade the seating on a pontoon boat. It is also a great learning experience and confidence boost for a boat owner. The various boat brands and types of seating mean that boaters can customize their seating arrangements, one of the greatest benefits of DIY projects.
Whatever the goal of your DIY seating project, you will find an unlimited number of combinations for seating arrangements and seating types. With a little elbow grease and determination, these projects can happen in a weekend or even as little as a few hours!
Need More Help Deciding? Give us a call!
For the last 40+ years, we've perfected the art of upgrading boats and helping boaters better enjoy their time on the water. If you have a question about a product or project give us a call! Our team of experts is here to help!
Commonly Asked Questions about Pontoon Furniture