Boat Tables
There is no better feeling than spending time on the water with your friends and family for drinks or a meal. Whether that meal is while you're tied up at the marina, anchored at the sandbar, or waiting for the fish to bite, having the perfect boat tables make it all better. » Read More
Things to Consider
Boat tables come in all different shapes and sizes. How you plan on using your boat has a large impact on what table works best for you. A table made for rigging baits will look much different than a table made for serving brunch.
The next consideration is the amount of available space your boat has. Too large of a table on too small of a boat can make getting around the boat difficult, but too small of a table to fit your needs can be just as bad.
Where are you going to mount your table? This is relevant to the size of your boat and what use you have in mind for your table mount. Boat layouts, sizes, and applications can all help determine the best mounting location for your table.
After you find the best spot on your boat, you need to figure out the best size for your table, and the best method to mount it. As with many aspects of owning a boat, there's always some method of compromise involved to find the best option.
Table Materials
As stated previously, how you plan on using your table will have a big impact on what you need to buy. For a table meant to hold light snacks and provide cup holders, construction material is not as important as it is for a heavier-use surface. On a heavier-use surface, it's important to buy a table that is built to stand up to it.
Any unsealed wood surfaces should be avoided for outdoor marine use, as they can deteriorate when subjected to moisture. Wooden boat table tops can be beautiful for indoor applications, and many boat salons feature beautifully finished wooden table tops.
Particle board tables frequently found in housing applications should be avoided for marine use, even for boat cabin tables. The marine environment is simply too moist for the glues used in particle boards, and the table will begin to fall apart quickly.
For marine boat table top materials, some great options are King Starboard, Corian, and fiberglass. Starboard has a lot of benefits for boating tables. It is lightweight, strong, and impervious to moisture and UC.
Corian is another surface that is built for marine applications. It is strong, easy to clean, and nonporous. One drawback of Corian is how much it weighs. In comparison to Starboard, it is almost three times the weight. However, Corian does have a very attractive appearance that makes it great for tabletops and countertops.
Fiberglass marine tables are lightweight and strong, but they typically require more maintenance than Starboard tables. Gelcoat surfaces, for example, can get chalky and dull from extended sun exposure. Additionally, cored fiberglass can absorb water through fastener holes if not properly sealed. On the other hand, the glossy finish of gelcoat matches most fiberglass boats flawlessly if that's important to you.
Table Placement & Mounting
Now that you have your intended use and material figured out, the next question is how and where to mount a table on your boat? Like table top surfaces, you have a few mounting options as well. In most boats where storage is of the essence, folding tables are a great option.
Most folding tables mount inside of the wall or against it, taking up almost no space when not in use. When they are needed, they simply fold out for access. Some models have storage drawers as well. For boat galley tables, a folding option allows multiple uses for one space when the table isn't in use. One thing to consider about these stowable folding boat tables is that they require some depth within the wall to mount. This can range from five to fifteen inches depending on the size and model.
The vertical floor mount is standard for marine tables for boats. It doesn't offer any storage options but is one of the most popular freestanding options. Typically these floor mounts consist of a threaded floor mount for the pedestal, a pedestal, and the tabletop. This allows you to remove your table when not in use. For larger tables, multiple pedestals might be needed for support.
A removable side pedestal mount is another mounting option. It is ideal for table tops up to twenty inches in diameter, and when not in use can be easily stowed to take up almost no space.
Different styles of boats also lend themselves to different types of tables and mounting options. For the boater with a bow rider, the bow-mounted table is an excellent use of the forward space and seating on your boat. Multiple people can utilize the pre-existing seating, and the table is large enough to eat a full-size meal off of.
It is important to consider where your base is installed if you plan on frequently putting your table up or down. Flush-mounted bases are important in high-traffic areas, as raised bases become a tripping hazard and a magnet for stubbed toes. Similar to folding table mounts, it's important to make sure you have the vertical clearance necessary for a flush mount.
Table Designs
Now that you have the perfect boat tabletop surface, the perfect location, and the perfect mount, it's time to pick out the best design. Certain spaces naturally lend themselves to specific table top shapes. Certain applications also lend themselves to certain designs.
Boat Outfitters' Drink Bar with Serving Tray, for example, is designed with entertaining your guests in mind. It features multiple cup holders and recessed areas for serving trays. Even on smooth seas, cup holders are critical to avoid spilling drinks all over the deck of your boat.
One place, however, to avoid recessed non-draining cup holders is a bait table! Every bit of bait slime and grime will settle at the bottom of your cup holder and they can be a nightmare to clean. One recommendation when looking into tables with cup holders is to make sure the holders have a drain! Spilled drinks, saltwater, and rain can all gather in your cup holder making a difficult to clean mess.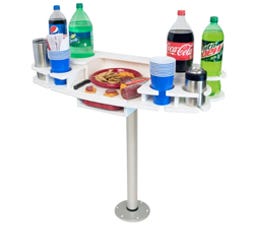 Table Height & Adjustability
Some newer boats offer adjustable boat table pedestals that allow your marine table to serve multiple purposes as a table or a sun deck. When needed as a table, the pedestals elevate higher to the preferred table level for eating or drinking.
When operating as a sun deck, the pedestals lower, and fitted cushions button over the table to turn your bow into a sun deck. Regardless of the brand or layout, adjustable table bases allow a table to serve multiple purposes.
Mounting Your Table
Now that you have the perfect table, make sure it's installed properly. Ensure all the installed boat table mounting hardware is high-quality stainless steel. There's nothing worse than your clean boat having corrosion streaks from cheap hardware.
Another thing to consider any time you install anything on your boat is your coring integrity. Any hole you drill or screw needs to be properly sealed shut. Otherwise, water can penetrate around your hardware and begin to rot the deck of your boat.
On heavier tables, or on boats that may be subject to heavy seas or large wakes, make sure your hardware can distribute the load of your table properly. In some instances, it may be a good idea to mount some sort of backing plate under your deck to properly distribute any forces that may act on your table.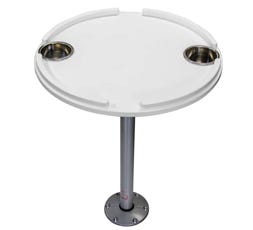 Need More Help Deciding? Give us a call!
For the last 40+ years, we've perfected the art of upgrading boats and helping boaters better enjoy their time on the water. If you have a question about a product or project give us a call! Our team of experts is here to help!
Commonly Asked Questions about Boat Tables
What kind of tables can be installed on boats?
(show/hide)