Marine Paint
When it comes to boats and docks, paint is not only important because it provides a protective non-slip layer, but also gives it an attractive finish and is an important part of boat maintenance. » Read More
Why Dock Paint & Boat Paint is Important?
If you are new to boat and dock care, you may wonder why it is so important to choose the right marine topside paint. you may think all marine paints are the same, however, that is not the case!
Dock Paint & Boat Paint Needs to be Non-Slip
Both boats and docks are very wet and slippery places. Can you imagine how much more they would be slippery if you used an ordinary and very slippery high gloss paint? The last thing you want is for you or anyone else to have an accident and get injured using your boat or dock.
Therefore, you must get non-slip paint that creates safer surfaces to walk and work on, while making them look smart and aesthetically pleasing.
Protect Boats & Docks
The other main reason you need to think carefully when choosing the right boat paint and dock paint is the very reason you are buying the paint in the first place. Aside from aesthetics, it is important to use antifouling paint on certain boat parts or sections of your dock to protect them from damage and deterioration.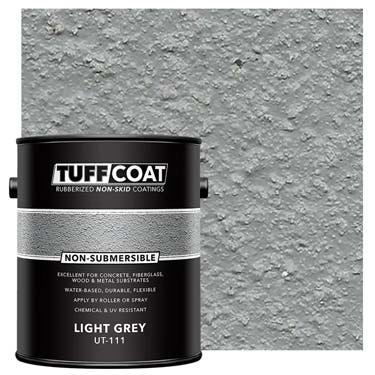 Benefits of Different Boat Topside Paint Products
As there are many different types of paint products available right now from Boat Outfitters, we thought we would highlight some of the main benefits so you can easily see which is best for your specific needs.
Tuff Coat Deck Coating
This can be used to enhance boats by providing a textured, non-slip surface. Compared to others, one of the distinct advantages this

boat paint

has is that it is not too hard or uncomfortable underfoot when you or anyone walks on or uses a surface coated with it.

It's gentle yet grips super well!

Capable of handling lots of foot traffic and heavy machinery like forklifts.

Adheres easily to various materials like asphalt, rubber, metal, vinyl, wood, concrete, plastic, and fiberglass.

With the correct primer.

Can be rolled or sprayed on surfaces easily in thin layers

The Tuff Coat textured roller is great for using on surfaces you want to finish with a specific type of texture. It benefits from a unique honeycomb design that makes it easier to spread the paint evenly. It also helps provide grip with the added texture the roller applies.
KiwiGrip Non-Skid Additive Coating
This particular coating and paint alternative is great because it is non-skid and non-slip, long-lasting, and very easy to install.

Can be used with a variety of different materials including metal, porcelain, marble, tile, vinyl, concrete, epoxy, and fiberglass.

The specific roller is key to creating a non-slip surface. Kiwi grip does not have a particulate like many other non-skip paints, rather the texture of the roller creates the gripping surface. You can control the depth of surface variation/grip by how much pressure is applied to the roller.
Other Uses for Boat & Marine Paint
Aside from use on boats and decking, many of the paints we offer here at Boat Outfitters are suitable for non-marine uses, including:
Porches and decks

Pool areas, and locations like waterparks

Any area where extra grip or a non-slip surface is needed

Any outdoor location and application where weatherproof paint is required
Why Boat Outfitters is the Best Supplier for Tuff Coat & Marine Paint
You may wonder why you should choose to buy dock and boat paint from Boat Outfitters in particular. You can be sure that any of the paint products featured on this site have been used by at least one or more of our team on our boats, docks, marinas, and other applications.
We sell a large selection of Tuff Coat and other paints designed with a huge variety of different projects in mind. You are unlikely to have trouble finding the right paint for the specific project you are working on, whether it is painting boats, docks, waterparks, or something else. It doesn't even matter the size of the job either. We can accommodate your needs and requirements.
We are renowned not just for our extensive product catalog, but also for our commitment to delivering second-to-none customer service. If you have a question or query about painting your boat, dock, etc. get in contact with us today and one of our experts will help you.
Want to learn more about maintaining and upgrading your boat?
Check out our learn section to make the most of your time on the water!
Need More Help Deciding? Give us a call!
For the last 40+ years, we've perfected the art of upgrading boats and helping boaters better enjoy their time on the water. If you have a question about a product or project give us a call! Our team of experts is here to help!
Commonly Asked Questions about Boat Paint