Leaning Posts
Leaning posts for boats are widely used for helm seating in center console fishing boats. The types of posts offered are aluminum, fiberglass with livewells or storage units, cooler seat, and even options for SUPs and kayaks. » Read More
What Is a Boat Leaning Post?
A boat leaning post is a type of helm seating commonly used on center console fishing boats. It is an alternative to traditional helm chairs or flip-flop cooler seats. Leaning posts are taller than chairs — usually 30" to 36" — and get their name because they are most often used as something to lean against while driving the boat.
They also have a horizontal t-top padded bench on top for sitting. Leaning posts are typically about the same width as the boat's console.
Boat Leaning Post Features
Both aluminum and fiberglass leaning posts are available with a variety of features and upgrades that make them more comfortable and practical. Leaning post footrests make sitting more comfortable by providing solid support while operating the boat and a convenient place for leaning post tackle storage.
Leaning post backrests also make sitting more comfortable by giving you something to lean against. Fishing rod holders or rocket launchers provide extra rod storage. A grab rail across the back of a leaning post provides something for passengers in the cockpit to hold onto while moving.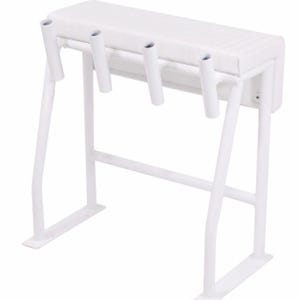 Boat Leaning Posts vs Helm Chairs
Most boaters prefer a leaning post over a helm chair or cooler seat because a leaning post can be used in either a standing or sitting position. When standing, they let you brace yourself securely for comfort and safety in rough conditions.
A leaning post is also a more efficient use of space, providing room underneath for a livewell, cooler or dry storage, and a place to mount rod holders and other accessories.
Can You Replace Helm Seats with a Leaning Post?
Leaning posts are a great DIY upgrade for center console boats with helm chairs or flip flop cooler seats. Just remove your existing seating, patch the leftover holes, and screw or bolt your new leaning post in place.
Through-bolting is preferable if possible, but in most cases, they can be installed with self-tapping screws and heavy-duty adhesive sealant like 3M 5200 to add strength.
Aluminum vs Fiberglass Leaning Posts
There are two main types of boat leaning posts:
Aluminum Leaning Posts
Which consists of an aluminum frame, usually with a cushioned fiberglass bench on top.
Fiberglass Leaning Posts
Which are essentially hollow pods with a cushioned bench on the front top.
Leaning Post Upgrades
Even if your leaning post didn't come with all the features you need, many of them can be added easily. Here are some great ways you can customize your marine leaning post to your style of boating or fishing with accessories.
Leaning Post Rod Holders
Also referred to as rocket launchers, rod holders on your leaning post are a great place to store rods while traveling. Clamp-on rod holders can be added to many aluminum leaning posts, while surface mount or flush mount rod holders can be added to fiberglass leaning posts.
Leaning Post Backrests
A backrest makes any leaning much more comfortable for sitting. Most leaning post backrests drop into rod holders on the leaning post and are easily removable.
Leaning Post Footrests
A footrest also makes sitting on a leaning post more comfortable. Footrests need to fold, though, so they can be moved out of the way between the console and the leaning post. Folding footrests can be easily bolted onto a fiberglass leaning post.
Leaning Post Storage
Most aluminum and fiberglass leaning posts could benefit from built-in storage under the bench seat. Leaning post storage bags are also available for adding more bulk storage. Tackle boxes and cabinets can also be added to both fiberglass and aluminum leaning posts for tackle storage, along with fire extinguisher boxes, enclosures for battery switches, and more.
Cooler Slides and Tie Downs
Underneath an aluminum leaning post is a great place to store a marine cooler, but you'll need to secure the cooler to keep it from sliding out. A variety of straps and chocks are available to keep your cooler in place under your leaning post.
Cooler slides are even better, allowing the cooler to be slid easily out from under the leaning post for easy access or locked in place.
Cooler Leaning Posts for Stand Up Paddle Boards
As SUPs (Stand Up Paddle Boards) become more popular for fishing and exploring, paddleboarders accessorize their SUPs more and more. One popular accessory is a Yeti or other rotomolded cooler that serves not only as a place to keep drinks and food cold but also as a seat.
Adding a leaning post to your SUP cooler takes it a step further, providing both a backrest for sitting and something to lean against for stability while fishing.
Need More Help Deciding? Give us a call!
For the last 40+ years, we've perfected the art of upgrading boats and helping boaters better enjoy their time on the water. If you have a question about a product or project give us a call! Our team of experts is here to help!
Commonly Asked Questions about Boat Leaning Posts