Dock Boxes
Are you looking to keep all your boating and dock supplies well organized and clean? Then you will want to invest in a dock box. » Read More
Uses For Dock Boxes
As you may have already figured out, a dock box is an incredibly useful and versatile accessory used to store all those other accessories and items you need. With a dock box, you don't need to worry about always bringing the same equipment in your car for each trip. You can keep everything in the dock boxes, where it will be kept safe with a stainless steel lockable latch, and kept in good condition.
To show you just how versatile a dock box is, we have highlighted all the features and the most common uses for these great boating accessories.
General Boating Supply Storage
You can keep tools and other important supplies in a dock box, such as:
Polishes and waxes to make sure your boat always looks its best.
Towels, rags, and other similar items.
Hoses or extension cords.
Fishing gear, rod holders (a fishermen's dock box is most ideal), and general boating gear.
Safety Supplies
Safety supplies are another collection of items you may want to keep in your patio storage box, to make sure you're always prepared for a safe journey on the water. This includes:
Power washer to make sure your part of the dock and your boat are free from splinters, dirt, and grime.
Dock bumpers so you can protect the dock and your boat when the water is rough.
Extra rope for the secure and safe mooring of your boat.
Additional life jackets, so you always know you have some close to hand.
Water Sport Gear Storage
So far, we've covered the important practical and safety accessories, tools, and supplies you may want to keep in a dock box. As most boating trips are supposed to be fun, unless it's part of your livelihood, we wanted to highlight the miscellaneous fun items you could store in a dock box. These include:
A portable music player or radio and a selection of your favorite music to blast out when you're on the water.
Wakeboards, water skis, and other extreme watersports equipment and accessories if you're an adrenaline junkie. It's much better to store these bulkier items in a dock box where they'll be safe, rather than strapping them to your car each time you want to hit the water.
Noodles and floats, if you intend on going out for a swim on the water, and want a safe and fun way.
Games and balls for families and kids. Dock boxes are perfect for storing water games, beach balls, and other aquatic toys.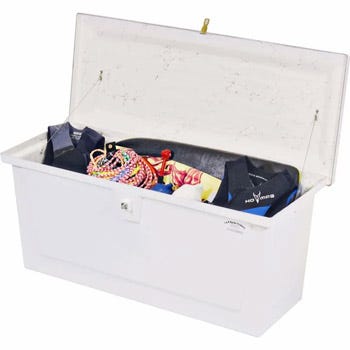 Advantages of a Fiberglass Dock Box
Water & Weather Resistant – by its very nature, fiberglass is very impervious to adverse weather conditions and moisture. Which makes it ideal for use on marinas, bays, and of course, boats.
Sturdy & Durable – fiberglass, despite its lightweight feel, is a very tough and long-lasting material.
Lightweight – perhaps the biggest benefit of fiberglass is its lightweight.
Important Dock Box Features
Locks – for obvious reasons, to keep anything you keep inside safe and secure.
Gas shocks – these are included in larger dock boxes to make it easier to keep the lid open and closed, as necessary.
Seals – it goes without saying if you want to keep things dry in dock boxes, you need to make sure they have effective sealing around the opening.
Other Non-Marine Uses
Although we have discussed at length the most common marine-based uses for dock boxes, it's worth noting these versatile storage units offer even greater versatility. You can use them for several different non-marine uses, such as:
Tool Storage
If you want to store a lot of tools in the same place, then a dock box is a great option. If all the tools are connected to your boat but are used for many different things, this will help you stay organized.
Outdoor Storage
Do you have things you want to store outside of the home in a safe place? A dock box is a great option if you have either a dock you own or rent or a lake house.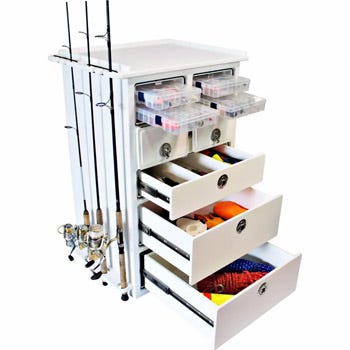 Need More Help Deciding? Give us a call!
For the last 40+ years, we've perfected the art of upgrading boats and helping boaters better enjoy their time on the water. If you have a question about a product or project give us a call! Our team of experts is here to help!
Commonly Asked Questions about Dock Boxes