Boat Helms & Consoles
Boat consoles are the nerve center of a boat — the place where the helm, engine controls, gauges, and electronics are mounted as well as switches and controls for the electrical system. » Read More
What is a Boat Console?
A marine console is the driver's control station, including the steering wheel, throttle, gauges, electronics, and electrical switch panel on the dash. Inside the console are wiring, feedback steering mechanisms, and other important control systems.
Consoles may be located to one side of a boat — usually the starboard side — and attached to the inside of the hull (as in most bass boats, ski boats, and wake boats), or they may be freestanding in the center of the boat.
Consoles Are Key Parts of Any Boat
Unless you own a tiller-steered skiff, your console is where you'll spend a large part of your time on board. From your console, you'll not only drive the boat but also switch the engine on and off, interact with electronics, control lights, pumps, and other electrical devices, and monitor system status on gauges or displays.
Additionally, your console is a place to set beverages; store charts, phones, cameras, and other small essentials, and stay out of the wind or rain. The interior of your console will likely house your electrical distribution panel, starting and house batteries, battery switches, hydraulic or mechanical helm, etc.
How to Choose the Best Boat Console/Helm
When you're shopping for a new or replacement boat console, there are a variety of important factors to consider. To deliver a helping hand and make your buying decisions hopefully a little easier, we are going to look at some of these key details of the console.
Console Height
One of the first considerations when selecting a marine console should be height. The ideal console height depends on your height and whether you'll stand, lean, or sit when driving. What's most important is not actually the height of the console itself but the height of the steering wheel and throttle. Consider using cardboard to mock-up a console in the size you're considering to test for comfort.
Console Width
Width is another very important consideration in selecting a marine center console and depends on the beam of your boat and the width of the gunwales. You'll need a minimum of 16" between each side of the console and the gunwale. More room, 18" to 20" is preferred. If you plan to install rod rocks on the sides of your console, take them into account.
Steering
Your helm and steering wheel will be mounted on your console, so you'll need to make ample space for the steering system and steering wheel diameter you've chosen. You'll also need to make sure your steering wheel leaves room for your throttle controls, especially if you plan to mount your helm in the center of the console instead of on the port side. Steering helms take up a surprising amount of room on the back side of the console panel.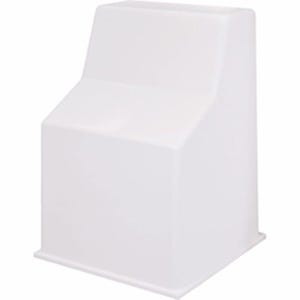 Throttle
When selecting a marine console, consider where you plan to mount your throttle(s). For stand-up driving, throttle controls are most comfortable when mounted on a relatively flat surface. Again, make sure you'll have adequate space inside your console for the control mechanism itself, which can extend nearly a foot behind the console face.
Electronics
The number, size, and mounting style of electronics displays you plan on will dictate to a large degree your choice of console. Flush-mounting larger displays obviously require a relatively large flat surface at a good viewing angle for the driver. Alternatively, electronics can be bracket-mounted on the top of the console. Remember to plan for your gauges, key switch, VHF radio, audio controls, trim tab controls, etc.
How to Get a Replacement Boat Helm
Although some helm consoles are custom built to the buyer's specifications, a wide variety of pre-made, read-to-rig consoles are also available for everything from flats boats and deck boats to multi-engine offshore fishing boats. If a ready-made fiberglass console can fit your application, it's certainly the most economical choice. On this page, you will find several great and affordable boat consoles to buy.
What are Boat Consoles Made From?
Boat consoles can be made from a variety of materials, including aluminum, extruded plastic, King Starboard, and wood. By far the most common material, though, is fiberglass. Fiberglass consoles are easy to install, easy to cut and customize for controls and accessories and provide a glossy, durable surface.
Need More Help Deciding? Give us a call!
For the last 40+ years, we've perfected the art of upgrading boats and helping boaters better enjoy their time on the water. If you have a question about a product or project give us a call! Our team of experts is here to help!
Commonly Asked Questions about Boat Helms and Consoles