Types of Boat Switches
Most marine electrical switches fall into one of several categories: rocker and toggle switches, push button switches, and battery switches.
Rocker Switches
The most widely used switch style on boats is the rocker switch (also sometimes called a toggle switch). Rocker switches are normally found on dashes and helm stations and used to control systems including pumps, lights, windlasses, blowers, wipers, and livewells.
Among the more popular manufacturers of marine-grade rocker switches are Carling, Cole Hersee, Blue Sea Systems, and BEP Marine. These switches consist of the switch base or body — which is normally hidden behind the panel — and a removable switch cover with a label that is used to actuate the switch. Switch covers are made in several different materials, shapes, and covers. With few exceptions, marine rocker switches and switch covers are all interchangeable. In other words, you don't have to use a Carling cover with a Carling switch.
Toggle switches do the same thing as rocker switches but feature a slim toggle control instead of a larger rocker control.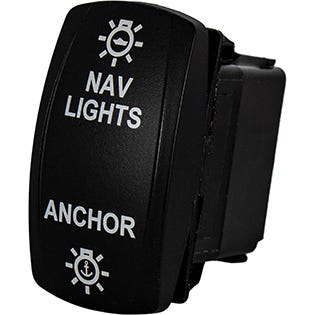 Push Button Switches
Push button dashboard switches serve the same purpose as rocker switches but are preferred by some boaters for their appearance. They are lower profile than rocker switches, usually made of stainless steel, and usually feature colored LED lighting rings. Stainless push-button switches cost more than rocker switches but give your dash a clean, modern look.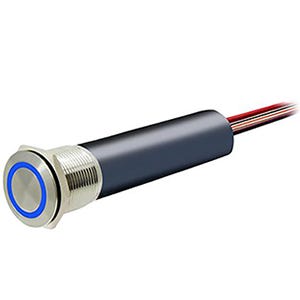 Battery Switches
Boat battery switches (also called battery selector switches and battery disconnect switches) are larger switches that serve to connect or disconnect your battery bank(s) from your boat's electrical switches. With a single-bank system, a battery disconnect switch can be used to isolate the battery from the electrical system when the boat is not in use, preventing discharge. With a two-bank battery system, a battery selector switch can be used to:
Disconnect both banks from the electrical system.
Connect both banks to the electrical system simultaneously.
Connect either of the banks one at a time.
Boat Switch Functions
Boat dash switches have different functions, which can be confusing. Among the more commonly used switch functions are:
On/Off Switch
On/Off/On Switch
Momentary On/Off Switch
Momentary On/Off/On Switch
Lighted Boat Switches
One of the main reasons push button dash switches and panels are exploding in popularity is that most are LED lighted. The lighted LED switch ring is not only attractive but also conveniently indicates whether the switch is on.
Rocker switches, though, can also be lighted. Switch bodies are available with indicator lamps, which turn on only when the switch is on, and with backlight lamps, which are independent of the switch. Backlight lamps are often connected to the nav light or circuit so that when the nav lights are switched on the backlighting behind the panel switches comes on too.
Note that illuminated boat rocker switches require both a switch body with integrated lamps and a cover with an engraved label or plastic lens that allows the light through the cover.
Boat Rocker Switch Covers
Switch covers for Carling, Cole Hersee, Blue Sea, and other marine rocker switches are largely interchangeable. Most are based on the Contura design. Replacing switch covers is an easy and inexpensive DIY way to upgrade the look of your console.
Rubber or Soft Touch Boat Switch Covers
Found on many production boats, rubberized "soft touch" covers look and feel great to begin with, but the material tends to deteriorate over time. It can get soft and sticky, fade and discolor, and it's easily scratched or cut. Replacing rubber switch covers with hard plastic covers is quick and easy.
Printed Hard Plastic Boat Switch Covers
Hard plastic switch covers stand up better to wear and the elements than soft switch covers. Most have text labels and icons printed on their surface. While less expensive than the alternative, the printed labels tend to wear off over time. They also don't allow backlighting.
Etched or Engraved Boat Rocker Switch Covers
Etched — as opposed to printed — switch covers have a few advantages over printed switch covers. First, the engraved labels and icons are permanent; they will never wear or fade. Second, the etching allows light to pass through the switch cover from behind, meaning that with a lighted switch body, the labels are visible in the dark.
Some engraved switch covers have a second translucent area etched near the bottom of the switch. When used with two-lamp rocker switches, this serves as a convenient indicator that the switch is on.
Marine Switch Panels & Dash Panels
Boat dash switches are typically wired together into a cohesive panel controlling the boat's electrical systems. This panel can be mounted in a cutout directly into the fiberglass or aluminum of the helm station, or into a panel, usually made from marine acrylic or plexiglass. A separate panel is great for covering old cutouts when upgrading your switch panel.
Many off-the-shelf switch panels in standard configurations are available commercially, with or without the switches and wiring included. If none of the off-the-shelf options fit your switch or helm configuration, you can also have a custom switch panel (or an entire dash panel) made from acrylic.
Need More Help Deciding? Give us a call!
For the last 40+ years, we've perfected the art of upgrading boats and helping boaters better enjoy their time on the water. If you have a question about a product or project give us a call! Our team of experts is here to help!
Commonly Asked Questions about Switches & Panels