Types of Fishing Rod Holders for Boats
Vertical Rod Racks
Want to store multiple fishing rods neatly so they're safe and out of the way when not in use? At Boat Outfitters, we have a wide selection of marine-grade PVC, King Starboard, and aluminum vertical rod racks available for one, two, three, or four rods.
Whatever size of boat you have, whatever material the interior and gunwale are made from, you will find a rod rack to suit your needs.
Horizontal Under Gunwale & Ceiling Mount Rod Racks
Horizontal rod racks keep rods safe and out of the way underneath the gunwales of your boat or on the ceiling of your salon, cabin, wheelhouse, or garage. Horizontal racks are also great for storing gaffs, deck brushes, stake anchors, boat hooks, and more.
Boat Outfitters offers machined King Starboard rod racks and speargun racks with two to four slots as well as stainless steel and Starboard spring-loaded tension knob racks and front locking ring options. For two-piece boats, we also offer reels and rod box inserts.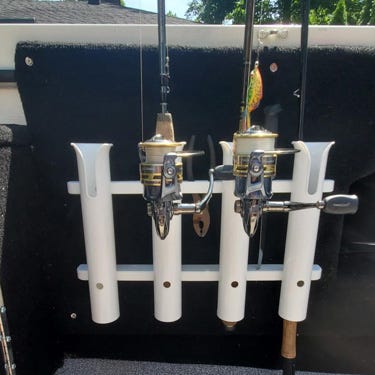 Flush Mount Rod Holders
Flush mount rod holders are most often used to hold rods while trolling, bottom fishing, freelining, deep dropping, or kite fishing. Boat Outfitters carries a large selection of 0, 15, and 30-degree angled flush holder mounts made of stainless steel and also less expensive plastic options.
Mounting choices include traditional top mount, screwless, and hidden screws. Specialty combination rod holders add convenience by combining flush mount rod holders with cup holders or even cleats.
For heavy-duty applications like deep dropping, daytime swordfishing, or tuna fishing where the rod stays in the holder during the fight, consider a heavy-duty rotating model.
Pontoon Boat Rod Holder
Although pontoon boats are often used for mainly cruising around inland lakes, they have become popular as fishing platforms too. Most pontoons aren't built with much if any, rod storage, though, so you'll need to add it. Otherwise, rods tend to be left on deck or leaned against seats where they can be stepped on or sat on.
To solve that problem, we have an excellent selection of rod holders designed specifically for pontoon boats.
Pickup Truck Bed Rod Holders
If you don't have the space to store your fishing rods permanently on your boat or prefer to store them elsewhere, you are left with the problem of transporting them safely to and from your boat. But putting rods loosely in the back of a pickup truck can easily result in tangles, "reel rash," or even broken tips.
With this issue in mind, we have a variety of truck rod holders designed to fit perfectly into the back of a pickup truck and hold up to eight of your favorite rods. We have options specifically for trucks including the Ford F-150, F-250, and F-350, Dodge Ram, GMC Sierra, Chevy Silverado, Toyota Tundra, Honda Ridgeline, and many more.
We also have a rack designed to mount to your truck bed toolbox.
Other Rod Holders
In addition to the different types of rod holders highlighted above, we also have a miscellaneous selection of rod holder special offers and related accessories. Interesting products of note include our speargun holder with bungee cord, kite fishing rod holders, fly rod holders, rod riggers, replacement rod tubes, and V-Lock clamp-on rod holders.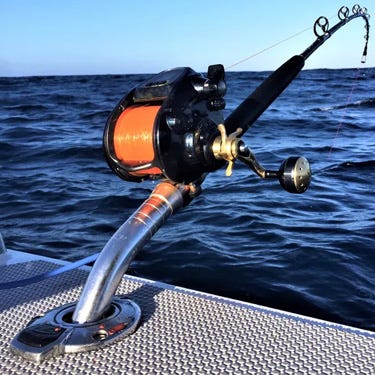 How to Pick a Rod Holder
Start with your application. Is the rod holder for your boat, vehicle, or home/garage? If it will be mounted on your boat, will it be used primarily for storing/organizing rods, or for holding rods while fishing?
Typically, flush-mount rod holders are best for use while fishing. Vertical or horizontal racks are best for storing rods. You'll also want to consider the type of fishing you're doing. Plastic rod holders are fine for freshwater species, but for big fish, you'll want stouter metal rod holders.
Most importantly, look carefully at your mounting area, think about how you'll use your new rod storage, and evaluate what kind of holder will fit best.
Where to Install Rod Holders
Horizontal rod racks are typically installed either along the inside walls of the cockpit under the gunwales or on the cabin/salon ceilings.
Vertical rod racks can be mounted on virtually any vertical surface but are most commonly mounted on the sides of the console, on the inside or outside of the transom, or on bulkheads.
Flush-mount rod holders are installed in the gunwales. Some boats have one or two pairs in the cockpit, while others may have 30 or more flush mount holders arranged around the whole boat.
What Angle is Best for Boat Rod Holders
Trolling: 15-degree rod holders are most popular. They can be angled straight aft near the back of the boat, or angled outboard farther forward.
Deep-dropping and bottom fishing: 30-degree rod holders allow the rod to stay more horizontal with the tip closer to the water.
Storing rods while running or for holding accessories like grills or fillet tables: Zero-degree rod holders are most often used on the transom for these applications.
Want to learn more about maintaining and upgrading your boat?
Check out our learn section to make the most of your time on the water!
Need More Help Deciding? Give us a call!
For the last 40+ years, we've perfected the art of upgrading boats and helping boaters better enjoy their time on the water. If you have a question about a product or project give us a call! Our team of experts is here to help!
Commonly Asked Questions about Boat Rod Holders