Fishing Rod Racks
Whether you're a salty veteran angler or just getting started, one fishing accessory you need for your boat is a vertical fishing rod holder, or fishing rod rack. » Read More
What are Boat Rod Racks? Are They Different from Standard Rod Holders?
The term "rod racks" is used to mean a lot of different things, from ceiling or wall-mounted racks for your garage or home to horizontal racks that mount under your gunwales, to vertical storage racks for your boat. This page is dedicated to vertical storage racks for boats.
Unlike boat rod holders, which are generally used to hold rods while bait fishing or trolling, rod racks are meant primarily for storing rods on board when they are not in use, such as while traveling from spot to spot. This type of rod rack is most commonly mounted to a vertical surface in the boat.
Vertical Rod Racks
Rod racks can be mounted almost anywhere on your boat you have a vertical surface to attach them to and enough clearance above for your rods to fit. Racks are most commonly mounted to the sides of center consoles, but they are also frequently mounted on the inside or outside of transoms, on bulkheads, on the inside of gunwales toward the front of the boat, and thwarts in aluminum jon boats.
These racks can also be mounted to the sides of coolers, on beach carts, in pickup truck beds, and even to walls in garages, closets, adjustable shelves, or other storage areas.
Wherever they are mounted, fishing rod racks serve to keep fishing rods separated so lines and lures don't get tangled together. They also keep them off of floors and seats so they won't be stepped or sat on. On top of that, they keep them from blowing or bouncing around the boat and keep them easy to reach when you get to your fishing spot.
Horizontal Under Gunwale & Ceiling Mount Rod Racks
Rod racks can be used to store and organize more than fishing rods, of course. Many racks are designed to hold additional fishing items like pliers, knives, hooks, lures, fish grippers such as Boga Grips, and more.
Of course, the rod holders themselves can also come in handy for other equipment, like landing nets, gaffs, deck brushes, boat hooks, shallow water anchors, and much more.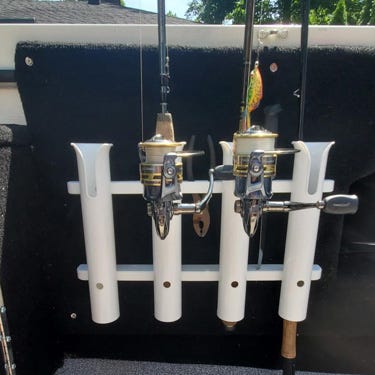 What Are Rod Racks Made of?
Rod racks can be made of just about anything, from varnished wood to injection-molded plastic, to King Starboard to aluminum or stainless steel. Boat Outfitters carries a wide selection of racks that are made from a combination of King Starboard and marine-grade PVC.
Everything but the tube that holds the rod is machined from Starboard, which will never rot, delaminate, discolor, or degrade, while the PVC tubes can be easily and inexpensively replaced if they ever deteriorate with time.
We also offer powder-coated aluminum rod racks, which are more expensive but offer a more refined aesthetic. Both materials are excellent; ultimately, it comes down to personal taste, budget, and matching existing hardware.
OEM Replacement Rod Racks
If you are looking for replacement fishing rod racks, chances are Boat Outfitters has them. We are OEM suppliers for many of the best boat builders in the business. If you need a specific design or size of rod rack for your boat, we can offer you factory-direct quality and competitively affordable pricing that you can't argue with.
Rod Racks for Spinning Rods, Baitcasters, & Fly Rods
Most racks are universal. The notch on the front of the tube accommodates the stem of a spinning reel. Baitcasting reels just rest on the top of the tube. Some larger offshore and trolling reels may be too wide to fit in two adjacent tubes.
If you need to store large offshore reels, be sure to check their width against the distance between tubes on the rod rack you're considering. Fly rods generally require specialized rod racks, since the butt doesn't extend far enough past the reel to stay in a holder.
We offer fly rod-specific rod racks, but most fly anglers prefer to store rods horizontally with standard rod holders.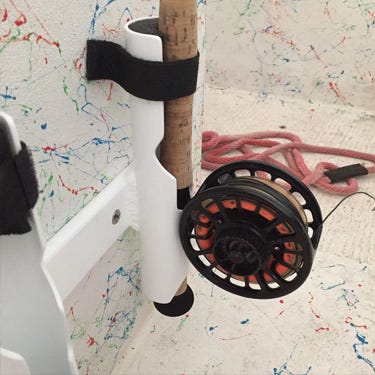 Need More Help Deciding? Give us a call!
If you are stuck trying to choose the best fishing rod racks for your boat from our selection or are interested in designing and fabricating your own but don't know where to start, speak to one of our team members about all of our available services.
Did we mention we deliver free shipping on orders over $150 in the contiguous USA?!
We are here, ready and waiting to take calls and messages and use that feedback to point you in the right direction of the best solutions. We have many years of experience in the marine and boat building industry and like using our experience to help fellow boat makers and boatowners.
Commonly Asked Questions about Boat Rod Racks