Electronics Boxes
Electronics boxes for boats are available in a wide variety of shapes, sizes, and materials, including overhead T-top electronics boxes that mount underneath a T-top or hardtop and helm electronics boxes that are recessed into the console face. » Read More
Types of Electronics Boxes
Cooler accessories are aftermarket cooler parts designed to improve the functionality and solve problems created by them. Adding accessories is also a great way to add a personalized touch to your marine cooler.
1. T-top
T-top electronics boxes, which are also suitable for use with hardtops, mount overhead, above the line of sight of the helmsman. They are attached to the frame of the T-top or hardtop or sometimes to the fiberglass of a hardtop. They are most commonly made of fiberglass with a lockable acrylic door that swings upward and is held in place by gas shocks, springs, or friction hinges.
T-top and hardtop electronics boxes typically span the full width between the legs of the top and are fairly deep front to back, from about 15" to 24". Most overhead T-top boxes are open inside, meaning electronics are bracket mounted (rather than flush mounted) either to the top or bottom of the box. This also leaves quite a bit of extra storage space for other gear like charts and handheld electronics.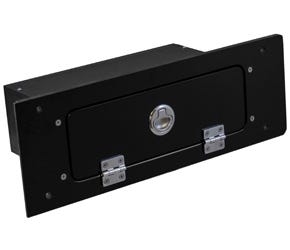 2. Helm/Console
Console electronics boxes are mounted in a cutout in the dash or helm. They are recessed into the face of the dash and typically provide a flat back panel where electronics can be flush-mounted. The back panel is removable in most cases, making it easier to template and install electronics.
The box itself is usually made of King Starboard, while a lockable acrylic door covers the box when electronics are not in use. The door is attached with friction hinges, which hold it in the up/open position when electronics are in use, or with take-apart hinges, which allow the door to be easily removed and stowed.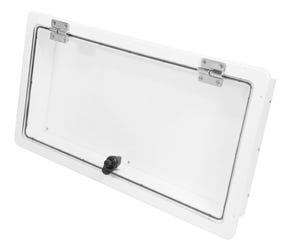 Common Uses
Boat owners purchase and install electronics boxes for a variety of reasons, ranging from replacing a damaged OEM part to adding more mounting space, to aesthetic upgrades.
Adding Room for More Electronics
If you're running out of space on your console for flush mounting or bracket mounting electronics, an overhead electronics box is an easy way to add room for more equipment. VHF radios, audio head units, and backup or secondary GPS receivers are good fits for overhead boxes since they don't need to be as readily visible as primary chartplotters or fishfinders.
Likewise, dash mount boxes can create more real estate for mounting electronics when older dash equipment (like analog gauges and switches) is no longer needed. As a bonus, overhead boxes also provide a good amount of waterproof, lockable bulk storage for gear like charts, documents, handheld electronics, emergency distress signals, and more.
Locking Up Electronics and Other Valuables
Another reason boaters add electronics boxes is the ability to lock up electronics and other valuable items when away from the boat. Nearly all boxes are designed with a locking latch. Many also feature black or dark-colored doors to hide electronics from would-be thieves when closed.
For boats kept at a dock or on a lift, a locking electronics box can provide both security and peace of mind.
Starting Over With a Clean Slate
Boat electronics and rigging change over time. Chartplotter and fishfinder screens have gotten larger, touch screens have largely replaced keypads, and analog gauges and switches are being gradually replaced by digital switching and gauges. That means when it's time for an upgrade, chances are that the new equipment won't match the cutouts and holes patterns from the old.
Installing a helm electronics box is both an easier and less expensive way to replace a "Swiss cheese" console with a clean panel than having the fiberglass professionally repaired.
Replacing Existing Electronics Boxes
If your factory electronics box is damaged or weathered, replacing it with a new one is an easy upgrade.
Custom Electronics Boxes
Although T-top boxes are manufactured in several standard sizes that will fit virtually any T-top or hardtop, console electronics boxes must be sized much more precisely.
Boat Outfitters offers built-to-order custom electronic boxes to fit virtually any application. Design choices include not just the height and width dimensions, but also the color of the Starboard frame, the hinge type (friction or take-apart), the latch type (push-button locking or stainless locking), and the door material (acrylic in three different colors or Starboard to match the frame).
Electronics Boxes vs Custom Dash Panels
Custom console electronics boxes and custom acrylic dash panels are two different solutions to the same problem. Both hide old "Swiss cheese" dash panels and provide a new blank slate for mounting electronics, switches, gauges, and other console equipment.
Electronics boxes have two obvious advantages: they are lockable and, when closed, protect electronics from the elements. On the other hand, a simple rectangular shape is the only option, while custom acrylic dash panels can be cut to match the shape of any console.
Need More Help Deciding? Give us a call!
For the last 40+ years, we've perfected the art of upgrading boats and helping boaters better enjoy their time on the water. If you have a question about a product or project give us a call! Our team of experts is here to help!
Commonly Asked Questions about Electronic Boxes