Marine Plumbing Fittings
Marine plumbing fittings come in seemingly infinite shapes, sizes, and materials. Plumbing fittings help keep your bilge dry, your livewell full, your deck drained and your tanks full. » Read More
What Are Marine Plumbing Fittings?
Plumbing fittings are a broad topic that includes through-hull (often written as "thru-hull") fittings, drains, livewell pickups, gas fills, and more. They're not the prettiest part of the boat, but critical in a boat's function. In a general sense, they provide water when needed, but keep undesired water out of the boat.
Through-Hull Fittings
"Thru-hull fitting" is the term used to describe most fittings that are attached through the hull of a boat, from the inside to the outside. They come in different shapes, sizes, and compositions for different purposes. These fittings are attached to a hose and can be used to remove water from the boat, or in certain cases, allow water into the boat.
Thru-hulls can be made from different materials such as plastic, bronze, stainless steel, or titanium. Different uses and placements warrant different material thru-hulls. It is recommended to use metal thru-hulls below the waterline, while plastic can be used above. Any thru-hull fitting that is below the waterline should have a valve attached to it. In the event of a hose failing, the valve allows you to stop the flow of water into the hull of the boat.
Boat Deck Drains
Deck drains are another important plumbing fixture on a boat. On self-bailing hulls, deck drains allow water to flow off the deck, through the hull, and out of the boat. Since these fittings are prone to being stepped on, they're usually made of metal. Drains in low-traffic areas can be plastic.
Examples of this would be livewells and fish boxes. Another type of deck drain is called a Scupper. Although they don't function exactly the same as a deck drain, they serve the same purpose in allowing water to drain off of the deck in self-ailing boats. Many scuppers utilize flaps or floating balls to block water from flowing back into the boat in the event of a load shift in the boat or heavy seas.
Drain Plugs & Garboard Drains
Although deck drains function to keep water off of the deck of your boat, they don't serve any purpose in keeping the water out of your hull. To do that, you need a drain and a plug. Drain tubes provide a way to drain the water out of your hull once you are off of the water. The plug serves to keep the water from coming in when the boat is on the water.
There are a few different types of drains. On smaller boats, a neoprene compression tube is typically pushed into an appropriately sized drain pipe to stop water from coming in. On larger boats, a threaded garboard drain is usually used. The garboard drain is typically considered more secure than the neoprene-style plug.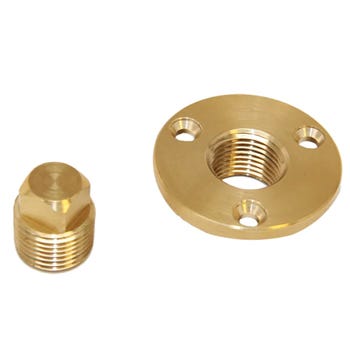 Livewell & Washdown Pickups
Most through-hull fittings function to keep water out of boats or off of boat decks. A water pickup, however, functions to guide water into a pump. Water pickups can be used to feed raw water washdowns, livewells or even to cool an engine. Water pickups bring water up through your hull. There are a few different versions of water pickups such as low-volume pickups, and high-speed pickups. Because these are all mounted under the waterline and can have tremendous amounts of force acting upon them, they should be made of non-corrosive metal.
Livewell Nozzles, Standpipes, & Other Fittings
In the case of livewells, the plumbing doesn't stop at the water pickup. Once the water runs through the livewell pump, it must enter the livewell through a nozzle. This nozzle is important to livewell function. Most livewell feeds are adjustable, allowing you to change the flow rate within your livewell. This can lead to healthier, more lively baits.
Once the water has come out of the livewell feed, and circulated the tank, it's time for it to drain. Most livewells use a standpipe to regulate the volume of water within the livewell. These pipes are cut to the water height desired and placed into the livewell drain. Once the water reaches the top of the pipe, it overflows into the pipe. From there, it flows down the drain hose and back out of a through-hull.
Any high-speed pickup needs to have a shutoff valve threaded onto it. If a livewell pump cracks, a highspeed pickup can allow water into the boat faster than any bilge pump could remove it.
Boat Fuel Fill Fittings
Although a small portion of your boat's plumbing, deck fill fittings serve as an important part of marine plumbing. They allow you to fill up diesel and freshwater tanks safely and efficiently. They can also be the vacuum point for sewage-holding tanks. Your deck fills should be both color-coded and engraved to avoid filling or pumping out the wrong tank.
Be sure to frequently inspect and maintain your through-hull fittings and other boat plumbing fittings. Although it is not a very noticeable feature of your boat, it is important to keep your boat's fittings in good condition!
Need More Help Deciding? Give us a call!
For the last 40+ years, we've perfected the art of upgrading boats and helping boaters better enjoy their time on the water. If you have a question about a product or project give us a call! Our team of experts is here to help!
Commonly Asked Questions about Marine Plumbing Fittings
Where can I buy marine plumbing fittings online?
(show/hide)
Who sells marine plumbing fittings at the best prices?
(show/hide)
How do you install marine plumbing fittings?
(show/hide)