Bimini Top Hardware
Bimini top hardware refers to all the fittings, hinges, eyelets, clips, and straps that hold a Bimini top and its frame in place — essentially everything except the cloth portion of the top and the metal tubing frame. Bimini top parts are manufactured in a wide range of materials, varying in quality and price, from molded nylon to stainless steel. Some aftermarket Bimini top parts can also make Bimini tops more functional and easier to use. » Read More
Shop All Bimini Top Hardware
Types of Bimini Top Hardware
Bimini-type parts fall into a few basic categories. Within some of those categories, there are a few different types of fitting for different kinds of applications.
Bimini Top Eye Ends
Eye ends are fittings that attach to the cut ends of the tubing frame and provide a hole (or "eye") for attaching the end to a hinge or jaw slide. Some eye ends are designed to fit inside the end of the tubing; others, also called "caps" or "top caps" fit over the outside of the end of the tubing and are usually held in place with set screws.
Bimini Top Hinges
The hinge is the fitting that attaches the main bow of the Bimini to the deck or railing of the boat and allows the Bimini top to fold forward or back when not in use. The simplest hinges are small brackets that attach directly to standard eye ends. Other more sophisticated hinges (like ball and socket hinges, quick-release hinges, and flush-mount hinges) require their own special end on the main bow of the Bimini. In other words, the hinge includes both the fitting that remains on the boat and the fitting that is part of the top.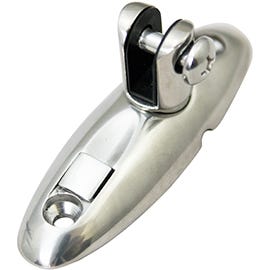 Bimini Top Jaw Slides
Jaw slides are essentially sleeves that slide over the Bimini top frame and then clamp in the desired position with set screws. They are used to attach the end of one bow to the leg of another bow. They feature a bracket that attaches to an eye end with a bolt or pin.
Bimini Top Straps
Most Bimini tops are secured at their forward and aft ends with nylon straps. The straps include a buckle for adjusting the length and a clip or some other kind of attachment for attaching to the boat.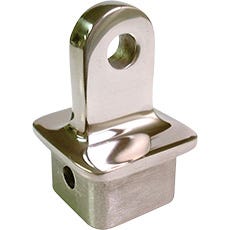 Bimini Top Strap Anchors
Also known as Bimini top strap loops, eyelets, or Bimini top clips, these are the fittings mounted to the boat that the straps attach to.
Specialty Bimini Top Parts
For unusual installations, several specialized solutions are available, including shims that allow hinges to be mounted on an angled surface or large-diameter tubing like a tower.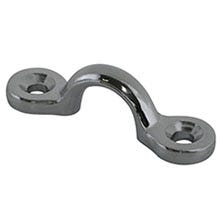 Bimini Top Hinge Options
Beyond the basic deck hinge, several kinds of Bimini hinges offer distinct advantages in certain applications.
1. Quick-Release Bimini Top Hardware
Quick-release hinges allow you to easily remove your Bimini top with no tools and pins or bolts to keep track of. Just push a spring-loaded switch or button to release the top from the hinge. Additionally, most quick-release Bimini top hinges leave only a rounded, low-profile fitting on the deck when the Bimini is removed. You'll be aware of it if you step on one barefoot, but it doesn't hurt. Tripping over or stubbing your toe on a traditional Bimini hinge is going to lead to some choice words — and possibly an unplanned swim.
2. Flush-Mount Bimini Top Hinges
Flush-mount Bimini hinges take the idea of quick-release hinges a step further. When the top is removed, the only thing remaining on deck is a roughly 1/8" thick flange. These hinges are ideal for inshore fishing boats where unobstructed gunwales and casting decks are critical. Their primary drawback is that they require a cutout in the deck for mounting. Other quick-release Bimini hinges mount on the surface of the deck and require only fastener holes.
3. Ball and Socket Bimini Hinges
Ball and socket-style Bimini top hinges use an eye end with a ball on the end instead of a hole. The portion of the hinge that is mounted to the boat is socket lined with smooth, quiet Delrin. Once the ball is inserted into the socket, a quick-release pin keeps it from coming out. Ball and socket hinges tend to be quieter when underway than other hinges, which have metal-to-metal contact and more "play." They're smoother and lower profile than traditional hinges but not as much so as quick-release or flush-mount hinges.
4. Rail-Mount Bimini Top Hinges
On pontoon boats, runabouts, tow boats, etc, Bimini tops are sometimes mounted to railings rather than to the deck. In this case, you'll need a special hinge designed to clamp securely onto the railing. These can be traditional or quick-release hinges.
Selecting the Right Bimini Top Parts
Buying replacement Bimini top parts requires an understanding of the various materials and of the way Bimini tops are made.
Stainless vs Nylon Bimini Top Hardware
Stainless steel is the material of choice for saltwater boats and for freshwater boats that see heavy use.
Molded nylon, though, is considerably less expensive and perfectly suitable for light to moderate recreational use, especially on boats that are stored out of the elements.
Tube Shape and Diameter
Bimini tops are made with several different sizes of round aluminum or stainless steel tubing, as well as square aluminum tubing.
The most common round tubing sizes are 7/8" and 1" O.D. Most square tubing is 1".
Need More Help Deciding? Give us a call!
For the last 40+ years, we've perfected the art of upgrading boats and helping boaters better enjoy their time on the water. If you have a question about a product or project give us a call! Our team of experts is here to help!
Commonly Asked Questions about Bimini Top Hardware