Importance of Having the Right Accessories
Unlike cars, most boats typically aren't sold with everything you need for a day on the water. When you buy a car, you can just fill the tank and go. But with a boat, you'll likely need to add a good bit of equipment and accessories to set it up for your planned use — electronics, anchors, fishing rod holders, tackle storage, coolers, and many other convenience and safety items.
Because people use their boats in so many different ways and so many different types of water, accessories are almost a requirement. Fortunately, a big part of the fun of owning a boat is customizing and adding the right gear to make it your own.
Learn more about boating tips and accessories here.
Safety Equipment
Safety on any body of water is always crucial, whether you're new to boating or a seasoned veteran. There are many great marine boat supplies out there designed to enhance the safety of your vessel, including grab handles, swim platforms and boarding ladders, convenient storage for fire extinguishers and other first aid items, signage, and much more.
Convenience
Convenience is another reason why many of the boating products are available in our boater supply store here at Boat Outfitters. After all, to get the best experience, you'll want to make sure you have anything and everything you need close to hand. It's not always easy to maneuver around a boat when you're on the water.
Things like drink holders, phone and tablet holders, rod holders, fish cleaning tables, cooler slides and more can make things more convenient.
Comfort
Comfort is also an important reason to add accessories to your boat. Items that can improve comfort include cushioned flooring, tables, misting systems, shade systems, swim platforms, seats, other furniture, and more. This is especially true for our pontoon boat accessories.
Pontoon Boat Accessories
Boat Outfitters is the best place for all your pontoon boat accessories and parts! Make sure your pontoon boat is perfectly outfitted with all the best tables, serving trays, drink holders, and storage units. There are so many opportunities to accessorize and upgrade your pontoon boat with the help of Boat Outfitters!
Fun and Enjoyment
Unless you're boating solely for work purposes, you'll want to make sure your vessel is fully equipped for you to have fun and enjoy your time on the water. Get your boat ready to entertain with stereo head units, marine speakers, drink, and snack serving trays, and even a sand spike beer pong set for the beach or sand bar.
Fishing
Some boats are designed from the ground up for fishing; other boats need to be customized to turn them into effective fishing platforms. Even a purpose-built fishing boat, though, can benefit from fishing accessories. This includes things like additional rod holders, tackle storage, fish cleaning stations, outriggers, tool, and leader holders, fish kill bags, bucket accessories, cooler cutting boards, and more.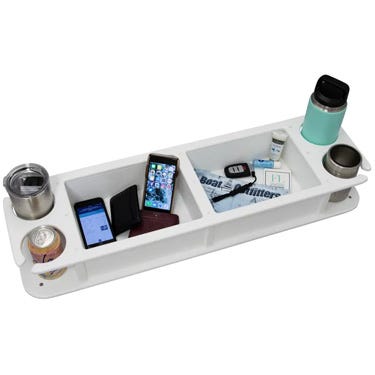 Boating Products You Should Consider From Our Boat Accessories Store
Now that we have discussed the why, it's worth highlighting what boat and marine supplies you should focus on getting.
Drink Holders
Although cup holders may not seem like especially important boating products to invest in, the fact is that you can never have too many on a boat. Unlike at home, where you can set your drink anywhere, on a rocking boat, drinks spill unless placed in a secure holder.
In addition to holding cans, bottles, cups, tumblers, wine glasses, and more, drink holders often end up being used for cell phones, car keys, sunscreen, and other small items.
Electrical Boating Products
A wide variety of electrical boating and marine supplies can enhance your vessel. This includes interior, courtesy, accent, and navigation lighting, fish finders, push-button, rocker switches and switch covers, wiring components, pumps, cable fittings, and gauges.
Dock Accessories
It's easy to disregard how important the dock is to your overall boating experience. That's why you need to think carefully when choosing boating and marine supplies, including dock accessories.
As one of the best marine stores online, we have a wide selection of dock accessories here at Boat Outfitters, from dock boxes and storage to fillet tables to cleats, dock, and deck paint, and Slammer integrated fenders.
Cooler Accessories
Coolers are an essential piece of equipment you'll want to invest in for your boat. Having a place to store food and beverages is crucial. When you have a cooler, you also have the opportunity to take advantage of the many cooler accessories we have available through our online marine shop.
This includes cutting board tops, side-mounted fishing tackle units, cooler slides, and other handy accessories that can help to increase the versatility of your cooler.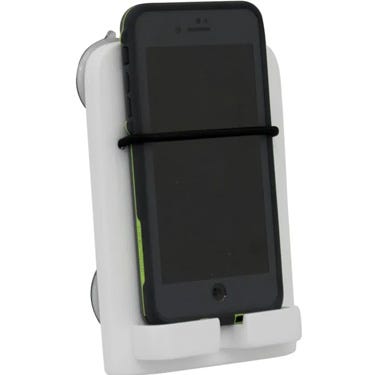 Why Buy Online at Our Boat Accessories Shop?
At Boat Outfitters, we know there are many great marine accessories and boating supplies stores out there with brick-and-mortar outlets. However, we believe the pros far outweigh the cons of shopping online for boating products at a reasonable price with Boat Outfitters.
We take pride in our staff of knowledgeable, experienced industry pros. Just pick up the phone and contact customer service to talk to a real live boating and accessory expert. We also work hard to offer a hand-picked collection of innovative and hard-to-find boating accessories and marine supplies.
Same-day shipping on in-stock products, free shipping on most orders over $150, and a 30-day no-hassle return or exchange policy on stocked items help us compete not only with the brick and mortar stores but also with online giants.
Need More Help Deciding? Give us a call!
For the last 40+ years, we've perfected the art of upgrading boats and helping boaters better enjoy their time on the water. If you have a question about a product or project give us a call! Our team of experts is here to help!
Commonly Asked Questions about Boating Accessories & Equipment