Please Select
Select your product options to view availability.
Underneath the leaning post on a center console is an almost perfect spot for a cooler. The only drawback is that in many cases, the lid can't be opened completely without dragging the cooler out. If it's a 36-qt Igloo with a six-pack of Perrier and some brie, no big deal. But if it's Yeti 75 loaded with ice and beer for an overnighter to the Middle Grounds, that's a problem!
Key Features:
Adjustable sizes for a snug, custom fit on almost any cooler
Pin lock secures slide in either in or out position
Innovative spanner design eases installation and ensures slides are parallel

Ensures slides mount perfectly parallel(provides easy install)
Forces slides to move together (no binding up when pulling one side)

Pin lock secures slide in either in or out position
Your choice of several popular colors of King Starboard to match your boat
Why Do I Need Cooler Slides?
Storage is in high demand on most boats. Consolidating the footprints of your cooler and leaning post is a great way to maximize space, but losing easy access to your cooler is a significant drawback. The solution to these issues are boat cooler slides, which allow you to pull large coolers out from under your leaning post with ease.
The Boat Outfitters cooler slide comes in three sizes; small, medium, and large to accommodate virtually any size leaning post and cooler:
Small can fit up to a 54-quart cooler.
Medium can handle sizes from 50-128 quarts.
Large can handle up to 200 quarts.
| Size | Width | Depth |
| --- | --- | --- |
| Small | 17" - 27" | 11.5" - 14.5" |
| Medium | 18" - 41" | 14.5" - 17.5" |
| Large | 33" - 49" | 17.5" - 20.5" |
---
The below coolers have already been measured for your convenience:
| Cooler | Size Required |
| --- | --- |
| Coleman Optimaxx 200 qt | Large |
| Igloo Ultima 36 qt | Small |
| Igloo Ultima 54 qt | Small |
| Igloo Ultima 94 qt | Medium |
| Igloo Ultima 128 qt | Medium |
| Igloo Max Cold Ultra 70 qt | Medium |
| Yeti Tundra 20 qt | Small |
| Yeti Tundra 35 qt | Small |
| Yeti Tundra 45 qt | Small |
| Yeti Tundra 50 qt | Medium |
| Yeti Tundra 65 qt | Medium |
| Yeti Tundra 75 qt | Medium |
| Yeti Tundra 125 qt | Medium |
Don't see your cooler? Please refer to our measuring instructions below.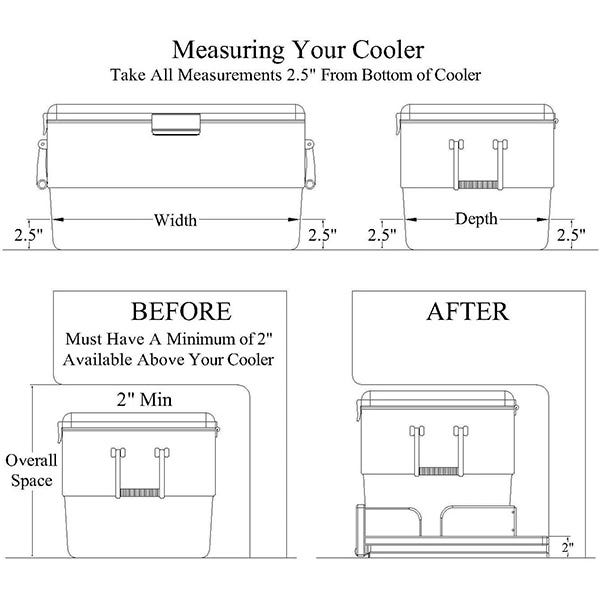 The sizing is done by dimension, not volume, so be sure to have your dimensions on hand when ordering. Since the frame that mounts to your cooler has a 2-inch tall lip, it's important to measure two inches up from the bottom of your cooler.
Be sure that your cooler has clearance vertically as well as horizontally. The slide will add 2 inches of height to your cooler and 2.5 inches of width on either side. Without this extra clearance, it will not fit. Since most coolers are commonly narrowest at the bottom, your dimensions may be different from the specifications of your cooler manufacturer.

Color accuracy can vary considerably on computer monitors and printers. Use the above images as a general guide of relative color differences. When color match is critical, please consider purchasing a sample chain.
---
Below is our "best guess" color match by boat brand:
---
Starboard Sample Chain
Because parts are built to order, we
cannot
accept any returns on account of color discrepancy. We offer sample chains at cost for all customers. If you are unsure which color best matches your boat, we highly recommend purchasing a set!
Add To Cart
Cooler Slide Installation
Installing a boat cooler slide is easier than you might think, but still requires some minor drilling and adjustment. Boat Outfitters universal cooler slides for your cooler employs a unique "spanner" system that makes it easier to get the rails of your slide exactly parallel.
Fitting Your Cooler
The cooler slide is designed to fit your cooler tightly. The slides are adjustable so you can get custom quality fit on almost any cooler.
To fit your cooler, flip the cooler so you're looking at the bottom. Mount the front and back assemblies on the bottom.
Pull the slider part of the assembly out to reveal the two retaining screws within the slots of the starboard.
Push the slide assembly tight against the front corner of the cooler while pushing the sliding retainer tight against the back corner of the cooler.
Tighten both retaining screws in their slots to lock everything in. Repeat the process with the other slide assemblies.
Installing the Spanners
Now that you have the slide assemblies in place it's time to install the spanners. The spanners don't serve any structural purpose, they simply hold the sides parallel on installation so the slides don't bind.
Find the spanner that allows you to install all four screws through the slots in the spanner and into the threaded holes on the bottom of the slider assemblies.
After you've found the correct spanner, center them across the slide assemblies and tighten them in place.
Mounting to Your Deck
Once the slide is assembled onto the cooler it's time to mount it to your deck.
To mount the slide to your deck, find the proper mounting location and mark the six mounting holes on your deck.
Drill these out using counter sink bits; this will reduce any cracking in your gelcoat when you tighten the screws.
Once drilled out, the slide can be secured with the provided screws. When possible, through bolting is preferred.
Before you complete your install, be sure to seal your screw holes. Sealing and countersinking your deck screws is vital to a proper installation. Failure to seal your holes can allow moisture to penetrate your deck coring, causing issues down the road. Countersinking can prevent ugly cracks from occurring when you tighten down your hardware. These cracks are typically cosmetic but can spread and cause issues down the road.
View Instructions
What sizes do boat cooler slides come in?

Traditionally, cooler slides have been made to fit specific leaning post dimensions and/or a specific cooler size. Boat Outfitters universal cooler slide, though, uses an innovative to adjust to almost any combination of cooler and leaning post. It is available in small, medium, and large sizes, each of which is adjustable to fit a range of cooler sizes.
What is the value of a cooler slide for boats?

Cooler slides add value in multiple ways. First, they allow you to easily pull your cooler out from under your leaning post so you can open the lid all the way for full access. Then, the cooler can be slid back out of the way under the leaning post and locked in place, maximizing cockpit space. Second, by removing the need to drag your cooler on your deck, you greatly reduce wear and tear on the deck of your boat.
Who makes a high-quality cooler slide for boats?

There are relatively few manufacturers of cooler slides. Among them, Boat Outfitters is an excellent choice, manufacturing high-quality, universal fit slides from King Starboard and marine-grade hardware in a variety of colors.
How much clearance do I need to add a cooler slide under my leaning post?

The required clearance varies slightly among manufacturers, but generally speaking, a cooler slide will raise your cooler about 2 inches. So you need at least 2 inches of clearance above the lid when your cooler is sitting on deck.
---
Frequently Bought Together
---