Storage Solutions for your Boat
Can't find what you need? We get it! - Efficiently integrating storage systems and tackle units into a limited space is often a challenge in boat design. Boat Outfitters' team of skilled project managers solves these challenges daily by custom-designing parts that fit into our customer's available space. Storage systems can be simple drawer units or elaborate tackle storage systems which utilize a variety of accessory items such as tackle bags, leader holders, lure tubes, and Plano tackle compartments. Some of our popular categories include:
Learn more about boat storage here.
---
Tackle Boxes
"A place for everything and everything in its place" as the old saying goes. Keeping your gear organized when on the hunt for the next big one can be the difference between an "epic day" or a "fish story" - you decide!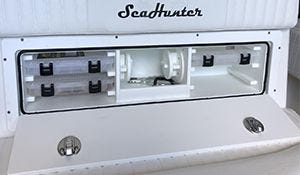 Drawer Units
The perfect storage solution regardless of what you're doing on the water. Adds functional storage for tackle when fishing or a great place to toss sunscreen, towels, etc. when just cruising for the day.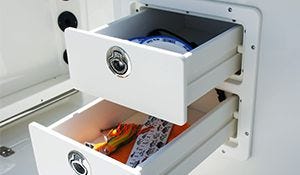 Tilt Out Boxes
The perfect solution for adding functional storage to areas with little available depth. Great for areas like gunnels and transoms.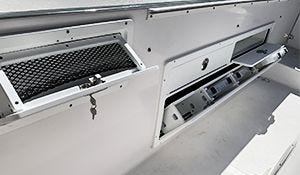 Glove Boxes
Add lockable storage quickly to your console allows you to keep your valuables safe and dry when on the water. The first question everyone asks when boarding is "Where can I put my keys, wallet, and phone?" Great for replacing old dash panel accessories or to fill an existing hole cutout - i.e. an old VHF.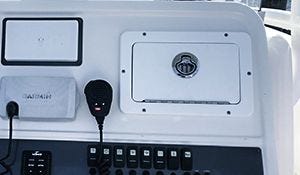 Tool Holders
How many times have you had a fish at the boat, and you're struggling to find your pliers? Not anymore! Keep your tools and gear at the ready with our assortment of tool holders.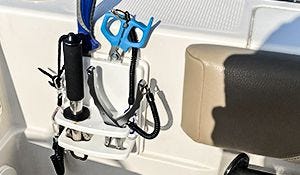 Storage Bags
Marine storage bags are a great option for adding storage to leaning posts, console doors, or boat compartments. An easy upgrade that adds super functional storage keeping your most needed items within hands reach.
Electronic Boxes
Advancements in boating/fishing electronics continue to change the game. Let us help you protect your investment. Our custom electronic storage boxes are perfect for keeping your systems out of the elements and protected when not in use.
Tackle Trays
Our tackle tray holders are a great addition to the back of a console door or near a transom work station keeping your favorite lures at the ready.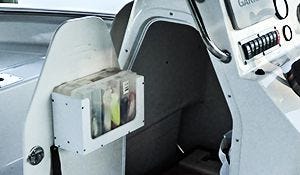 Specialty Storage
From luxurious wine racks to functional trash can storage- just name it and we'll build it. We've even built stow-away espresso machine storage for high-end yachts.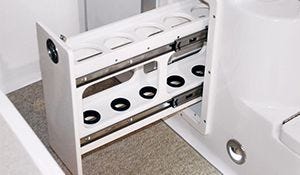 Custom Storage
We've built thousands of storage units over the years, but if you aren't able to find one on our site that fits your needs don't worry - we can custom design a storage solution for you. Just take a few pictures of the area along with the dimensions, and one of our project managers will gladly work with you to design a storage system that fits your exact needs.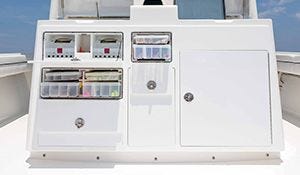 Need More Help Deciding? Give us a Call!
For the last 40+ years, we've perfected the art of adding functional storage for every boater's need - helping them better enjoy their time on the water. If you have a question about a unit online or want to design a storage system tailored to your exact needs, give us a call! Our team of experts is here to help!
Commonly Asked Questions about Boat Storage