Winterization
When you are planning boat winterization for the upcoming season, you need to invest in the right supplies and materials. One of the most important steps in boat winterizing is shrink wrapping. » Read More
Importance of Winterizing Your Boat
So, you've spent an enjoyable time during spring, summer, and even the first half of fall, with your boat on the water. Whether you have used it for day trips, to check out wildlife, or to catch some of that wildlife, either on camera or at the end of a fishing line, you now need to think about what you are going to do with your boat during winter.
Winterization is a must for any boat, regardless of what state you reside in. The extent to which you winterize your boat may depend on your location. As a huge part of the process is making sure there is no presence of water in your boat before you put it into boat storage or winter storage, you will want to do that part at the very least.
Why is water in an unused boat so bad? Although boats are designed to spend most of their time on the water, prolonged exposure can cause damage. Without cleaning and drying out the parts of a vessel that shouldn't have water, that water could cause mold to start growing. If you live in an area where there are below-freezing temperatures during winter, you also have the problem of any water freezing over.
Freezing water can cause parts and components of the boat to crack, such as the paneling or even more crucially, the engine cylinders, fuel systems, and power source.
While it may seem like a hassle at the time, spending a bit of time and investing a bit of money in winterization could mean that you avoid expensive repair bills further down the line.
One part of winterization, along with removing all of the water from your boat, is shrink wrapping. Shrinking wrapping is designed to stop more moisture from building up in your boat and helps keep it at a normal operating temperature.
Why Shrink Wrapping is so Important
Shrinking wrapping your boat for the winter is an important measure that you need to give some serious consideration to, particularly if it is going to be left outside unsheltered. Shrinkwrapping can stop pests, such as rodents, birds, and other animals from entering and causing damage. It will also stop moisture from getting inside and causing mold and mildew to form and spread, causing damage.
It's Easy to Shrink Wrap Your Boat on Your Own
Many people pay for an expert to come out and shrink wrap their boat. Although this will ensure it is done professionally, it can be a very expensive service to invest in. Especially when you realize just how easy it is to do. There are many tutorials and videos online that outline how to do it.
The key to successfully shrink wrapping your boat by yourself is by first making sure you have all the important supplies before you start and then taking a methodical approach. It's not a race to cover your boat and shrink wrap it. Take your time and do the job properly.
Once you have the correct supplies for shrink wrapping in your possession, you can then shrink-wrap your boat many times over for less than it would cost to get the professionals to do it.
Important Supplies You Need to Shrink Wrap Your Boat
Heat Gun (you will need this to make the wrapping shrink and tighten against your boat to make the covering watertight)
Polyester strapping to form the structure for the shrink wrapping to go over.
Some stands to form a structure to slide the shrink wrapping over.
Vents to allow some ventilation into the wrapped boat without allowing moisture in.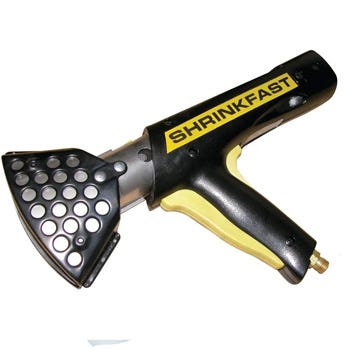 Need More Help Deciding? Give us a call!
For the last 40+ years, we've perfected the art of upgrading boats and helping boaters better enjoy their time on the water. If you have a question about a product or project give us a call! Our team of experts is here to help!
Commonly Asked Questions about Boat Winterization