Marine Acrylic
Acrylic is a practical and cost-effective material that is used for many different applications on boats. Plexiglass is perfect for windshields, windows, trim plates, livewell lids, console doors, or dash panels. » Read More
Common Uses for Plexiglass or Acrylic on Boats
Custom-cut plexiglass sheets are an incredibly versatile substance that can be used for a multitude of different applications in boat building. Whether you are designing and building a vessel from scratch or repairing or upgrading an existing boat, consider marine plexiglass and marine acrylic. These can be used in the following ways:
Boat Dash Panels
If you want a sophisticated, cost-effective, and very sturdy way to finish the control panel in your boat, plexiglass sheets are a great option. Acrylic is glossy like gelcoat and can be purchased in a black color to cut glare. They are easy to install and at Boat Outfitters, we can custom-cut these sheets to your specific dimensional requirements.
Console Doors
Another great use for this is as console doors. When used in conjunction with the hinges and locks we have for sale here at Boat Outfitters, you can create high-quality, aesthetically pleasing, and long-lasting doors for all consoles on your boat
Livewell Lids
Acrylic is an ideal substance for new or replacement livewell lids. Clear plastic livewell lids allow sunlight to reach your bait and also allow you to see into the well. The custom-cut material we stock here at Boat Outfitters is perfect for ensuring your live bait and caught fish will stay salt water fresh for as long as you are out on your fishing vessel.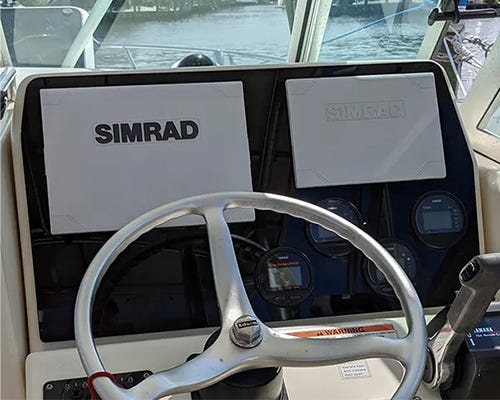 Trim Plates
Another great use for this is trim plates. The trim plates and trim rings around electronics and speakers create a clean, contemporary look and also help hide cutouts and fasteners.
Windows and Windshields
As plexiglass sheets come in transparent forms as well as solid-colored options, they are perfect for boat windows and windshields. Acrylic can be heat-formed into the shape desired and is available in various tints.
Exact Replacement Acrylic Boat Parts
All of the parts listed above are specialties of Boat Outfitters. Our experience building these parts for boat builders makes Boat Outfitters your best contact for finding an exact replacement acrylic parts for your boat. For more information on replacing OEM parts check out our part replication options.
Custom-Cut Plexiglass
At Boat Outfitters, we know how difficult it can be to cut plexiglass at home without the right equipment. That is why we recommend you come to us with your custom-cut plexiglass needs and we will measure and cut the pieces for your various needs.
Pros & Cons of Acrylic
If you are on the fence about using acrylic or plexiglass, we've highlighted some of the main pros and cons below to help you make a more informed decision.
Transparent
The main reason a lot of people opt for plexiglass in their marine sheeting on account of its transparent nature. When you want to be able to see inside a storage area or hatch or behind a panel, plexiglass is a better choice than Starboard (which is not transparent). Acrylic is available in completely clear, as well as several different levels of tint, plus opaque black and two shades of opaque white.
Malleable & Moldable
Another huge benefit of plexiglass specifically is the fact that it can be heated and bent to create complex shapes. This is ideal for windshields or when you have one of those areas in your boat, or maybe on your control panel, which requires a piece with irregular dimensions or that bends uniquely.
Glossy Finish
Has a high-gloss finish, much like your boat's gelcoat. This makes it an attractive choice for dashes, lids, and doors.
Brittleness
One of the cons is that it is relatively brittle. This makes it more difficult to work with. Special drill bits must be used and extra care must be taken to avoid cracking the substance when cutting, drilling, or screwing.
Cost
The other con is the relatively high cost of acrylic when compared to other marine plastic sheeting.
Laser Engraved Plexiglass
At Boat Outfitters, we are pleased to offer you the choice to order custom cut, laser engraved plexiglass. The options and uses for laser engraved acrylic are endless!
Custom Livewell Lids
Give your Livewell unit a personal touch with your own branded logo, family name, or even the boat name. The possibilities are endless with our custom laser engraved plexiglass sheets.
Custom Engraved Signs or Decorative Pieces for Indoor or Outdoor Use
You can also use sheets of laser engraved plexiglass as the name of the boat, safety signs, or decorative designs to give your boat a more personalized and unique look and feel.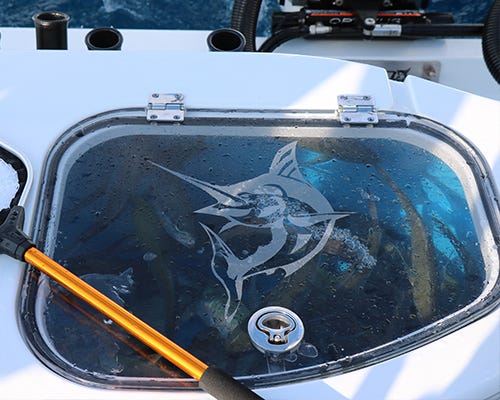 Need More Help Deciding? Give us a call!
For the last 40+ years, we've perfected the art of upgrading boats and helping boaters better enjoy their time on the water. If you have a question about a product or project give us a call! Our team of experts is here to help!
Commonly Asked Questions about Marine Acrylic