Pontoon Rod Holders
There are many anglers who are dismissive of pontoon boats as fishing boats. But pontoons do have a lot going for them as fishing platforms. What they do lack, though, is the important features of live wells, and bait, tackle and rod storage. » Read More
Why Your Pontoon Boat Needs a Rod Holder
Sure, you can lean your fishing rod anywhere, but for practicality and safety, dedicated rod holders make a huge difference on any boat, especially a pontoon boat.
Fishing
The most obvious reason why you would want to have rod holders in your pontoon boat is for fishing. Although our pontoon boat rod holders are designed primarily for storage, they also work well to hold rods while you're waiting for a bite.
Rod Storage
As the name suggests pontoon fishing rod storage is designed to keep you and your fishing tackle safe. Pontoon boats lack the rod storage space that other popular fishing vessels have as default.
Pontoon rod racks hold rods upright and out of the way, where they won't be stepped on and don't present a hazard.
Rod Holder Mount Accessories
One of the biggest advantages of investing in holders for fishing poles for pontoon boats is the fact that they can be adapted and are very versatile. The pontoon rod holders you can buy from us can be used to hold grills, flags, and other important accessories.
This is to help make your fishing trip or adventure on the open water safer and more enjoyable.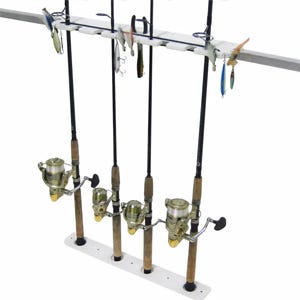 Why Pontoon Boat Rod Holders are Unique
A pontoon rod holder is unique when compared to other accessories and fittings for fishing vessels. Two reasons we say this include:
They Need to be Mounted to a Square Railing
There is a square railing on most pontoon boats. Often the most convenient and stable platform to mount a rod rack or rod holder is on the pontoon boat square mount railings. This is due to its wide diameter.
Therefore, when you are on the search for them, you may come across some products that are called fishing rod holders for pontoon rails or pontoon rail rod holders.
There isn't Room for Horizontal Rod Storage
Most pontoon boats don't have solid interior "sides. Instead, they have so-called "fencing" that is typically made out of thin paneling and is not a suitable mounting surface for rod racks.
So pontoon boat rod storage mounts to the floor of the boat and the square railings.
Types of Pontoon Rod Holders
If you are planning on investing in pontoon rod holders, you need to also understand that there are several different options out there.
Here is a brief description of the best fishing rod holders for pontoons available:
Rod Racks
A pontoon boat rod rack is essentially a collection of rod holders installed within one unit. It is a space-efficient and practical way to store your rods safely even on a vessel with limited storage space like a pontoon boat.
Rods are stored vertically and are readily accessible for use.
Pontoon Rod Boxes
Rod boxes are enclosed boxes that hold approximately the lower half of a fishing rod, including the reel.
A lockable, hinged lid protects rods from both theft and the elements. Our rod boxes hold four rods.
Need More Help Deciding? Give us a call!
For the last 40+ years, we've perfected the art of upgrading boats and helping boaters better enjoy their time on the water. If you have a question about a product or project give us a call! Our team of experts is here to help!
Commonly Asked Questions about Pontoon Boat Rod Holders