Screws
Marine Stainless Steel Screws are essential fixtures needed when working on your boat. Whether you choose powder-coated marine-grade screws, plated and painted marine screws, or 316 stainless steel, they are all solid options for marine applications. » Read More
Different Types of Stainless Steel Screws for Marine Use
At Boat Outfitters, we pride ourselves on offering the widest and most practical selection of boating supplies and accessories. As part of our commitment to making our online store the only place you need to visit, we carry a comprehensive range of stainless steel boat screws. The different powder-coated marine-grade screws and painted marine screws we have in stock are characterized by the following head types:
Flat Head
Often referred to as countersunk screws, flat head screws are conical in shape and have a flat outer face and tapering inner face on the head. The distinct advantage of using flat head screws over the other types is that the smallest amount of the head protrudes above the surface. This means that it can sink deep into the material a stainless steel flat head screw is being screwed into, providing a flush and clean finish.
Ideally, they should be and are commonly used as deck screws or on furniture, paneling, and other components and areas that are visible. If you used anything other than stainless steel marine grade screws with flat heads in those kinds of applications, they would not look very inconspicuous, and they would ruin the overall aesthetics.
Oval Head
Oval head screws are a combination of a domed head with a countersunk head. The head itself is more for aesthetics than practical value. Due to their design, these are not the best choice if you are looking for the screws to sit flush with the surface of the material you are fixing them into.
However, if you are fastening a panel or another component in a part of your boat that will be visible to all that use it and see it and want to make this stand out, oval head marine-grade screws are an excellent choice. At Boat Outfitters, we have a selection of oval head chrome-plated stainless steel marine fasteners and screws in different sizes.
Pan Head
One of the most common screw head types is undoubtedly the pan head screw. These are a non-countersunk style that is normally used in securing and fastening insulation. They are characterized by their wide heads, flat bearing surface, and either a slight dome or flat surface and recessed socket.
Pan head screws are normally used to fasten pieces of metal together and other materials and components to metal.
Truss Head
The truss head screw has a typically lower and slightly rounder surface compared to other types of screws. It is finished off with an extra-wide top. These screws usually have a lower profile than the rounded head alternatives. This means they can play a part in preventing tampering. This is if there is a part of your boat that you want to protect against would-be thieves.
Truss head screws are often used in attaching cabinets with steel studs. You often find them in electronics and applications where a low clearance above the head is necessary. Truss heads can also be used when fastening metal parts that are going to be used in environments with a high level of humidity. So, truss head screws are a great choice in boatmaking.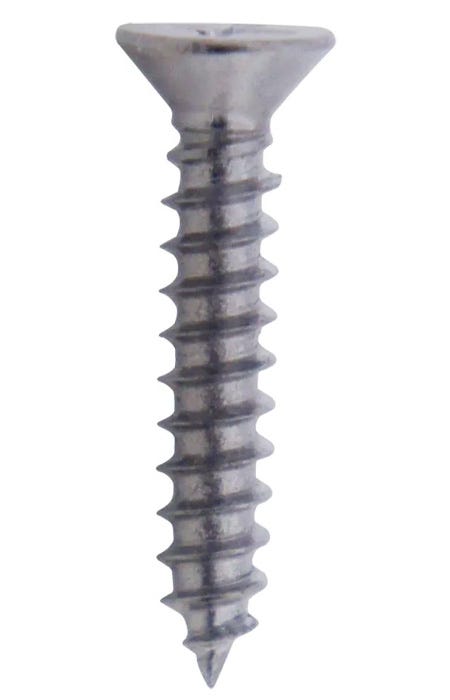 Chrome Plating or Powder Coated Stainless Steel Marine Grade Screws
When you start looking for the screws you need for whatever work you are carrying out on your boat, you will notice that it's not just the types of heads you need to be aware of. There are two other categories you need to consider when choosing marine-grade screws from Boat Outfitters – chrome-plated and powder-coated stainless steel.
Best Screws for Starboard & Plexiglass
Ideally, when you are working with marine-grade plastics like acrylic, King Starboard, and King Starlite, you want sharply angled, coarse threaded screws. The screws featured on this page, all feature those kinds of threads and are made from stainless steel, a material that has corrosion-resistant materials that are perfect for boat applications.
Need More Help Deciding? Give us a call!
For the last 40+ years, we've perfected the art of upgrading boats and helping boaters better enjoy their time on the water. If you have a question about a product or project give us a call! Our team of experts is here to help!
Commonly Asked Questions about Stainless Steel Screws for Marine Use