Railblaza Rod Holders & Accessories
Railblaza's innovative modular mounting system consists of an ever-growing array of mounts and interchangeable accessories that are ideal for not only boats and kayaks but also cars, trucks, RVs, ATVs, and more. Whether you want to add rod holders, cup holders, device holders, electronics mounts, or storage, Railblaza can make it happen with versatile, easy-to-install parts. » Read More
Railblaza History
Modular mounting systems for boats have been around for decades. The rod holders and electronics mounts developed by Scotty, for example, are still extremely popular, especially on boats used to troll for salmon and walleye. Then, with the explosion in popularity of kayak fishing, these mounting systems found a new application, and companies proliferated.
Railblaza, founded in New Zealand in 2010, was somewhat late to the party, but a combination of quality and innovation quickly made the company the leading manufacturer and designer of modular accessories and mounts like rod holders, electronics brackets, and much more.
The Railblaza was originally designed for mounting tools on off-road vehicles, but the company quickly realized the potential for its products in a variety of uses, including boating. By 2012, the company was producing over 120 products, many of which are geared towards marine use. Not only does the company produce great products, but they are also eco-friendly.
Their production aims to reduce waste by using fewer materials that last longer, and their packaging has gone from plastic blister packs to wood fiber envelopes. This one change has resulted in 60,000 fewer plastic packs of waste each year.
Railblaza for Boating
Railblaza products are attractive to the boating world for a few reasons. Their products are built for the abuses of the marine environment. They are fiberglass reinforced for strength and are UV stabilized, so they won't fade out as other plastic hardware might. Not only are their items strong, but they're also lightweight as well. On small boats, the extra weight adds up quickly. These rod holders weigh in at less than a pound, allowing you to keep your weight low.
One of the biggest appeals to their products is the ability to adapt to all kinds of uses. One mount can hold accessories ranging from tackle caddies to rod holders to drink holders to camera mounts to clamps. The same setup used in the morning for a fishing trip can then be used to hold drinks and cameras for an evening of entertainment.
Railblaza Mount Types
The system consists of mounts (also commonly called bases) that are permanently or semi-permanently attached to the boat or kayak, and accessories that "plug" into the mounts.
There are several different kinds of mounts designed for fiberglass boats, aluminum boats, pontoons, and kayaks:
StarPort — Basic mount, meant to attach to a horizontal surface with screws or bolts.
SidePort — Similar to StarPort but meant to attach with screws or bolts to a vertical or near-vertical surface such as the inside of a gunwale.
StarPort HD — A heavier-duty surface-mounting base for horizontal surfaces.
E Series StarPorts — StarPorts with integrated power outlets, either a 12V outlet, a USB, or a cable pass-through.
RibPort and QuickPort — Stick-on bases for RIBs, paddleboards, and other inflatables with heavy-duty 3M peel-and-stick adhesive.
CleatPort — Essentially a StarPort with a small integrated cleat.
RailMounts — Clamp-on bases for 19 - 25mm round or square rails, 32 - 41mm round or square rails, or 1-1/8" to 1-1/4" square pontoon boat rails.
Railblaza TracLoader System
In addition to its line of mounts and accessories using the eight-pointed star profile, it also offers its own track system, ideal for kayaks and aluminum and fiberglass boats. Anodized aluminum tracks (available in 12", 20", and 30" lengths) are permanently mounted to the vessel, usually to the insides of the gunwales.
Then a special base is fitted into the track and an accessory is attached to the base. Accessories are not only interchangeable but can also be slid along the tracks to wherever they're needed.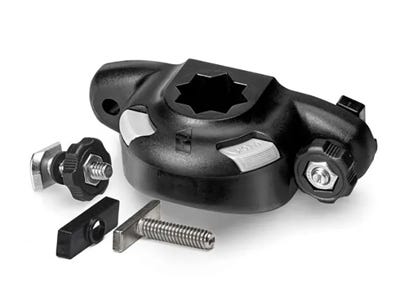 Railblaza Accessories
Railblaza is always innovating new equipment compatible with its mounts. Currently, for the boating, kayaking, and fishing markets, they include:
Rod holders (several types)
Electronics mounts
Trolling motor supports
Leader spool holders
Fillet tables
Gun cradles
Bimini top bases
Navigation lights
Camera mounts and booms.
Phone and device holders.
Paddle clips
Oarlocks
Drink holders
Flag poles
Hooks and eyes
Need More Help Deciding? Give us a call!
For the last 40+ years, we've perfected the art of upgrading boats and helping boaters better enjoy their time on the water. If you have a question about a product or project give us a call! Our team of experts is here to help!
Commonly Asked Questions about Railblaza Accessories
Where can I purchase affordable Railblaza accessories?
(show/hide)