Boat Navigation Lights
Navigation lights are extremely important for safety and are required by the U.S. Coast Guard for the operation of any boat at night or in reduced visibility conditions like fog. » Read More
What is the Purpose of Navigation Lights?
Navigation lights are meant to communicate information about your boat to other vessels. Properly used, navigation lights tell other vessels where you are, whether you are anchored or underway, and what direction you are moving.
Navigation lights are not intended to help you see or navigate. You should be able to see as little light as possible from your navigation lights, since glare from white all-around lights or red and green sidelights or bi-color lights can hurt your night vision, making it more difficult to see where you're going.
Importance of Navigation Lights
Most recreational boats are not technically required to be rigged with permanent navigation lights or even to carry portable navigation lights. For operation at night or in reduced visibility, though, navigation lights are required by law — and common sense.
It is easy to see why so many boat owners may consider navigation lights to be nothing more than an optional feature that can make their pastime a little bit safer and easier. That is until you try to navigate through darkness or periods of poor or virtually no visibility, either because of rain, fog, or smoke. Commercial boats are legally required to be installed with navigation lights. However, when it comes to recreational boats, this is something of a gray area of the law and is left to individuals.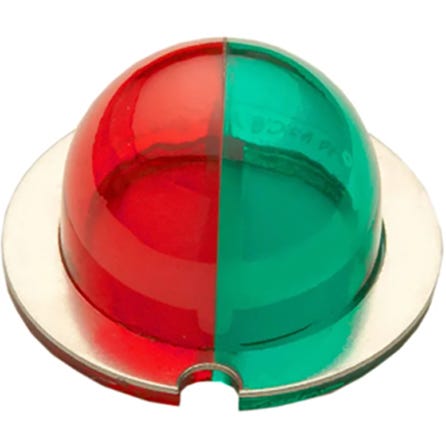 At Boat Outfitters, we recommend though, that all vessels be fitted with navigation lights of some kind. The alternative to taking this rather small, preventative safety step? You could collide with another vessel, the rocks along the edge of the water, or even the docks when you are trying to leave or coming into shore.
Without navigation lights, with appropriately poor conditions, you could easily get lost out on the water, even on a very short and simple expedition.
When you consider all of the different safety measures you can take, navigation lights remain one of the most important you can take. As well as alerting other boats that you are close to them and avoiding collisions, you can also keep yourself safe from colliding with obstacles. It doesn't matter if your boat comes with lights or not, you need to have the right kind installed with the proper configuration.
Basic Navigation Light Rules and Laws
Navigation light requirements vary by vessel size and type. For powerboats underway (not anchored), the basic requirements are a red sidelight on the port side, a green sidelight on the starboard side, a white masthead light shining forward, and white stern light. The masthead light must be higher than the sidelights.
For powerboats under 40', some substitutions are allowed. First, the separate red and green sidelights can be replaced with a single bi-color red and green light on the bow. Second, the masthead and stern lights may be replaced with a single all-around white light that is aft of and higher than the red and green lights.
Whether you choose a single bi-color bow light or separate red and green sidelights, they must be installed correctly in the right location. The Coast Guard requires that these lights are visible in an arc from directly ahead of your boat to 112.5 degrees aft on each side.
When installing shark eye-style red and green lights or rub rail-mounted bow lights, it is extremely important to make sure they meet this visibility requirement. If mounted too far aft on your boat, they may not be visible from dead ahead. If mounted too far forward, they may not be visible from as far aft as required.
Powerboats at anchor in darkness or reduced visibility conditions must display a single all-around white light visible from 360 degrees.
For all boats under 40', red and green lights must be visible for at least 1 nautical mile and white all-around lights must be visible for 2 nautical miles. Boats from 40' to 66' are required to have red and green lights and a stern light visible for at least 2 nautical miles and a masthead light visible for 3 nm. Always check the visibility rating when purchasing lights.
Kayak Navigation Lights
Technically, kayaks, canoes, and other paddle craft are only required to carry a flashlight at night that can be shined toward oncoming boats when needed. For safety, though, we strongly recommend an all-around white light on a pole, similar to those used by powerboats.
LED Navigation Lights
Most new navigation lights use LED technology instead of incandescent bulbs. LED lights should be used whenever possible, since they consume far less electrical power, have a longer lifespan, and stay cooler when turned on for long periods.
Removable vs. Pop-up vs. Pole Navigation Lights
On boats with T-tops or hardtops, we recommend mounting a permanent all-around white light on the top. But for small boats without tops, a permanently mounted light on a pole will likely be in the way and removable plug-in style all-around lights may be preferable. They can be stowed out of the way when not needed, then plugged in for night operation.
Likewise, removable plug-in bow lights are a good option for small boats that aren't operated frequently at night, especially flats boats and skiffs that need a clear, unobstructed forward deck. They're much less expensive and easier to install than shark eye navigation lights, which require drilling holes in the hull.
Pop-up navigation lights are another option for keeping decks clean and unobstructed. These bi-color or side lights can be pushed down flush when not needed.
Need More Help Deciding? Give us a call!
For the last 40+ years, we've perfected the art of upgrading boats and helping boaters better enjoy their time on the water. If you have a question about a product or project give us a call! Our team of experts is here to help!
Commonly Asked Questions about Marine Grade Bolts