Phone & Device Mounts
Cell phones have found their way into almost every facet of our lives and have even become essential equipment for boating. Marine-specific phone holders, mounts and chargers help you maximize the utility of your phone on board while also keeping it safe and secure. » Read More
Boat Phone Mounts
Whether they're streaming music at the sandbar or enabling safe passage through navigation apps, smartphones have proven their utility time and again. They provide another way to stay in reach in the event of an emergency, keep you up to speed with constantly changing weather and can even integrate with many on-board systems.
With all the information a cell phone can hold, how it's mounted can have a massive impact on how that information can be utilized. There are many factors to consider when shopping for the best boat phone holder for your needs. What is the intended use? If your phone is only used to play tunes at the sandbar, your needs may differ from someone using it to navigate a treacherous inlet. A power boater pushing the limits at speeds over 70 mph will have different needs from a kayaker on a tranquil lake. We are going to cover some of the different types of marine cell phone mounts, and the best phone mounts for your boat.
Phone Mounts for Boats vs. Car Phone Mounts
Even though they might look similar and play the same role, cell phone mounts have subtle differences from the marine phone holder to a car phone holder. The most important is that a marine cell phone holder should be waterproof. A boat phone mount needs to be able to withstand at least some exposure to the elements!
It is important to consider that a phone suction mount for a car may not be built with consideration to UV degradation or exposure to moisture. The same cell phone clamp mount that works so well in the car may corrode beyond use upon exposure to salt water spray. It is important to mention, most marine phone holders do not provide much waterproofing for your phone itself. Although the phone holders themselves can tolerate moisture, they can only give as much water protection as your case does. Make sure to do your research before risking your technology!
Placement of Phone Holders on Boats
How you plan on using your phone plays a big role in the best place for your boat cell phone holder. For most uses a marine dash mount phone holder is the most effective. Other things to consider with boat mounts are the weather and general boating conditions. Calm cruises might allow a suction phone mount that might not offer the most protection from the elements, but offers ease of access. A day of swimming at the sandbar might call for a suction cup phone case that allows mounting in multiple locations as the need arises. Rough weather might call for a clamp-on phone holder to keep your phone safe, secure, and accessible. A clamp on cell phone holder might sacrifice mobility, but emphasizes security. Some boats might not have enough console space for certain types of mounts. For these vessels an arm-mounted phone holder is the best option. If you don't feel the need to have your phone visible but still want it in an accessible place, a helm box organizer may be the way to go for you.
Differences in Vessels
A pontoon boat cell phone holder might differ vastly from a cell phone holder for a bass boat. On the pontoon boat, slow speeds and generally better conditions lend themselves to a different style of marine phone holder. On the bass boat, a clamp cell phone holder might provide better use at the high speeds and marginal conditions those boats are used for. For the private sportfish captain, who may work on different vessels throughout the year, the best mounted phone holder may look different from the ski boat captain entertaining his guests on the weekends. Many sailboaters utilize arm mounts to take advantage of the exposed piping on the helm and lack of console. Other boats don't have any sort of dash or console. Smaller skiffs and aluminum boats will require a different phone clamp mount than the suction cup phone mount that works on larger boats. Just like the boats themselves, the best boat mounts differ as well.
Types of Boat Phone Mounts
There are a few different styles of phone holders for boats; the biggest difference between them is the base. Probably the most portable base is the suction cup base. Suction cup phone holders are also the easiest to install, and require almost no preparation. For boaters who might use their phone holders between different boats, the suction phone mount allows you to use your marine phone mount on any vessel with very little work. This is also appealing to boaters who don't want to drill holes or put any adhesives on their boats.
Another common base is the adhesive base. This type of base is not as flexible as a suction cup base. Once the adhesive sets, it's permanent unless intentionally removed. It is important to note that the mount as well as any adhesive residue can be removed with some chemicals and elbow grease!
To piggy back off of the adhesive mount is the adhesive magnetic mount, or phone ball mount. This system uses adhesive to mount a magnetic base that holds onto another magnet placed on the phone. This system allows you to remove and replace the phone freely with no moving parts. One downside is that the magnetic mount on your phone can not be removed.
The most permanent mount, but also one of the strongest and simplest, is the Dash Mount Phone Holder. The four simple mounting studs provide strength, and the simple acrylic backing provides protection and simplicity. This style of boat dash phone holder does have a drawback. It's permanent. While the other types of boat phone mounts might be easy to install and remove, this mount does require a bit of simple installation. You will have to drill a few holes. If it is to be removed, the mounting holes will need to be filled. This is a minor drawback for one of the best phone mounts for boats!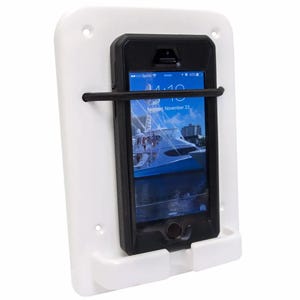 Still looking for a mount that provides more strength than the others, but doesn't involve any tools for installation? The rail mount is the perfect compromise when possible. Rail mounts work great for boats lacking dash space, and can fit a variety of rail sizes. These mounts can clamp down with the included hardware, but some are even designed to be secured with cable ties. This could mean mounting to a grab bar on smaller boats or to a t-top on larger boats. Really any exposed piping can be used for these phone mount bases.
For phones that don't need to be as accessible, phone mats, pockets, or helm boxes are also great storage options. These offer ample protection, but sacrifice accessibility. Being able to lock away your phone but knowing exactly where it is and that it is protected from the elements can be important too.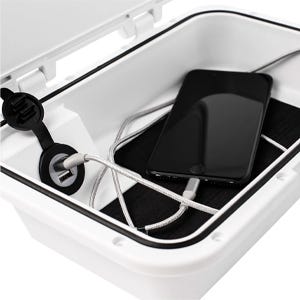 Even on boats with no mounting surfaces for suction cup mounts, or grab bars for rail mount, there are still options! In tight spots that require a bit of creativity, screw mounts, adhesive mounts, and even kayaking track mounts can work. That's right, even for the smallest of boats, there's a marine phone holder for you! Kayaks and canoers can benefit from boat mobile phone holders, and the mounting options all work pretty well. Given the low impact of most kayaking and canoeing, the suction cup and adhesive mounts can meet your needs. Even in lighter white water applications, the screw down mounts have plenty of strength to keep your phone secure as long as you have a waterproof case. On many fishing style kayaks the track mounted bases offer the simplicity of a multi-use system. The same track that might hold your rod holders, fish finders, and net, can now hold your cell phone.
Added Benefits of Phone Holders
One of the added benefits to some of these marine phone holders is the included charging capabilities. For some of these holders, that is conventional cable charging, but others offer wireless charging. Wireless charging can come in handy when using battery-draining applications or streaming music over Bluetooth. In certain situations, the peace of mind knowing that your phone is fully charged is priceless.
When using Bluetooth satellite communicating devices these wireless chargers can keep your phone fully charged while still easily accessible. One particular phone charger made for pontoon boats is designed to hold both your phone as well as your wireless speaker. These charging mounts do need to be wired which makes them less flexible as far as positioning. This wiring is fairly straightforward and simple, involving just two wires and one inline fuse.
Who Makes These Phone Holders?
As with anything, there are a million different makers for marine phone holders. ROKK is a manufacturer of phone holders for use in both automotive and marine applications. They make products to stand up to racing applications by testing their mounts on boats capable of speeds up to 100 miles per hour. One would expect them to hold up to most recreational boating applications. Some of their phone holders have a wireless charging capability. They also produce stand alone wireless chargers and mounts for other devices. As for the very simple and sturdy dash mount phone holder, Boat Outfitters manufactures them in house from King Starboard. They offer several different color and mounting options. The dash mount phone holder can also come with charging capability. It is pre-wired with ring terminals and an inline fuse.
What About My Other Devices
Now that you have your phone covered, what about your iPad or tablet? For navigation, tablets can provide an additional screen for different charts or methods of navigation. Mariners can use the same device to navigate as they do to send email, and the larger screen makes it much easier. The redundancy in having multiple methods of navigation can help avoid catastrophe. The most up to date charts can be downloaded while hundreds of miles out at sea thanks to satellite wifi services. So what about mounting it? Luckily many of these manufacturers offer tablet mounts similar to their cell phone mounts. The tablet mounts have similar mounting bases, the only difference is size.
No matter how you plan to use your boat on the water there's a mount for you. Finding the best mount just involves figuring out your most common application and finding the placement that works best for it.
Need More Help Deciding? Give us a call!
For the last 40+ years, we've perfected the art of upgrading boats and helping boaters better enjoy their time on the water. If you have a question about a product or project give us a call! Our team of experts is here to help!
Commonly Asked Questions about Boat Phone Mounts
Where can you place a cell phone mount on a boat?
(show/hide)