Barrel Bolts
Marine slide and barrel bolts are commonly used on boats as transom and dive door latches and as latches for galley cabinets and drawers » Read More
Barrel Bolt & Slide Bolt Variations
Even within the category of the marine-grade barrel and sliding bolts, there are numerous variations in design, purpose, and material. Here are some of the more popular types of hardware:
Stainless Steel Barrel Bolts
The most basic form of barrel bolt is what you'd expect to find on a shed or barn door — a sliding mechanism that mounts on the door surface and fits into a keeper on the frame — except made from stainless steel to stand up to the marine environment.
Usually, the cylindrical slide can be twisted to lock the bolt in the closed or open position. Basic stainless steel barrel bolts are useful on boats in many places, including securing cabinets and drawers, latching cabin doors, latching engine box lids, etc.
Basic sliding barrel bolt options are also available in chrome-plated bronze for marine use.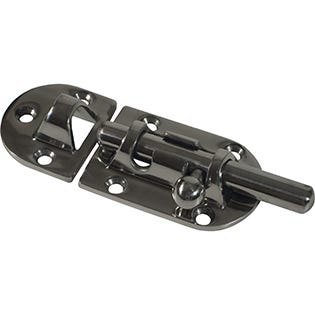 Spring-Loaded Barrel Bolts
Adding a spring to a basic barrel bolt allows it to be closed more quickly and easily. Simply flip the knob, and the spring closes the cylindrical slide. Otherwise, these work just like the basic stainless barrel/slide bolt.
Deluxe Covered Barrel Bolts
Another variation on the basic barrel bolt is to house the slide mechanism inside a protective cover. The removable cover not only helps protect the mechanism inside from the elements but also provides a cleaner, more finished look by hiding the bolt and fastener heads. Deluxe barrel bolts are found on many of today's production boats. Still, other stainless steel barrel bolt options feature a solid housing for the cylindrical slide for added strength.
Magnetic Latch Bolts
Many of today's recreational boats employ a magnetic transom or dive door latch. These are easily opened by sliding a small knob and automatically hold transom doors and dives securely closed. When closed, a magnet automatically pulls the latch into the closed position. Both surface-mount magnetic and flush-mount magnetic latches are available. A flush latch requires a recess in the door.
Stainless Steel Slide Latches
A slide latch works essentially the same way as a barrel bolt does, but uses a flat slide instead of a cylindrical bolt. Most are spring-loaded to automatically close and feature a small handle. Others use a push-button mechanism. They are generally low-profile and contemporary looking. Typically a slide latch for a transom and dive door is designed so that the slide enters the edge of the door frame, rather than a surface-mounted keeper, although some models are provided with both styles of keeper.
Slam-to-Close Slide Latches & Barrel Bolts
Most barrel bolts and slide latches need to be manually slid into place once the door is closed, but a slam-to-close latch is designed with beveled slides and a spring mechanism so that the door can be slammed shut. Models are available with both cylindrical and flat bolts.
Cupboard Bolts
Cupboard bolts are smaller, lighter-duty slide latches designed for use in boat galleys and cabins to keep cabinet doors and drawers closed. Because they are not designed for exposure to salt and weather, they are usually made out of lesser materials than stainless steel.
Boat Transom & Dive Doors
A transom and dive door are the most common applications on boats for barrel bolts and slide latches. They are found on many types of boats, from wake boats to pontoons, to offshore fishing boats.
Transom doors are small doorways in the transom of the boat allowing people to walk easily between the cockpit and the swim platform area without having to climb over the transom. This can be useful for entering and exiting the water, accessing outboard engines, and even working large fish around the back of the boat. Transom doors, sometimes called a "tuna door" is also used on occasion to pull large fish into the boat without dragging them over the rail. They are normally secured by a stainless steel slide latch on the inner side.
The term "dive door" usually refers to a small door on the side of a boat in the cockpit area that opens to allow easy entry and exit from the water. Unlike the transom door, which is often made from Starboard or similar material, dive doors are typically made from the same material as the rest of the boat.
Need More Help Deciding? Give us a call!
For the last 40+ years, we've perfected the art of upgrading boats and helping boaters better enjoy their time on the water. If you have a question about a product or project give us a call! Our team of experts is here to help!
Commonly Asked Questions about Barrel Bolts