CAM & Compression Latches
Marine compression and cam latches are used to hold a hinged lid or door in the closed position. They are common on rod lockers and livewells in bass boats, fish boxes and dry storage boxes of offshore boats, and floor compartments on towsports boats. » Read More
What Are Marine Cam Latches & Compression Latches?
Cam latches, compression latches, and lift-and-turn latches are latches that are closed by manually turning a handle. They are typically mounted near the edge of a hinged panel, like a compartment lid, hatch, or door. When the handle on the latch body is turned, a cam bar on the back of the hinged panel also turns, catching the "frame" around the panel.
Cam lock latches and compression latches differ from slam latches in that they do not automatically latch. On the other hand, they provide a tighter and more secure closure.
Common Uses for Cam & Compression Latches
On boats, marine compression latches and cam locks are commonly found on the lids of deck hatches, livewells, anchor lockers, fish boxes, and dry storage compartments. Bass boat latches are typically used on rod lockers and tackle compartments, where they can secure the contents, and on livewell lids.
On saltwater offshore and inshore fishing boats, they are typically used on deck hatches covering fish boxes, dry storage compartments, and anchor lockers. They are also commonly found on tow sports boats to secure ski and board lockers in the floor.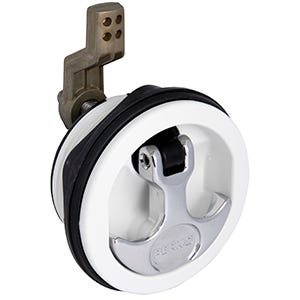 Important Measurements for Boat Cam & Compression Latches
Cam and compression latches have several important specifications that determine fit. To get the right latch, it's important to understand the terminology:
Hole Size or Cutout Size
Virtually all boat compartment latches are recessed into a cutout for mounting. The diameter of the cutout is the cutout size or hole size. Common sizes are 2" cutout, 2-1/2" cutout, and 2-3/4" cutout. A few very large compartment latches use a 3" cutout.
Face Diameter or Width
The size of the visible "face" of a boat compartment latch is different from the cutout size. If you're replacing an existing latch, make sure you're matching the correct dimension.
Panel or Door Thickness
This is the range of thickness of the hatch or door your boat cam latch can be mounted in. These ranges differ quite a bit. Make sure you select a latch that's compatible with your hatch or door.
Grip Range
This is a measurement of the distance from the surface of the hatch or door where the boat latch is mounted to the pawl, cam, or "catch." Most compression and cam latches are supplied with several different cams to fit a wide range of grip measurements.
Cam Length
This is the length of the cam, pawl, or catch and determines how far from the edge of the hatch or door the latch can be mounted.
Cam or Lift & Turn Latches vs Compression Latches
Although they function in essentially the same way, a cam latch (also commonly called a lift and turn latch) and a compression latch have some key differences.
First, most compression latches are waterproof, while most lift-and-turn latches are not. This refers to the latch itself, as opposed to the seal around the lid. If you pour water onto a cam latch, it will drain through the latch body.
Second, marine compression latches compress or pull the hatch or door tightly against its frame for an even drier compartment. For dry storage compartments, pressurized livewell lids, and other applications where water- and air-tightness is important, a quality compression latch is the best choice.
Cam & Compression Latch Materials
As is true for most boat hardware and fittings, stainless steel is generally the most attractive and durable material. It's also by far the costliest. On freshwater boats like bass boats, tow boats, and pontoons, plastic or nylon compartment latches are perfectly functional and much easier on the wallet.
Locking Marine Cam & Compression Latches
Most cam and compression latches are available in locking and nonlocking versions. Lockable boat latches are ideal for compartments where valuable gear is stored, like fishing rods, tackle, or electronics.
Cam & Compression Latches for Carpeted Surfaces
It's important to be aware that certain cam and compression latches are made specifically for use on carpeted surfaces. Others can be used on either carpeted or smooth surfaces, and still, others are compatible only with smooth surfaces. Be sure to choose a compression latch that will work with the surface of your hatch or door.
Boat Latch Cam Bars & Parts
Sometimes you just need a new part to repair a broken cam latch, rather than a whole new latch. The most commonly and easily replaced boat latch part is the cam bar. Also referred to as a pawl and a catch, the cam bar threads onto the stem of the latch and contacts the frame of the hatch or door being held closed. Replacement cam bars are available in several lengths and shapes to suit different applications.
How to Choose the Right Cam or Compression Latch
If you're replacing an existing latch, the first step is to remove the latch and measure the diameter of the cutout. Unless you plan to drill a larger hole, this will immediately narrow down your choices.
Next, consider the shape and size of the latch face. Often, boat builders "tool" hatches to accommodate a certain size and shape of the latch. Unless you have a good reason to change, staying with the same footprint is easiest.
Then decide whether you need to keep water out of your compartment. For some kinds of compartments, like anchor lockers, fish boxes, and non-pressurized livewells, this isn't important. Lift and turn or cam latches are appropriate for these applications. If you need to keep your compartment dry, you'll want a compression latch.
Finally, choose your material. For lighter-duty and/or freshwater use, plastic or nylon is fine. For heavy use and/or saltwater environments, go with stainless steel for strength and longevity.
Need More Help Deciding? Give us a call!
For the last 40+ years, we've perfected the art of upgrading boats and helping boaters better enjoy their time on the water. If you have a question about a product or project give us a call! Our team of experts is here to help!
Commonly Asked Questions about CAM & Compression Latches