Draw Latches
Draw latches are made of rubber, marine-grade plastics, or stainless steel are commonly found on many kinds of boats, where they're often used to secure storage compartment lids. » Read More
What Do Draw Latches Do?
Marine draw latches differ from other kinds of boat latches in that both the latch and the keeper are mounted in the same plane. In other words, draw latches exert a straight pull, using tension to draw two pieces together.
Likely their most common use on recreational boats is securing the lids of above-deck storage compartments, such as those found under the forward seating areas of many center consoles.
Draw latches are particularly well suited for this application because they keep the lids under tension, reducing or eliminating rattling or banging in rough water. They are also common on flip-up jump seats and lids of built-in coolers.
Easy Installation
One important advantage of draw latches is that they require no cutouts and no special tooling. They can be simply screwed or bolted in place. Flush latches, in contrast, are often mounted in molded recesses in fiberglass hatches or doors.
If not, they typically require sizable cutouts in the fiberglass. Draw latches are also generally much less expensive than flush or cam latches.
Over Center Draw Latches
Over center latches — also known as toggle latches and snap-down latches — use lever force to tighten. The latch mechanism is mounted on one surface and the keeper on the other. Once the mechanism has contacted the keeper, closing the latch leverages the two surfaces together.
Over center latches for boats are typically made of stainless steel or with a stainless mechanism covered by plastic. Most do not depend on elasticity to hold the two surfaces tightly together. That means they provide no inherent shock absorption, like elastic draw latches. They are best suited for applications with a gasket of some kind behind the two surfaces.
Most over center latches are built with an adjustment mechanism. These adjustable draw latches are very important for marine applications. If a gasket under a hatch lid gradually compresses over time, for example, the over center latch can be tightened to maintain a tight seal and prevent rattling. They cannot be adjusted horizontally, though. If the alignment of the two surfaces changes significantly, the catch or mechanism must be moved.
There are a few different styles of over center latches that are used on boats:
1. Stainless Steel Draw Latches
These latches are made entirely from stainless steel with an attractive polished finish. They are available with or without a loop that allows them to be padlocked closed. This makes them an excellent choice for rod boxes and other compartments that need to be locked. They are adjustable to a certain degree but less so than other styles.
2. Adjustable Plastic Draw Latches
Adjustable tension latches like the popular Southco latches used as original equipment by many manufacturers provide a wider range of adjustment than stainless latches. Made of marine plastic, they can stand up to years of use.
3. Soft Draw Latches
These latches, like the popular Southco C7 series, which is also installed as original equipment by many boat builders, employ a stainless over center mechanism and keeper but with a soft thermoplastic body that conceals all hardware when the latch is closed. The soft body also provides some of the benefits of rubber draw latches, including noise reduction and the ability to tolerate misalignment.
Rubber Draw Latches
Unlike over center draw latches, flexible draw latches use the elasticity of rubber, rather than lever force, to tighten lids down. Rubber tightening latches have the advantage of simplicity. They have essentially no moving parts — just a T-handle used to stretch and secure them.
As an added benefit, rubber pull down latches are generally less expensive than stainless steel draw latches. Additionally, rubber latches can tolerate quite a bit of misalignment. They also tend to be quieter than stainless latches.
There are two different styles of rubber draw latches commonly used on boats:
1. Rubber and Stainless Latches
These latches have a stainless steel bracket that screws to the boat and holds the rubber handle. On the other surface, a cup-shaped stainless steel keeper holds a ball-shaped part of the rubber handle. The stainless bracket and catch are very durable.
2. Rubber and Thermoplastic Latches
Instead of stainless, these latches have black thermoplastic brackets and keeper, which are also non-corrosive. The brackets and keeper can be mounted either from the front, with fastener heads visible, or from behind with no fasteners visible. Concealed mounting requires good access to the back of the mounting surface.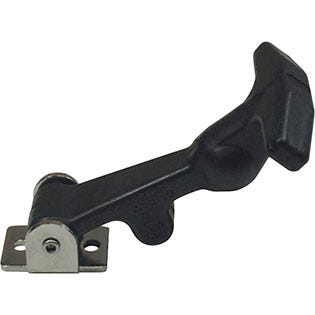 How to Order Replacement Draw Latches
If you're replacing part or all of an existing draw latch, you'll ideally want to order a new latch that matches the hole pattern of the old latch. Fortunately, most boat draw latches installed as original equipment are made by one of a few manufacturers.
Southco is among the most widely used. If you still have the old latch, measure it carefully (especially the hole patterns of the mechanism and keeper) and compare it to technical drawings of replacement latches for sale.
If you have a newer boat, you can also call the manufacturer and ask if they can provide the brand and model of the latch, or you can Contact Us at Boat Outfitters.
Need More Help Deciding? Give us a call!
If you're having trouble finding the exact part you're looking for, the best first step is to take a picture and give us a call. Our customer service team is here Mon-Fri 8am - 5pm and would love to help you track down the exact rub rail equipment you need.
Commonly Asked Questions about Draw Latches