Push Button Latches
Push button latches are compact latches often used on boats in areas like electronics boxes, glove boxes, and cabinets. Due to their small footprint, push button latches save space in smaller access areas and help maximize storage in your vessel. » Read More
What Is a Push Button Boat Latch?
Push button boat latches are easily opened latches commonly found on smaller access areas like glove boxes, electronics hatches, and interior cabinetry. Instead of twisting, lifting, or pulling, opening them requires a simple push.
These kinds of latches have a smaller footprint than other styles and are the perfect fit for tight spaces. Some push latches mount flush to the door or hatch, making them excellent choices for interior cabinetry.
How Do These Latches Work?
When installing accessories and boat building, through bolting is the most secure way to fasten materials. Through bolting is the process of drilling a pilot hole and passing a bolt through all layers of attached material. A nut and washer are then attached to the end of the bolt, securing it in place.
The advantage of through bolting is that the attachment between the threads of the bolt and nut is much stronger than the attachment of screw threads to the substrate. This ensures all levels of material are properly secured.
Best Uses
Because of their small size and ease of use, these latches have a wide variety of applications. Most often used in areas where space is limited, they do a great job maximizing space and functionality.
Areas like gloveboxes, console access doors, electronics boxes, and radio boxes can benefit from having a push button latch. These latches are also commonly used in RVs, golf carts, UTVs, and other vehicles.
Common Uses
Cabinet Latches
To maximize space, and for ease of use, push button latches are commonly used as latches for cabinets. A push-button cabinet latch can come in several styles and sizes. The most common latch used in boat cabinets is a recessed, flush-mount button that, when pushed, pops out and allows you to easily pull open your cabinet.
This style of recessed latch comes in several varieties and shapes to best fit your cabinet, including stylish designs with oval and square flanges. Other types include twist-to-open push button latches and pull-to-open latches.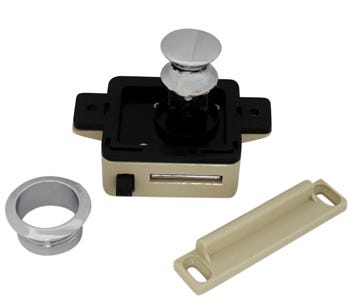 Glove Box Latches
Boat glove boxes can be in hard-to-reach areas and typically have small doors. That is why easily opened push button latches are commonly used to secure them. Most glove box latches are made to fit a 1" mounting hole and are easily installed.
A new boat glove box lock is an easy upgrade to your vessel. Push button latches are well suited to electronics boxes and radio boxes for the same reasons.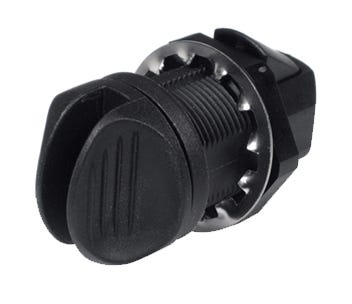 Things to Consider When Buying a Marine Latch
Material
When purchasing a new latch for your boat or project, one of the first things to consider is what material best fits your requirements. Most modern marine latches are constructed using either plastic or stainless steel. These materials hold up well in marine environments but differ in a few ways.
Stainless steel latches are going to be the heavier, but more robust latch. Plastic latches are lighter, generally more economical, and the most common choice for boat radio boxes and electronics boxes.
Interior or Exterior Use
Not all push button latches are intended for exposure to the marine environment. Many models are designed specifically for interior cabinetry on boats and RVs. If you plan to use a push latch in a location that will be exposed to water, sun, and wind, be sure to choose a latch specified for exterior marine use.
Locking vs Non-Locking
Most marine latches are available in locking and non-locking versions. Depending on your intended use, you might be interested in one option over the other. If your push button latch is securing valuable objects or a sensitive area of your vessel, it might be smart to purchase a latch with the ability to lock. This will ensure you have an extra line of defense from thieves and prying eyes.
A locking latch can also be used in the unlocked position and does not require a key to open every time.
Need More Help Deciding? Give us a call!
For the last 40+ years, we've perfected the art of upgrading boats and helping boaters better enjoy their time on the water. If you have a question about a product or project give us a call! Our team of experts is here to help!
Commonly Asked Questions about Push Button Latches