Teak for Boats
Teak wood is a classic fixture in the marine world. The wood's natural properties make it extremely durable, and it has been used in boat building for centuries. Shop teak for boats from Boat Outfitters' selection of teak products and lumber below, or continue reading to learn more about how teak has solidified its place in the marine industry for hundreds of years. » Read More
History of Teak for Boats & Ships
Teak lumber is a product of teak trees, which grow naturally in tropical rainforest climates. Teak trees are native to Southeast Asia but are now found in many parts of the world on teak plantations. The tree has been farmed across the world for hundreds of years, with the first formal teak plantation being established in 1680.
Since then, teak plantations have grown in size and number with over 7 million estimated acres of land established as teak plantations. Teak is a slow-growing tree, capable of living for almost a hundred years. On plantations, ages vary, but teak trees are typically ready to harvest anywhere from 25 to 40 years of age.
In the 1700s the Dutch East India Company began adopting teak for shipbuilding. The wood's natural properties allowed the Dutch to build stronger, longer-lasting vessels, helping to solidify their place as a colonial power for hundreds of years. Parts of India and Burma were colonized to maintain a constant supply of sought-after lumber.
Why Teak Is Good for Boat Building
So what's so special about teak that it's still relevant in the marine world? Teak naturally has a high oil content, which makes it resistant to rot and insect damage. The tree also has a high silica content, making it a non-skid surface when wet. Since the lumber is a good insulator, it is comfortable to walk on, even on the hottest days. Equally as important in modern regards, teak is a beautiful wood. Its rich, golden brown color is quintessential of the sport fishing and cruising yacht.
In comparison to most other types of marine lumber, teak is far superior in durability. Even as wood has become a less popular option in comparison to composites such as Starboard and Coosa, teak's natural properties keep it relevant.
Applications for Teak on Boats
Teak is seldom used to build entire boats now. In modern yacht building, it is typical to find teak decks and teak decking. Even cruise ships utilize teak on their expansive decks. One teak building company ships off an estimated 125,000 square feet of teak decking each year to be utilized by cruise ships and yacht builders.
Although popular as decking, teak has a variety of uses too. Gunwale covering boards, ladder treads, hatches, and swim platforms are just a few of the places you might find it on modern boats.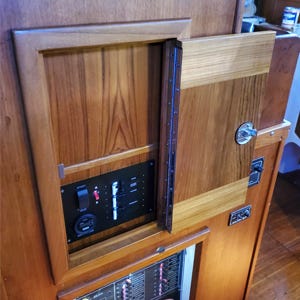 Types of Teak
As previously mentioned, teak has been farmed for hundreds of years. On teak plantations, the trees are grown and harvested as rapidly as possible to meet demand. This has led to what some believe is a difference in quality between old-growth and plantation teak.
Old-growth teak is believed to be denser and stronger, as the tree grows much slower. Plantation teak is still a great product for marine use, and because it is harvested sustainably, it will continue to be available for ages to come.
Maintaining Teak Wood
Teak does require maintenance to uphold its appearance. It should be washed regularly as any deck should. Instead of using a hard bristled brush, a soft brush should be used, as hard brushes could scratch and damage the wood. Avoid using harsh detergents as they can also damage teak.
Once or twice a year it is recommended to use a specialty teak deck cleaner, such as Starbrite Teak Cleaner. Teak Brightener can also be used to take off the weathered gray look that teak naturally gets. The caulked seams of a teak deck also need to be maintained to help your teak deck last many years. Teak decks will naturally turn gray in the sun. Some choose to leave the teak like this for a more traditional look, but for those who don't, oils and brighteners can be used to maintain the freshly sanded look of the new teak.
For boat owners who want the teak deck look without the teak maintenance, synthetic teak has become increasingly popular. Synthetic teak has the appearance of its wooden counterpart but is a PVC-based composition. It has many of the same qualities as teak, such as UV resistance, anti-slip properties, and similarly to teak, it won't burn your feet on the hottest days.
Teak will continue to be a fixture in the boating world even as the composite market expands. It's an ageless material and is a great way to make your boat stand out with traditional appeal.
Need More Help Deciding? Give us a call!
For the last 40+ years, we've perfected the art of upgrading boats and helping boaters better enjoy their time on the water. If you have a question about a product or project give us a call! Our team of experts is here to help!
Commonly Asked Questions about Marine Teak