The Importance of Livewell Lids
These lids are an important part of keeping your bait lively all day. A properly fitted livewell lid minimizes sloshing and turbulence that can beat up fragile baits, keeps water and bait from slipping out of the tank in rough conditions, and can even be used to pressurize a livewell for superior performance.
Clear Acrylic Lids
Most livewell covers are clear or tinted acrylic as opposed to the other fiberglass or plastic hatches you might have. This serves multiple purposes besides just looking nice. Studies have shown that baits getting bounced around in a dark baitwell are more likely to die due to stress than baits in a livewell with a clear lid.
Anglers have also noticed that baits transitioning from a dark baitwell to a bright sunny day may act stunned as they adjust to the brightness. A clear livewell lid also allows you to keep an eye on your bait and make sure at a glance that your vessel's livewell parts are performing as they should be. There is nothing worse than finding all your bait dead after a long run due to a malfunctioning livewell pump or drain.
Replacing Original/OEM Lids
Owners frequently find themselves looking for replacement livewell lids. Original lids become hazy or crazed from prolonged exposure to UV, scratched or scuffed from wear, and occasionally get broken by big fish or dropped equipment.
For newer vessels, finding a replacement is often as simple as calling the dealer or manufacturer and ordering the part. But for older vessels that may have been out of production for some time, finding a direct replacement bait tank lid can be a challenge.
We maintain an extensive design catalog of direct replacements for popular brands and models, both current and out-of-production. Replacement lids can be ordered online for Boston Whaler, Chris Craft, Everglades, Key West, Mako, Nautic Star, Regulator, Robalo, Sailfish, Scout, Sea Fox, Sea Hunt, Sea Pro, Sportsman, Tidewater, Yellowfin, and others.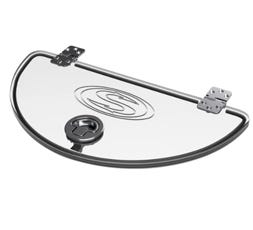 Custom Lids
If you can't locate a replacement livewell lid through your manufacturer, your dealer, or Boat Outfitters, you may need to have a custom one built. We can create virtually any existing part in clear, tinted, or opaque acrylic, or King Starboard. Simply send us detailed drawings and shape dimensions or, better yet, the old part, and we can CNC-cut a new lid for your livewell or bait tank.
You may also simply want to upgrade your existing fiberglass or plastic lid to a new clear acrylic option, which not only keeps baits healthier but also looks great on your vessel. Again, simply send us your old part for duplication. Contact Us to get started on your desired style.
Logo Engravings & More
Some of our OEM replacement lids come with lasered logo engravings with the manufacturer's logo, but we can also custom-engrave your acrylic lid with your vessel's name, team name, or other graphics. Please call (407) 270-1581 for details about the cost and how to upload artwork.
Installing Replacement Lids
All of our OEM replacement lids are supplied with top-quality stainless steel latches and hinges as well as a seal/gasket if needed. Installation is simply a matter of screwing or bolting the new one in place. Be sure to use an appropriate marine sealant to seal fastener holes and bed hinges.
Need More Help Deciding? Give us a call!
For the last 40+ years, we've perfected the art of upgrading boats and helping boaters better enjoy their time on the water. If you have a question about a product or project give us a call! Our team of experts is here to help!
Commonly Asked Questions about Livewell Lids