King Starlite
King Starlite, also referred to as King Starboard XL, is a lighter-weight cousin of King Starboard. King Starlite is a great material for a project where the material will be hidden (substrate, mounting plate, etc.) or when aesthetics are not a priority over price. » Read More
Key Features of King Starlite
King Starlite board is a great material for tons of marine projects. However, there are some crucial differences between Starlite and the more popular King Starboard.
Economical
Compared to other materials on the market, whether they are from King Plastics or other brands, King Starlite is a less expensive option. It is especially best suited to any behind the scenes applications where the economical cellular edges of the material are likely to be hidden (upholstery substrate, mounting plate, etc.), as these parts can be harder to clean if they are exposed. Dirt tends to collect on exposed cellular edges. So, if they are hidden, you will not have an issue.
Durable
Despite its lightweight design, King Starlite XL still offers the same durability we have come to expect from products manufactured by King Plastics. You can use it as a perfect lightweight replacement and easier-to-handle version for any part of your boat.
At Boat Outfitters, we love, and know our customers who have already used King Starlite marine board, and appreciate that it does not delaminate, splinter, or swell. So, you can be sure that as long as you maintain it properly (which in itself does not require a lot of effort), it will keep its structural integrity and aesthetic qualities for a very long time.
Versatile Material
King Starlite XL marine board is incredibly versatile. This is another quality we have come to expect from the expert designers and specialists at King Plastics. When you select high grade King Starlite some of the most common uses include:
Tackle box interiors & Tackle centers.
Anything with a hidden edge.
Seat substrates
Backing plates and other types of paneling.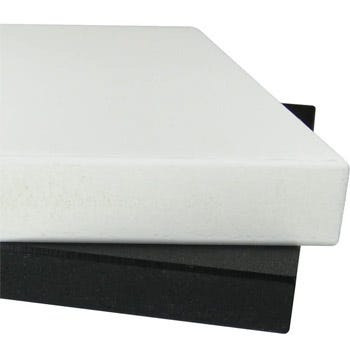 Easy to Clean & Maintain
The only exception to the benefits below are the edges of the material, since they expose the cellular interior dirt can collect in the small crevices and be hard to remove.
Another huge benefit to investing in the King Starlite XL board for budget boat projects is just how easy it is to clean and maintain. There is no need to worry about any complicated processes or ultra-expensive cleaning products. You can clean everyday dirt, odor causing bacteria, and those pesky stains from trips to the sea by using a stiff nylon brush or nylon scrubby with a high-quality cleaner like Soft Scrub.
When You Might Consider the Alternative- King Starboard
If you want a closed-cell option that is easier to keep clean, but with all the same advantages we have discussed as King Starlite marine board, choose King Starboard, which is usually a better option for general marine projects.
Challenges with Starlite
As discussed above, the main challenge with Starlite XL is when the edges or sides are exposed to the elements. The small air bubbles inside the material are exposed on the sides. These small bubbles can collect debris and can be very hard to clean.
Need More Help Deciding? Give us a call!
For the last 40+ years, we've perfected the art of upgrading boats and helping boaters better enjoy their time on the water. If you have a question about a product or project give us a call! Our team of experts is here to help!
Commonly Asked Questions about King Starlite