Boat Outfitters' Authors
Boat Outfitters' Authors
There is a lot to learn when it comes to fishing and boating, and we're always here to help! Our team of experienced authors provides tips and tricks ranging from the best fish to catch in the summer to how to winterize your boat. Read more about our friendly Pro anglers!
---
Zack Thomas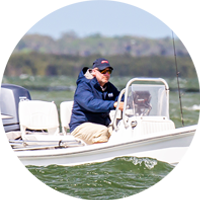 Although Zack Thomas currently calls the estuaries, inlets, lakes, and rivers of Central Florida his home waters, he has extensive experience boating and fishing in a variety of other areas, including Southern California's offshore and nearshore waters, Mexico's Baja California, the inland south, and the lakes, reservoirs and rivers of the mountain west. He also travels regularly with his family and 18-foot Andros skiff in tow to fish, dive and explore the Florida Keys, the Everglades, and Florida's west coast and panhandle regions. He is a former editor of several saltwater fishing publications, including Pacific Coast Sportfishing, and author of a guidebook, The Angler's Guide to Trailer Boating Baja. His writing and photography have won numerous industry awards and have been published in Salt Water Sportsman, Sport Fishing, Sea, Boating World, and many other print and online publications.
Thomas has owned and/or restored several boats, including his current 2010 Andros Backwater 18, a 1998 Pathfinder poling skiff, a 1999 Kencraft Challenger 206, an inboard-powered 1997 Dusky 256, and a 1969 Mako 19 that his parents purchased new from a dealership near New Orleans. He grew up fly fishing for trout in the west but later moved to San Diego and caught the saltwater bug, fishing the offshore banks for tuna and yellowtail and the islands and coastline for halibut, calico bass, and white sea bass. In Florida, Thomas still gets offshore on occasion, but mainly pursues redfish, snook, speckled trout, and other inshore gamefish, as well as largemouth bass and specks (crappie) with his wife and two children, 15 and 10.
Nick Black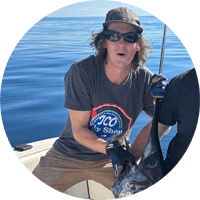 Nick Black calls the woods and waters of Virginia home. He has extensive experience on his local waters, where he operates boats to hunt, fish and work. He is currently wrapping up a complete overhaul on a 1993 C-Hawk, and works part-time as a marine fabricator and welder. When he's not working on the water, Black can be found chasing billfish and tuna offshore, cobia and red drum in the Chesapeake Bay, or stripers and trout inshore. No stranger to a mountain trout stream, he spent his college days as trout bum in the mountains of Virginia. If he's not on the water, he's in the woods hunting whatever is in season.
Gus Hertz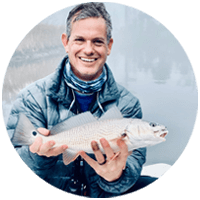 Gus Hertz was terrorizing waterways on all kinds of boats long before he was old enough to drive. His primary passion is chasing saltwater species such as striper, redfish and trout from his current home in coastal North Carolina. Growing up on Lake Hartwell, Georgia, he spent his summers learning the hard realities of boat ownership from his father. During his college years, Hertz built on that experience, doing combat with the harsh marine environments in west central Florida. When his career took him into the Virginia mountains, Hertz traded in his flats boat for a jet-driven Alumacraft and learned to run the rocky rapids of the James River in pursuit of smallmouth and muskie on the fly.
Over thirty-plus years of boat ownership, Hertz has resurrected, modified and maintained many different boats, and today he runs a fully restored, quarter-century-old Maverick Master Angler, spending as much time maintaining it as he does using it. Hertz enjoys passing along his boating and fishing knowledge to his five children who share his passion for outdoor adventure. In addition to writing articles for Boat Outfitters, he is a frequent contributor to several national boating forums, a short story author, and has been published in Fly Fishing in Salt Waters.
Matt Porter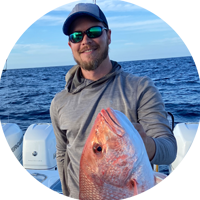 Growing up in Florida typically brings boating and fishing into your life. That is the case for Porter, who was born and raised in West Palm Beach, FL. Porter spent a lot of his childhood learning the ins and outs of boating which eventually led to his passion for fishing. He started his boating adventures on a 19' Key West Sportsman that was later swapped for an Everglades 243. Porter eventually decked out a 13' Whaler that he still cruises on today. Porter's favorite offshore fishing is Live Baiting for sailfish, whether it's slow trolling and/or kite fishing. But recently have been spending more time trying to figure out the inshore side of things for Redfish/Snook/Tarpon.
Not only does Porter enjoy boating and fishing in his spare time, but he has also spent the last 10 years of his career working in the industry at Boat Outfitters. Being the customer service sales manager for the last 7 years has given Porter an abundance of knowledge of the fishing and boating community.
Learn More!
Check out our learn page for boating and fishing advice. From featured projects, to boat maintenance tips, we are here to help you become an expert.
---